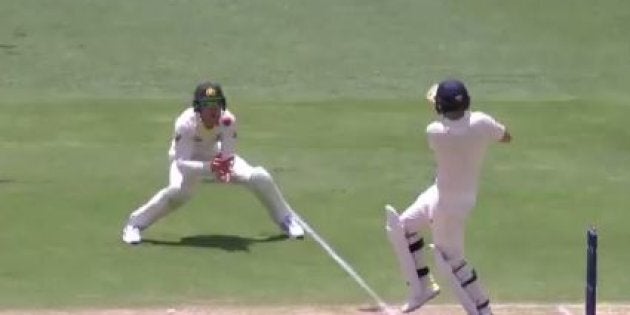 Australia fought back early on day two of the first Ashes Test against England at the Gabba, then found trouble with the bat early in their innings, before solidifying late in the day to have their noses just in front.
England dominated the first hour and looked untroubled on a relatively benign Gabba wicket. This incident with Cameron Bancroft copping a well struck pull shot on his helmet grill symbolised the first hour. Australia was unflinching, but to no effect.
But the matched soon changed tone. Just when it looked like the wickets would not come for Australia, come they did.
Dawid Malan went first for a well-compiled 56, caught in the deep in the trap set for Mitchell Starc's short ball.
The patient, dangerous Moeen Ali followed, LBW to Nathan Lyon, who earlier had been incredibly unlucky, missing the stumps by millimetres.
Next came this from Lyon. It was, it must be said, positively Warne-like.
Cummins soon struck again for his third wicket of the innings, as England were in the midst of a mini-collapse. He has clearly been the pick of the Aussie quicks.
Then right on lunch, England lost another. Davey Warner made his presence felt -- as he inevitably does -- taking a brilliant catch off Starc at leg gully to dismiss Jake Ball.
After starting the day at 4/196, England lost its ninth wicket with the score at 286, in a session which was first extended due to Thursday's rain interruption, then extended again with the loss of a wicket in what had been the last scheduled over before lunch.
The visitors were eventually all out for 302, when Josh Hazlewood snared his first wicket of the innings.
In reply, Australia has not had the start they would have wanted. Cameron Bancroft fell to Stuart Broad, who is about as popular with Australian fans as British cuisine. Usman Khawaja soon followed, trapped LBW to Moeen Ali.
The hope was that Warner can pull out yet another cracking start to the summer, as per the stats below.
But the partnership between Australia's two best batsmen Smith and Warner did not last. Young England seamer Jake Ball, in just his third Test, took just his third wicket When Warner played a strangely casual half-hearted pull shot to the catcher at short mid wicket.
Warner departed for 26 with the score at 3/59. Australia went to tea with the score at 3/76 and lost Peter Handscomb without further addition to the score.
The Victorian was initially given not out LBW to Jimmy Anderson to a ball that looked like it might be sliding down the leg side. But on review, it was just hitting enough of the leg stump to be given out.
And so, a nation turned its lonely and not entirely confident eyes to Shaun Marsh, on yet another Test recall. He and Steve Smith endured several sketchy moments early on, including a reviewed LBW appeal against Shaun Marsh which was shown to be narrowly missing the stumps.
But by the 47 over mark, the two had steered the score to 4/132, as Smith brought up his 50 -- the 42nd time he has reached that score (or more) in just his 105th Test innings.
The duo safely saw Australia to stumps at 4/165 -- 137 runs in arrears of England's 302. Smith was not out 64 and Marsh not out on 44. It's early days, but this may just be the partnership that sets up the whole series for Australia.
Of Australia's three selection gambles in this Test, the jury remains out on wicket keeper Tim Paine and opener Cameron Bancroft. But the selection of Marsh looks a good one. He has appeared every bit the Test batsman in amassing his 44 runs of 122 balls.