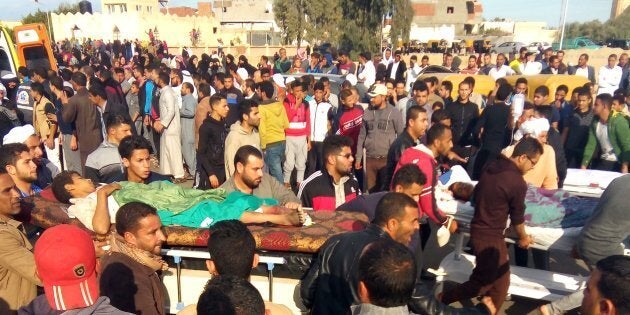 Both sides of the Australian Government have condemned the terrorist attack that killed more than 230 people at a mosque in Egypt's North Sinai.
Militants detonated a bomb during Friday prayers and gunned down worshippers as they tried to escape.
Both Prime Minister Malcolm Turnbull and Foreign Minister Julie Bishop offered their condolences to the families of the victims of the "appalling and barbaric" attack.
"We send our condolences to the families of the victims and wish a speedy recovery for the injured," Mr Turnbull wrote on Twitter.
"We are resolute in our determination to defeat Islamist terrorism & keep Australians safe."
Egyptian authorities have advised the Australian Embassy in Cairo that no Australians are known to have been killed or injured in the attack.
Friday's attack is the deadliest in the country's modern history and is the latest in a series of deadly attacks on places of worship across Egypt – mainly aimed at Christian Copt worshippers and churches in Cairo, Alexandria and Tanta.
Opposition Leader Bill Shorten and Labor's foreign affairs spokeswoman Penny Wong have also condemned the attack
"Labor stands once more with all people of goodwill, of all faiths who utterly reject those who would seek to divide us through terror and violence," they said in a joint statement.
"An attack on any place of religion is an attack on freedom of religion everywhere and Labor expresses our support and deepest sympathy for the victims, their families, and the Egyptian people."
Egypt's President Abdul Fattah al-Sisi has vowed to respond with "the utmost force".
The Australian Government continues to advise Australians to avoid North Sinai due to a high terrorist threat. Egyptian security forces have been fighting a militant group associated with Islamic State in the region since 2013.