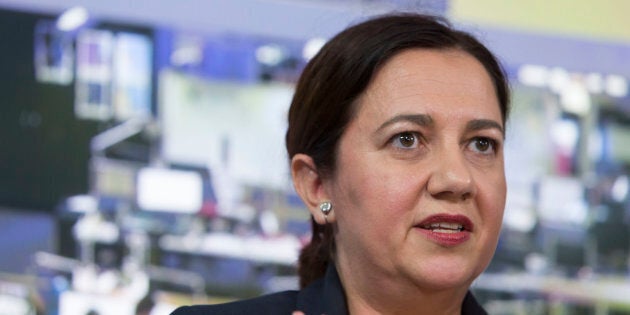 Annastacia Palaszczuk has said she is confident of victory for Labor in Queensland's state election, declaring "Tomorrow, we will be back at work".
While the official count is incomplete, the party looks likely to form a majority government.
"Labor has secured 43 seats and is the only party who can form majority government.

"Of the remaining 13 seats in doubt, we need to win 4 seats for a Labor majority. We are leading in 6 of these seats and very close in five further seats.

"We're confident that as counting continues, Labor will confirm a majority in the Queensland Parliament."
Earlier, ABC analyst Antony Green said he was confident Labor had picked up 46 seats, and the ABC election computer predicted another two more, which would put it past the 47 seats required to form government.
The LNP was predicted to take fewer than 40 seats as predictions of a 'shockwave' result for Pauline Hanson's One Nation (PHON) failed to eventuate -- just one seat was thought to have been won for One Nation.
Palaszczuk emerged on Sunday afternoon to express her confidence in a likely win, flanked by her new members of parliament.
Meanwhile, LNP leader Tim Nicholls refused to be drawn on the likely result or the future of his leadership after today.
"I'm not going to talk about any of those sort of things today ... we're going to celebrate a great campaign that had a positive message," Nicholls told reporters, the Courier-Mail wrote.
Earlier, From Election Night:
"I said winning the 2015 election was like climbing Mount Everest. This election has been like climbing Mount Everest all over again," said Premier Annastacia Palaszczuk on Saturday night, stopping short of claiming victory.
"Tonight, we are close to the peak but we are not quite there and we will not get there tonight.
"I remain confident we will be able to form a majority Labor government once all the votes are counted."
Opposition leader Tim Nicholls said it was clear Palaszczuk had not won a majority, but then neither had he.
What is abundantly clear is tonight Queenslanders have voted to shake things up. It is clear that the Premier has not won a majority in her own right.Tim Nicholls
"But, let's be realistic, nor have we and we must accept the will and the vote of the people of Queensland," an upbeat Nicholls said.
Counting had stopped, he said, and there were between 10 and 14 seats currently in doubt across Queensland.
"And those seats will determine the ultimate outcome of this election in 2017," Nicholls said.
He said the question was whether Palaszczuk would keep her word not to form coalitions with minor parties.
"Will Annastacia Palaszczuk and Labor keep their word that they will do no deals with the One Nation Party, no deals with Katter, no deals with Independents, no deals with minor parties? That is the question for Annastacia Palaszczuk tonight."
Polls had predicted a narrow win for Palaszczuk, who fought a two-fold battle over the month long campaign against Nicholls and PHON, as well as a resurgent Greens party in some seats.
One Nation on Saturday night faced the loss of its state leader Steve Dickson as well as parachute candidate and former senator Malcolm Roberts.
Speaking in South Brisbane Deputy Premier Jackie Trad said the outcome of a number of seats won't be known on Saturday night.
"Can I just say from a statewide perspective, there's still quite a number of seats that are yet to be decided. But what's clear from the results to date is that Queenslanders overwhelmingly put a number one in front of stability and decency in this state instead of cuts and chaos," she said.
But it is the case that the results are going to be close. They are going to be close.Jackie Trad
"And we won't know the outcome for a number of seats tonight."
Still, some called the election early. Sky News commentators Graham Richardson and former Premier Peter Beattie called the election for Labor.
Former LNP leader Campbell Newman described it as a "bad night" for the LNP.
"The LNP's primary vote is down so much. It's down 10 per cent and you just can't climb over that," Newman said.
"This has been a very bad night for the LNP but it has also been a very bad night for One Nation. They've really blown it."
Former One Nation Federal Senator Malcolm Roberts lost his bid for the seat of Ipswich, but it won't be his last tilt at politics.
Conceding defeat on ABC News for the seat of Ipswich to Labor's Jennifer Howard, the One Nation candidate said another tilt at the federal senate was very much on the cards.
"Another tilt at the Senate would be very much on my mind," he told the ABC.
"We've had massive support from around the state."
He said it was was disappointing he was not going to win the seat.
"But I feel very encouraged by especially the support that people of Ipswich have given me on the streets and especially at the polling booth today," he said.
Some of the three million Queenslanders went to the polls on Saturday to traditional democracy sausages and a side-order of sass.
In one unsavoury incident, a One Nation volunteer has been spat on while handing out how-to-vote cards for at Geebung State School in Brisbane, according to the party's local candidate Shaun Byrne.
"My guy was holding out a how-to-vote card, the bloke didn't take it, but then he swore and spat at (my volunteer)," Byrne told the Courier Mail.
One Nation ran candidates in 61 of the state's newly expanded 93 electorates.
Hanson earlier refused to speculate on the number of seats her party would win, but raised some eyebrows with grandiose claims about what she hoped was One Nation's expected victory.
Most polls have predicted a One Nation vote of around 12 percent, but Hanson said she expects to attract closer to the 22.7 percent of vote achieved at the 1998 Queensland election, in a result that would "send shockwaves across the country".
"This is going to be the real beginning and resurgence of One Nation," she told the Brisbane Times from outside a polling booth in the Sunshine Coast seat of Buderim.
Liberal party leader Tim Nicholls was hounded by anti-Adani protestors as he attempted to outline the "positive" future for Queensland under an LNP government to constituents and press outside a polling station in his northern Brisbane electorate of Clayfield.
"We want a sustainable future, veto the loan to Adani," protesters called out.
"I would simply say to people that being polite is something that you want people to do around election day," Nicholls told reporters over the shouts of protestors.
Controversy over Adani's proposal Carmichael coal mine in central Queensland has remained a hot topic throughout the election campaign.
Earlier this month, the Labor Premier backflipped on her support for a $1 billion Commonwealth loan to help Adani fund a rail link to the mine site, announcing she would veto the loan. Then on Wednesday, just two days out from election day, Palaszczuk further agreed not to support any infrastructure for the mine.
The LNP has refused to withdraw their support for the project, which continues to enjoy the support of both major parties at the federal level.
Despite a rocky start to Palaszczuk's campaign, most polls were predicting a swing to Labor.
After nearly three years of a minority government, Palaszczuk is hoping to gain the required 47 seats to form a majority government over the Nicholls-led LNP.
But for many Queenslanders, the decision had already been made before polling booths opened on Saturday morning.
A record-breaking one third of Queenslanders -- or roughly 717,000 people -- have already voted using prepolling and postal voting, according to the Electoral Commission Queensland.