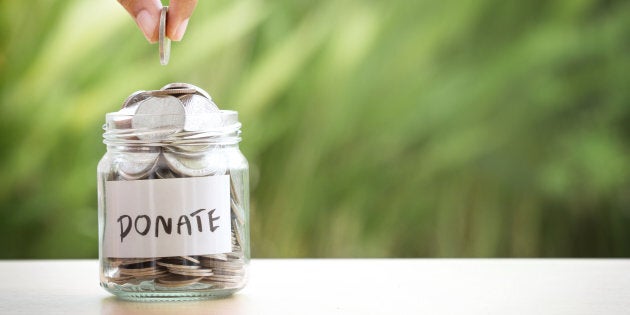 A new report has shone a light on the maligned and cut-throat world of charity fundraising, exposing how up to 17 times the amount of a monthly donation goes to the commission-based agency worker rather than the charity, and how employees can be swiftly terminated for failing to reach goals.
The Research into the Commission-based Charity Fundraising Industry in Australia report, compiled by business consulting firm Frost and Sullivan for the Australian Competition and Consumer Commission (ACCC), looked at how charities raise money for their activities through employees working on commission. Focusing on charity workers who attempt to elicit donations on the street or in public locations like shopping malls or railway stations, the report outlined the conditions for these workers as well as revealing how large parts of your donation go to employee wages rather than to activities of the charity.
The report's authors -- who spoke to 14 charities, three fundraising agencies and 13 people who had worked in commission-based charity fundraising, and conducted an online survey of 504 people who had recently been solicited to make a charity donation -- said "virtually all face-to-face fundraising conducted by agencies is commission-based" and often undertaken by contractors assigned to an employment agency, not by volunteers or employees of that charity directly. The report said that the number of agencies in this sector had grown from 17 in 2009 to 35 in 2017.
While telemarketing remained the most common fundraising approach, door-to-door and and public location fundraising were more effective at securing new donors and were given the most budget by charities. Flat fee or hourly-based payment arrangements are "extremely rare" in the sector, with employees of these fundraising agencies usually paid based on the monthly donation they secure from a new donor.
"This payment usually takes the form of a multiple of the monthly donation acquired by the fundraising agency, which can range between 8 to 17 times the monthly donation," the report stated.
It is estimated around 3000 people, largely made up of students or travellers, are engaged in the face-to-face fundraising industry at any one time. Bonuses are dished out for each regular donor that is signed up, but "a relatively short period of non-performance (i.e. not signing up new donors) may result in their termination".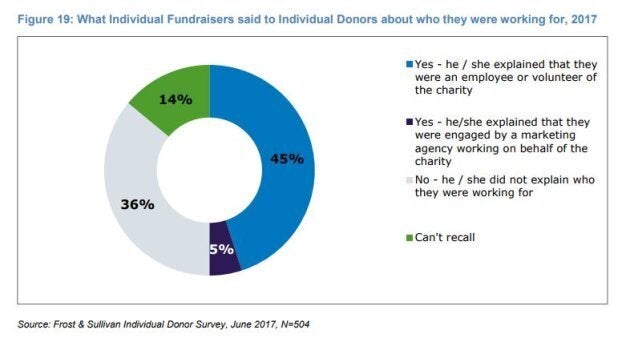 Some charities get up to 85 percent of their revenue through these agencies, however, the practise is misunderstood by many in the public. Two-thirds of donors surveyed by Frost and Sullivan believed that the fundraiser that solicited them was directly working or volunteering for that charity, and only 18 percent thought the person was with an agency. This is despite rules from the Public Fundraising Regulatory Association that require all fundraisers to wear an identity tag that states they are a paid fundraiser and the name of their agency.
Just 5 percent of the fundraisers said they were working for an agency, according to the survey of donors, and 36 percent did not say who they worked for at all. Another 45 percent said they were working or volunteering directly for that charity they were representing.
"We say 'for' or 'on behalf of x charity'. We do not proactively say we work for an agency; only if asked. Otherwise it is not relevant to donors. Very few donors ask this of us. The average donor does not know that we work for an agency - but some do," said one fundraiser.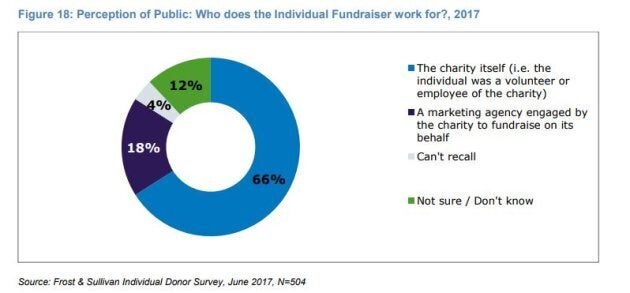 More than half of donors don't think it's appropriate for these workers to receive a commission based on the donation, while 13 percent said it was appropriate and another 28 percent said it would be appropriate depending on the rate of commission. Two-thirds of people said a commission of 10 percent or less would be appropriate, despite some charities paying a commission of 17 times the monthly donation.
"Assuming an average of 12 times the monthly donation as a fee to the fundraising agency and an average life of the donor as five years, the effective proportion of donor funds that equates to the commission paid to fundraising agencies is approximately 20 precent," the report said.
There are over 50,000 registered charities in Australia, and in 2015-16, almost 15 million Australians donated $12.5 billion to charity. The average donation by an individual was $764, while the median was $200.
Frost and Sullivan found that for each donor signed up via door-to-door soliciting, fundraisers had knocked on 28 doors and had 14 conversations. For on-street fundraising, the strike rate was even lower, with 30 'brief interactions' and 14 conversations before one donor was signed up.Elsewhere in the report, interesting facts include:
More than quarter of Australians receive an unwanted telephone call from a charity each week;
After receiving an unsolicited charity fundraising call, two-thirds of people are less likely to donate to that charity;
More than 75 percent of people said they disliked being telephoned for donations, but nearly a quarter still made a donation anyway;
More than 64 percent of people disliked being approached by street fundraisers, but one-fifth still gave a donation anyway;
Sixty percent of people said they generally give on the spur of the moment;
World Vision, the Salvation Army, Compassion Australia and the Australian Red Cross were the top fundraising charities, based on income, in 2014.
The report stated that charities have tightened up practises around using external fundraising agencies in recent times, with more rigorous processes to monitor activities and some charities moving away from the commission-based model and instead paying fundraisers as direct employees.
"This year we have looked closely at misleading behaviour driven by sales commissions, including those paid to third-party marketing firms, particularly in industries that enjoy a high level of trust and where commissions may not be expected," said ACCC chairman Rod Sims.
"​​​​​The charity sector plays an important role in delivering services and funds often to vulnerable members of our community. However, like all Australian businesses, charities need to ensure that consumers are well informed, and there is transparency to consumers when third parties or commissions are involved.
"The ACCC will continue to engage with the sector and is urging charities to increase transparency to consumers when utilising the services of commercial fundraising agencies. Consumers who want to donate are advised to contact the charity and ask how they can donate directly."