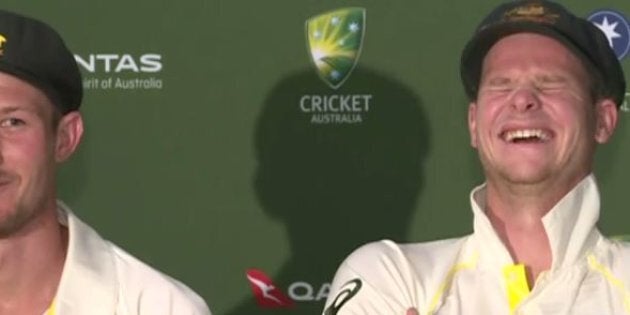 Oh, this is pure comedy gold.
After news broke on Sunday night that Australian opening batsman Cameron Bancroft had allegedly been headbutted by England player Jonny Bairstow, you thought uh oh, here we go. Is this another incident on the Ben Stokes scale of seriousness?
In fact, the incident has provided Australian captain Steve Smith with the great big belly laugh he clearly needed after an epic man-of-the-match performance in the first Ashes Test at the Gabba-- and the rest of us can laugh along with him.
The incident in question happened in Perth a few weeks ago when West Australian players met up by chance with England players at a bar in Perth. Bancroft was then playing for WA and had never previously met Bairstow.
At Monday's post-match press conference at the Gabba, Bancroft was even more impressive with his comic timing and delivery than he had been with his timing at the batting crease, where he made 82 not out in Australia's second innings.
"He greeted me with, uh, yeah, a headbutt kind of thing," he said of the incident, as the room started to chortle.
"I was expecting a handshake. It wasn't the greeting of choice that I was expecting."
The room was losing it now, and Steve Smith was the first to crack up.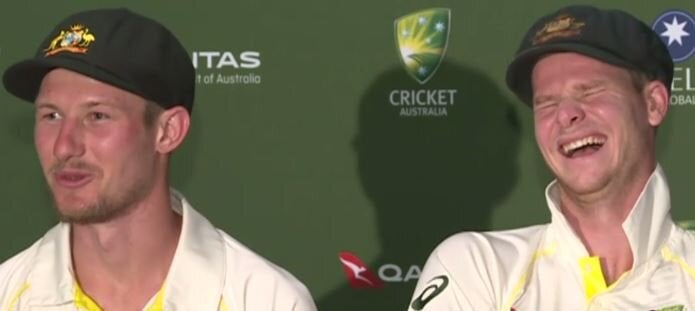 "It was certainly no malice in his action and we continued on having a very good conversation for the rest of the evening," the young opener continued.
"At the time he said sorry. For me personally it was just really weird, you know obviously it was just so random and I certainly didn't expect it coming."
Smith briefly looked down to compose himself at this point, like a naughty schoolboy trying to suppress a smirk. He was going OK too. The sensible captain's face was about to return. And then...
"As I said, a handshake or a hug would have been something that I probably would have expected more than a headbutt," Bancroft said.
And Smith just lost it all over again.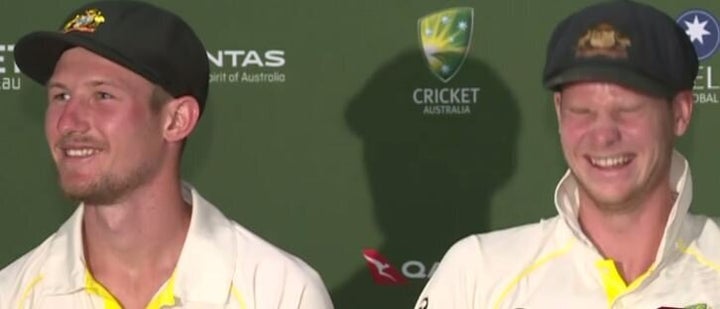 Bancroft wasn't done. The charm of his explanation was how he played it as straight as the bat he'd played in the middle of the Gabba.
"I don't know Jonny Bairstow, but he says hello to people very differently to most others," Bancroft deadpanned.
"He didn't knock me over. I have the heaviest head in the West Australian squad... there's an actual measurement.
There's an actual WHAT? Steve Smith couldn't seem to believe it either.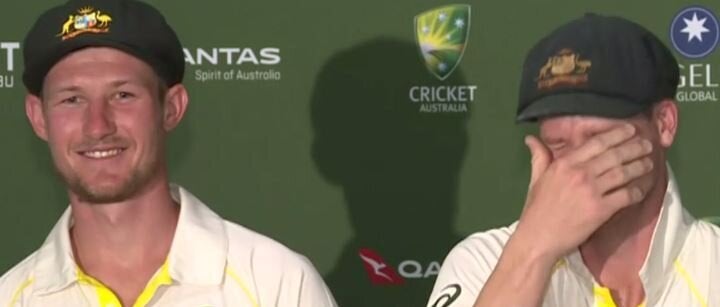 "It was a good hit," Bancroft continued. "Play on."
Thus did Australian cricket unearth not just a promising batsman but a fine comic talent. And a great Australian sporting victory found its ideal final act.
Meanwhile, England captain Joe Root brushed aside the controversy over the incident in slightly more traditional fashion at the post-match press conference, describing it as a "mountain out of a molehill".
Bairstow himself said it had been "blown out of all proportion".
"As you saw out there today, there is no animosity between myself or Cameron any of the other Australian players," he said.
However England coach Trevor Bayliss did say his players would get a "stern talking-to" about their drinking culture.