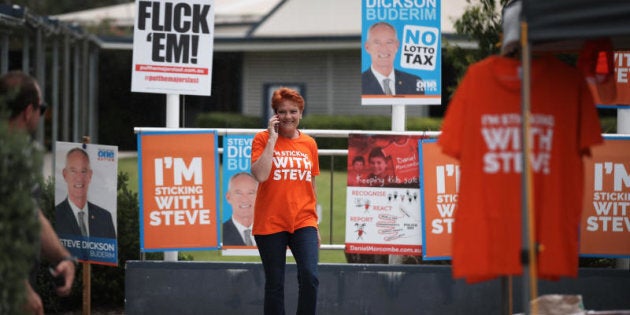 CANBERRA -- If the fight to get Liberal MP John Alexander back into his seat in Bennelong was not already critically important for the Turnbull Government, the results so far in the Queensland election have given it an extra edge.
It is the dual citizenship by-election on the edge compared to Barnaby Joyce's easier run to return in Tamworth and there is now less than three weeks to go.
Yet the Coalition appears to be wracked by differences about how to deal with One Nation. Embrace them or reject them entirely.
To Qlders who voted One Nation, I'm sorry we in the LNP let you down. We need to listen more, work harder, stand up more for conservative values & regional Qld & do better to win your trust & vote. A lot of that rests with the Turnbull govt, it's leadership & policy direction. pic.twitter.com/0vCREdd7mn

— George Christensen (@GChristensenMP) November 25, 2017
Queensland's election while fought on state issues exposed more evidence of a continuing voter distaste -- even contempt -- for the major parties.
How any major party can do deals with Pauline Hanson's party defies self-preserving logic.
It is damned if you don't, damned if you do.
And now One Nation has been damned by no less than the federal Attorney-General George Brandis.
"I don't know what the Prime Minister has had to say about the matter, but I'll tell you what I've had to say and I will repeat it here, flirting with One Nation is poison," Brandis told parliament.
"Flirting with One Nation is poison for either side of politics and my attitude to One Nation, with whom I deal courteously and professionally in this chamber, by the way, nevertheless, is that it has nothing to offer the people of Queensland."
It is a sober assessment by Brandis, a Queensland senator, considering the presence of One Nation during the last two state elections has kept the WA Liberals and Queensland LNP out of office.
Riding high on both good and mercilessly bad media coverage, Hanson's party split the conservative vote in WA and the Colin Barnett Liberal government was mortally wounded by doing a preference deal with One Nation. Hanson's party did badly, too, and she blames Barnett and Labor is now in power in the west.
Now the party has done damage up north, particularly in Queensland's south-east pocket and in regional seats.
Former Queensland Premier Rob Borbidge has described "any association" with One Nation as "absolutely toxic", and Prime Minister Malcolm Turnbull was asked on Monday if he agreed with that sentiment.
"Everyone is entitled to cast their vote as they see fit but the voting for One Nation in the Queensland election has only assisted the Labor Party. Let's be very clear about that," he told reporters in Port Kembla.
"The One Nation voters, I want to say to them: Your votes for One Nation have assisted Annastacia Palaszczuk.
"When we come to the federal election we will be making that point very, very strongly. If you want to have a Coalition Government then you should vote for the Coalition; vote for the LNP in Queensland, the Liberal Party or National Party elsewhere."
One Nation snaffled almost 14 percent of the vote and directed preferences away from sitting members.
By no means did the party have a great state campaign, losing state leader Steve Dickson and section 44 outcast Malcolm Roberts among other races. Indeed, its only hope is a single seat. If any One Nation candidate gets over the line it is will likely be on LNP preferences.
But the damage One Nation has done to the Queensland LNP has been significant. It and Bob Katter's Australian Party ran riot in conservative seats, in some cases propping up Labor candidates, while the Green vote in city areas also eroded the major party vote.
The LNP is likely to lose five frontbenchers including Shadow Treasurer Scott Emerson to Labor or the Greens on preferences.
The swing away from the LNP in the state, if applied to a federal level would wipe out a clutch of LNP seats, including the seat of Dickson held by Immigration Minister Peter Dutton.
The conservative side of politics has been grappling with the question of what to do about Hanson since she gained attention by losing Liberal pre-selection in 1996 for her controversial views, but attention she got first as a Channel 7 commentator and now as a Senator is fueling the Coalition's problems.
John Howard eventually put One Nation last on Liberal how to vote cards, but only after years of Liberal deals with One Nation in the 1990s.
The seductive option for those on the conservative side of politics is to slide further to the right and to appease One Nation.
Maverick Nationals MP George Christensen used the morning after election night to apologise to One Nation voters and questioned his own Federal Government's leadership and policy direction.
"To Qlders who voted One Nation, I'm sorry we in the LNP let you down," the Queenslander tweeted.
"We need to listen more, work harder, stand up more for conservative values & regional Qld & do better to win your trust & vote."
"A lot of that rests with the Turnbull govt, it's leadership & policy direction."
Christensen is not alone but he is the loudest. The Nats in Queensland, which are part of a combined LNP experiment, are very unhappy.
The education minister Simon Birmingham has told Sky News thinks the apology tied in with Turnbull's leadership is 'ridiculous'. He has been backed on Monday by Tourism Minister Steve Ciobo.
"Flirting with parties like One Nation, does not just -- as has happened in WA and Queensland -- get you a Labor Government, but it is also threat to your economy, to exports, to jobs," Birmingham said.
Labor Senator Murray Watt, a frequent Hanson critic, said "LNP has sucked up, given in to her and paid the price". Labor, he said, swept up the spoils.
"What's been different over the last year or so in Australian politics is the sucking up by the Liberal Party, particularly in Canberra but also here in Queensland, just to try and carry favour with One Nation," he told reporters in Brisbane.
"I sit in the Senate and I see, I literally see, Liberal Ministers running across the chamber to give hugs and kisses to Pauline Hanson as they beg for her vote. It is disgusting to watch, but that is what they do on a daily basis.
"They've been out there for a long time now trying to excuse One Nation's statements by saying they're more sophisticated these days, that they've changed. They'll do anything to get their vote in the Senate and they'll do anything to get their vote on election day, and they've actually paid the price for that."
One man who speaks from experience is former Queensland premier Rob Borbidge. He lost in 1998 due to the LNP's favourable preferencing of One Nation over Labor.
"The LNP just has to accept the fact that any association with One Nation is absolutely toxic, particularly in south east Queensland. It happened in 1998, it happened in 2001 and it happened on Saturday night," he told the ABC on Monday.
"It is totally incomprehensible to me that in this day and age we go anywhere near One Nation. They directed preferences against every sitting LNP member."
Campaigning in Bennelong on Sundy, after being taunted by Labor for not doing so Turnbull accused Labor candidate Kristina Keneally of rolling out the welcome mat to the people smugglers. He posed, when the boats "start again" under a Labor Government: "How many of those asylum seekers is she going to bring to Bennelong?"
That's an eyebrow-raising scare tactic from a moderate PM.
Bennelong is held by a margin of 9.7 percent but recent opinion polls have placed it as a far closer race due to the star candidacy of Keneally.
The vote of the major parties has long been fracturing and "flirting" with minor parties is now a common practice.
Voters are over Canberra stuff-ups like the never-ending citizenship debacle, so you can't say politicians have not been warned.