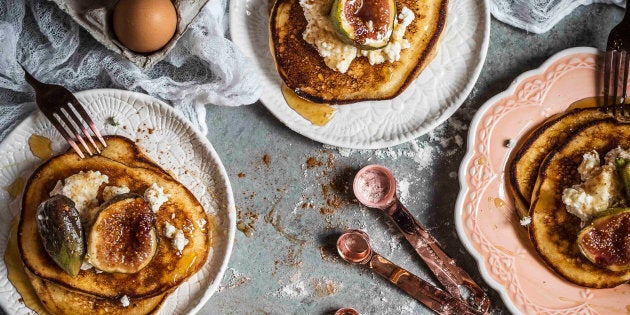 Pancakes are the best way to start the day and, as long as you have a spare 20 minutes in the morning, there's no reason you can't make them on weekdays.
These ricotta pancakes are light, fluffy, gluten free and easy to make. Serve with caramelised figs (or banana), extra ricotta and raw honey.
"I love the fluffy lightness of these pancakes. They remind me of a light and airy Italian ricotta cheesecake but even better because they can be whipped up in five minutes," Tzouganatos said.
"In this recipe, I have prepared them with caramelised figs, but they are just as delicious served with a sprinkling of sugar and lemon juice as per my lemon ricotta variation. You can even spoon small drops of the batter into the frying pan and make delicious pikelets."
Preparation time: 5 minutes. Cooking time: 15 minutes.
INGREDIENTS
3 eggs, separated
1 cup or 130g plain gluten free flour, sifted
¼ cup 55g caster sugar
2 teaspoons gluten free baking powder
Pinch of salt
¾ cup buttermilk
300g ricotta, plus extra to serve
6 fresh figs, halved
1 tablespoon raw honey
1 tablespoon butter
METHOD
Whisk egg whites in a small bowl until stiff peaks form.
Place all other ingredients into a bowl and whisk to combine. Add stiff egg whites to batter. Fold to combine.
Melt a little butter in a frying pan over low to medium heat. Spoon batter into pan and cook pancakes for 2-3 minutes until bubbles pop on the surface. Flip over and cook for a further minute until golden. Repeat until all the batter is cooked.
For caramelised figs, melt butter and honey in a frying pan over medium heat. Add figs and cook for one minute on each side until caramelised.
To serve, smear pancakes with ricotta and place figs on top. Drizzle with honey.
Tips: the figs will caramelise quickly so keep your eye on them to avoid burning.
Variation: For lemon ricotta pancakes, add two teaspoons of lemon zest to batter. To serve, sprinkle pancakes with sugar and lemon juice.