Hollywood mega-producer Harvey Weinstein used his ties to high-profile Democratic politicians and support of liberal and progressive causes as a shield against scrutiny for his serial sexual predation, creating contradictory public and private images that allowed those around him to look the other way.
A New York Times report published Tuesday night, as well as other reporting in recent months, detailed how Weinstein employed his status as a political power broker to help conceal his years of abusive behavior and intimidate those who tried to blow the whistle.
Weinstein often cited his connections to Democratic politicians, such as donating to and hosting star-studded fundraisers for Hillary Clinton and Barack Obama. The Times reported:
"I know the president of the United States. Who do you know?" Mr. Weinstein, a Democratic fund-raiser, would say during the years Barack Obama was in the White House, adding expletives. "I'm Harvey Weinstein," he used to say. "You know what I can do."
Clinton and Obama did not appear to know about Weinstein's abusive behavior. And like many of his collaborators in the entertainment world, they issued statements condemning him and expressing shock and disgust following the initial Times and New Yorker reports in early October exposing his history of sexual misconduct.
"Michelle and I have been disgusted by the recent reports about Harvey Weinstein. Any man who demeans and degrades women in such fashion needs to be condemned and held accountable, regardless of wealth or status," Obama said in a statement shortly after the initial stories.
The Obamas' eldest daughter Malia, interested in filmmaking, worked as an intern at Weinstein's production company earlier this year.
Clinton, who benefited from Weinstein's deep pockets for years, similarly said she "was shocked and appalled by the revelations" about Weinstein and praised the "courage" of the women who spoke out about the mogul.
As recently as this fall, Weinstein and Clinton were working together on a television documentary about her campaign, according to the Times. Clinton scrapped the project as the stories about him emerged, her lawyer said.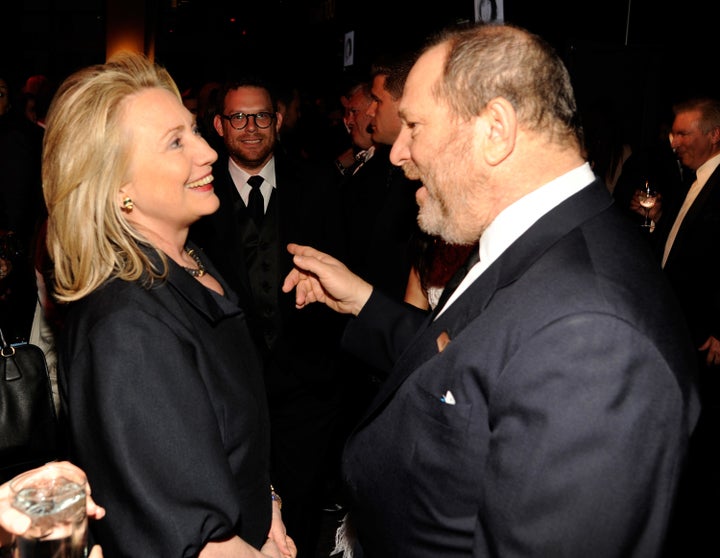 Beyond his ties to top Democrats, Weinstein's public image included his support of progressive and feminist causes, which he even referenced in a statement apologizing for his behavior, proclaiming that "I so respect all women." (He also said he would "channel [his] anger" into combating the National Rifle Association.)
Weinstein's production company distributed the 2015 Oscar-nominated documentary "The Hunting Ground," which documents the epidemic of sexual assault on college campuses.
In January, Weinstein was among many Hollywood figures who attended a women's march at the Sundance Film Festival, part of the nationwide demonstration protesting President Donald Trump's inauguration.
He established a scholarship fund to support emerging female filmmakers at the University of Southern California's renowned film school. In October, he cited the $5 million donation in his apology statement, responding to the initial Times report detailing his years of settling sexual harassment claims.
Shortly after the story broke, USC said it would no longer accept his money.
Many in Hollywood cited his reputation as a humanitarian and champion for women and their careers, when expressing their shock at his behavior.
"The disgraceful news about Harvey Weinstein has appalled those of us whose work he championed, and those whose good and worthy causes he supported," Meryl Streep said in a statement to HuffPost in October.
What now seems apparent is that Weinstein's public support of these causes was part of creating a public persona to insulate himself from being punished for his private misdeeds.