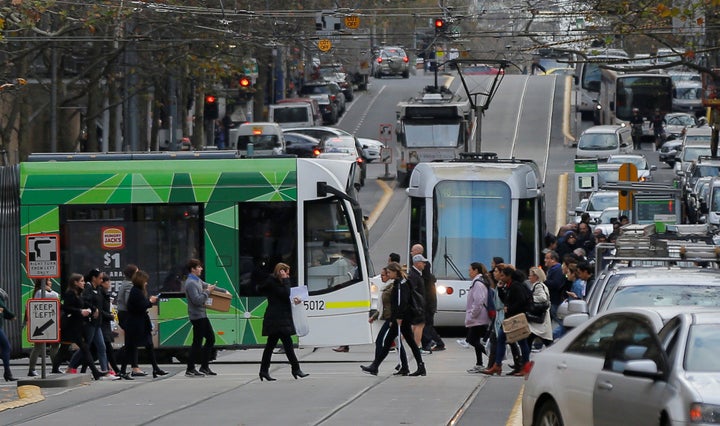 Recent reports of a wave of violence at the hands of young Africans in Australia's second largest city, Melbourne, have sparked a national debate and a fierce political fight about how to deal with the issue, but also whether there is a problem at all.
Over the holiday break, Australia's conservative media outlets reported extensively on a wave of violent crimes ― the robbery of a group of tourists, damage inside a McDonald's restaurant, a wild party that trashed a rented home and terrorized neighbors, and an assault on a police officer at a shopping center. They blamed the incidents on "African gangs."
An "African gang" problem has long been a hot-button issue in the state of Victoria, with conservative media, commentators and politicians claiming the situation is widespread, while police and state government officials downplay concerns.
Sudanese and Somali refugees have recently settled in the outer suburbs of Melbourne, Australia's second most populated city. And for several years, Melbourne media have reported on the so-called Apex gang, a group of young African men allegedly linked to a string of violent crime including carjackings, home invasions, brazen robberies and riots across Melbourne.
The gang issue went relatively quiet for several months, with police claiming the gangs were a "non-entity" after leaders and key members were arrested and jailed. But the recent reports were quickly picked up across the country, sparking a fierce spat between national and state political leaders.
Following the events, the state of Victoria's left-leaning Labor government resisted calls to label the incidents as gang-related. State police said the young people involved in these crimes did not fit the standard profile of criminal gang members, lacking organization and sophistication.
Australia's conservative government, however, disagreed. Prime Minister Malcolm Turnbull and Home Affairs Minister Peter Dutton have criticized the Victorian government and even claimed the "political correctness" of the state's premier, Daniel Andrews, was to blame for the crime wave.
The federal government criticisms come despite the most recent Victorian crime statistics showing a reduction in property damage, burglary and theft. Robbery figures rose by 12 percent in the last 24 months, but all other major crime categories remained stable, according to the state's Crime Statistics Agency.
Dutton said in a radio interview on Jan. 3 that "of course it's African gang violence," and claimed people in Melbourne are "scared to go out to restaurants in the nighttime." Many residents refuted the claims ― including State Treasurer Tim Pallas, whose west Melbourne electorate is one of the areas where incidents are taking place.
The Victorian government has now established a task force with members of the African community to work alongside police to not only tackle youth crime, but also deal with incidents of racism or vilification directed at people of African descent.
"We know that the vast majority of African-Australians in Victoria are decent, law-abiding people," Victoria's police commissioner, Graham Ashton, said in a statement. "They are suffering as a result of the actions of a small cohort of young offenders. The African-Australian Community can, and want to, play a role in providing solutions."
Ashton said it was "complete and utter garbage" to say Melbourne was not a safe place.
"Victoria is one of the safest places in the world to live," the Victoria police commissioner said at a press conference last week. "I don't think anyone is sitting at home cowering with the sheets over their heads."
"If you put it into context, you've got a few hundred offenders engaged in offending in a city of 4 ½ million people," he added. "We have some young people that are engaging in ... gang-related behaviors, we're not shying away from that, but I think it's important we keep it in perspective."
The Victorian state government, arguably the most progressive in the nation, and the federal government have long been at loggerheads over social issues including refugees, domestic violence and energy policy. The federal government sees the state and Premier Andrews as soft on crime and immigration. Andrews has publicly castigated the federal government's harsh policies on refugees and offshore detention. 2018 is an election year in Victoria, and some commentators see the federal intervention into the gangs issue ― a state government responsibility ― as a ploy to boost the chances of the conservative opposition winning office from the left-leaning incumbents.
While Melbourne residents met Home Minister Dutton's hyperbolic remark with ridicule, the government's rhetoric had real-life repercussions.
South Sudanese and Somali community leaders warned that the federal government's stance on the issue further perpetuated stereotyping of the community.
South Sudanese community leader Kot Monoah accused the federal government of "scaremongering" on the issue, claiming not enough was being done to help educate and integrate African migrants and families.
"The current youth crisis has been in the making for the last 14 years," he said in a TV interview last week.
On Wednesday, David Anei, a Brisbane resident of Somali decent, posted a video of an angry, verbally abusive and physically imposing man he claimed had followed him and his family home.
Anei put the blame squarely on Dutton's and Turnbull's shoulders.
"[They bear] full responsibility for this racial attack on my family because they chose to be in the office to serve certain group of Australian communities NOT Australia as a whole country," he wrote on Facebook.
On Thursday, the government's Equal Opportunity and Human Rights Commission criticized the federal allegations and called on Victorians to "take a stand against racism and discrimination in the community."
"Misleading claims of an African gang crisis in Victoria ― refuted by the Chief Commissioner of Police ― have already spurred race-based hate and threats towards African Victorians," the EOHRC said.
The issue of "African gangs" has been a favorite of Australia's conservative tabloid newspapers and TV stations for years. Reports peaked in 2016, when a group of young men of African descent dubbed the Apex gang sparked a round of street fighting during a Melbourne community festival. The group was later accused of being behind a series of carjackings, home invasions and robberies in Melbourne. While police say the gang had about 130 members at its peak, the deputy commissioner of Victoria Police said the group had become a "non-entity" by April 2017. Police say this remains the case today, but graffiti tags of the words Apex and MTS ― standing for Menace To Society, another group allegedly linked to the series of crimes ― were found at the scene of some of the recent incidents.
The controversy has also laid bare stark differences about how the government should respond to the economic woes of some African immigrants.
While the federal government has blamed recent crimes on a failure of African youths to "integrate" into Australian society, community leaders point to poverty and other social issues among the migrant enclaves in Melbourne's less wealthy outer suburbs. Unemployment rates among Melbourne residents of Sudanese, South Sudanese and Somali backgrounds have hovered between 25 percent and 30 percent, according to the 2016 census.
"We know that the vast majority of African-Australians in Victoria are decent, law-abiding people," Police Commissioner Ashton said in a statement. "They are suffering as a result of the actions of a small cohort of young offenders. The African-Australian Community can, and want to, play a role in providing solutions."