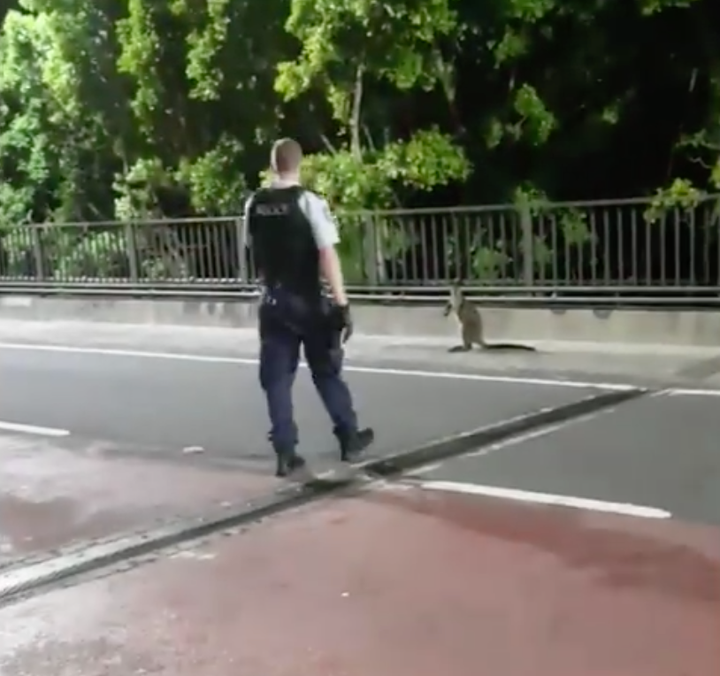 Two Australian icons came together early Tuesday in Sydney, as a wallaby hopped across the Harbour Bridge through dawn traffic.
New South Wales police responded to reports of the marsupial crossing the bridge around 5 a.m., first spotting it on the northern end of the span before it crossed to the opposite side of the road and bounded toward the city. The male swamp wallaby got to the other end of the bridge and well into the city before it was apprehended by bemused officers.
Police posted a video of the episode on Facebook, showing officers cruising next to the wallaby as it bounded across the bridge. At one point, the wallaby stopped and an officer warily approached, before it hopped off again. The video also shows a motorist slowly passing the wallaby in the overtaking lane.
"Officers took the startled macropod into police custody near the Conservatorium of Music, with the Police Mounted Unit arriving on scene soon after to take it to the zoo for veterinary assessment," police said in a tongue-in-cheek statement, adding that it "initially evaded officers."
Police said the wallaby likely came from a golf course in the suburb of Cammeray, in the north of Sydney. If so, that would be nearly a six kilometre (3.5 mile) hop before it was captured.
News program Sunrise captured footage of the wallaby being captured by police.
Wildlife experts at Sydney's Taronga Zoo examined the wallaby and said it had sustained some minor injuries.
"The animal was thoroughly assessed by Senior Veterinarian Dr. Larry Vogelnest, including a full body X-Ray, which thankfully revealed the animal had not received any significant injuries. The wallaby has been administered pain medication and fluids and is currently in Taronga's Wildlife Intensive Care Unit for recovery and further monitoring," Taronga said on Facebook.
"At this stage, it doesn't appear to have any serious injuries. However, it will be carefully assessed over the next 24-48 hours," Vogelnest said.
The wallaby is expected to be released back into the wild.
"I couldn't believe what I was seeing," a woman named Michelle told Sydney radio station 2GB.
"I was so worried about the poor little thing. It was just hopping northbound in lane eight."
"I thought 'no, no way do you see a kangaroo in the city like that.'"