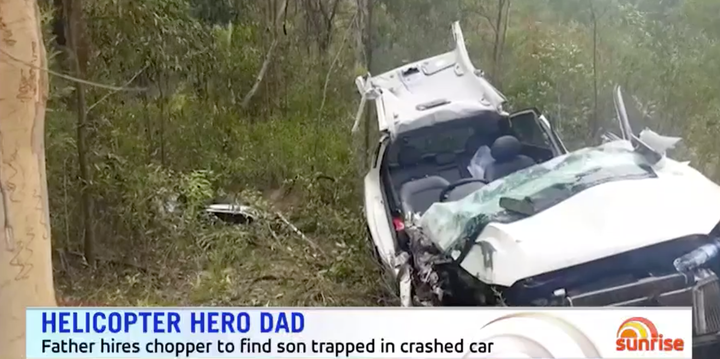 When police told Tony Lethbridge to go home and wait for news about his missing son, Samuel, the Australian father took matters into his own hands and put his trust in a helicopter pilot.
Tony's intuition and dogged determination almost certainly saved Samuel's life, leading to his rescue from a car wreck after 30 hours of lying stranded and hidden in thick bushland north of Sydney.
Samuel, 17, had set off from the Central Coast region of New South Wales on Sunday, planning to drive the short distance to meet his girlfriend in a town called Blacksmiths. He never made it.
Nobody had heard from him in 24 hours, calls to his phone were going unanswered and his family had begun to worry. Samuel's parents, Tony and Lee Lethbridge, reported his disappearance to police, but they were told to go home and wait.
"They told us that he might have ran away, he could have done this or he could have done that, and we just said, 'It's out of character; it's not him,'" Tony Lethbridge told Fairfax Media.
"They put all the things in motion, and we waited and waited. They just told us to go home and wait."
Lethbridge had it in his head that Samuel had crashed his car somewhere in the bush along the Pacific Highway. He recalled a similar incident several years earlier, when a driver had crashed his car into the scrub and had died by the time his car was found several days later.
"I just thought, bugger this, I'm not going to sit around and wait," Lethbridge told Fairfax.
"His mates were telling us he was a bit tired when he dropped his mate off on the Central Coast, so it was the only thing we could really think of."
"With the way the bush is there, if a car goes in you're not going to see it. The only way you'll see it is from the air. And that's what we did."
He went into the nearest airport just hours after reporting Samuel's disappearance to police. With $1,000 in hand, he begged for help from the first helicopter pilot he found. A local aviation company accepted the job and soon took to the skies searching for Samuel's car along the highway.
Within minutes, they'd spotted a car crashed deep into the scrub, about 50 meters (160 feet) off the road, only a short drive from Samuel's family home. The family rushed to the scene and raced into the bush, searching for the car. The helicopter hovered overhead to guide them. Lethbridge's brother Michael found Samuel first ― alive but dehydrated after nearly 30 hours in the wreckage of his car and suffering serious injuries.
"You wouldn't have seen him if it wasn't for the helicopter, because I couldn't see him from the road," Michael Lethbridge said.
"If the helicopter wasn't hovering above, I would have never had found him."
Emergency services were called and cut Samuel out of the wrecked car. He was rushed to a hospital with an ankle injury, a fractured forearm and a compound fracture to his femur, according to an ambulance spokesperson.
"I grabbed him and I said: 'Mate, Dad's got you,'" Tony Lethbridge said.
Samuel's reply to his dad was "I'd love a drink."