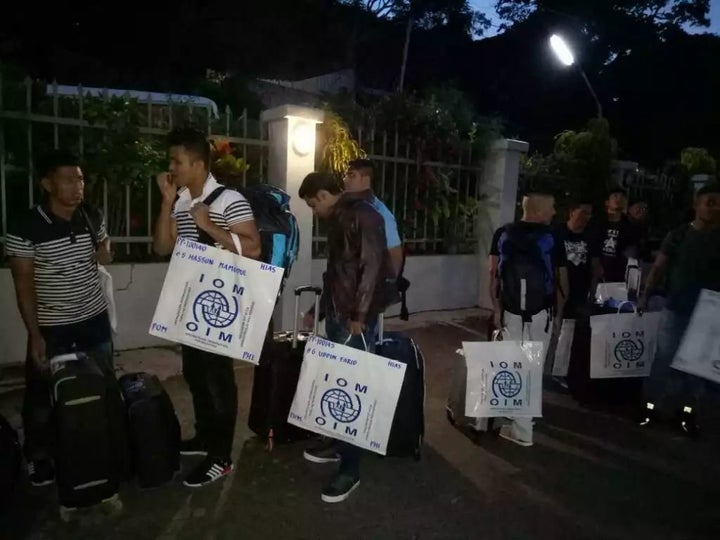 Up to 58 refugees being held at Australia's offshore detention facility on Papua New Guinea's Manus Island will fly to the United States on Tuesday.
Refugee advocates in Australia told HuffPost that 40 refugees had already left Papua New Guinea's capital, Port Moresby, on Tuesday morning local time, with another 18 thought to be departing later on a separate plane. The refugees were living at the Manus Island facilities, which house only men, and had been detained by Australia for several years after trying to reach the mainland by boat.
The refugees will be flown to Manila in the Philippines before the group is set to be split in two, with some people reportedly flying to Los Angeles and others to New York.
Ian Rintoul, of the Refugee Action Coalition, told HuffPost he believed the men ― among them Rohingyas, Afghans and Pakistanis ― would be settled in Los Angeles, Philadelphia and unspecified parts of North Carolina.
The U.S. Department of Homeland Security did not immediately reply to HuffPost's request for comment.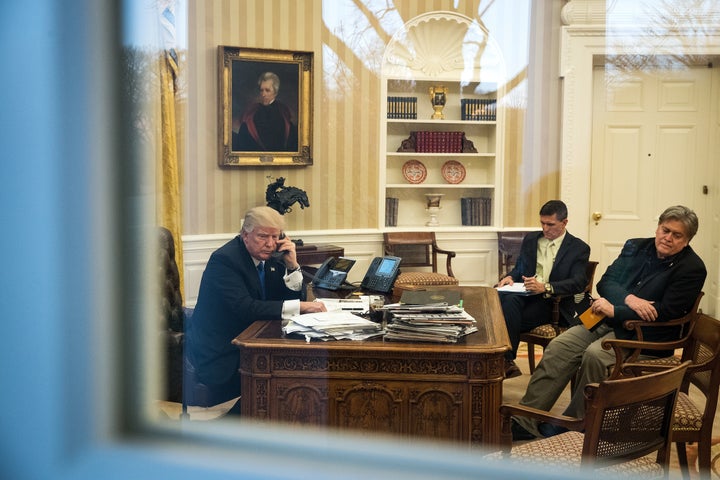 This is the second contingent of refugees to be transferred to the U.S. under a resettlement agreement between the Obama administration and the Australian government in 2016. Last September, 50 people being held on Manus and Nauru islands were also moved.
Australia's hard-line immigration policies include sending people seeking asylum by boat to offshore detention camps for processing, with successive governments pledging that nobody arriving by boat can ever be resettled in Australia. Refugees are permitted to resettle in either Papua New Guinea or Nauru, but have no prospect of being admitted to Australia. The U.S. resettlement deal was seen as a way to get refugees off the poor and under-resourced Pacific islands without allowing them into Australia.
"It was a bittersweet moment for the refugees who, on the one hand, are happy to be gaining the freedom that Australia denied them more than four years ago, but on the other, they remain extremely concerned for those that are being left behind," Rintoul said.
The Refugee Action Coalition shared a statement from one of the refugees, who said he was "very happy to be free of the hell that the Australian government made for us on Manus."
"But we are sad for those who are still waiting so long. We can't stop thinking of everyone who are still on Manus. We all need freedom," the unidentified man added.
The resettlement arrangement was the subject of an early, infamous phone call between U.S. President Donald Trump and Australian Prime Minister Malcolm Turnbull last January, where Trump called the arrangement under his predecessor "an embarrassment," "rotten" and "stupid."
Referring to the refugees, Trump asked, "Are they going to become the Boston bomber in five years?" according to a transcript of the conversation published by The Washington Post.
In the conversation and a later tweet, Trump appeared to be unaware of the scope of the deal, claiming he had "heard five thousand" people were to be involved. Turnbull stated that the deal was for up to 1,250 refugees.
Refugees from Australia's other offshore facility, on the Pacific island of Nauru, are also involved in the resettlement deal. On Monday, around 500 of them ― men, women and children who had not yet been allowed to leave ― signed a letter to the Australian government asking for more information on their status.
Rintoul said U.S. Department of Homeland Security officials were currently on Nauru assessing claims, but were not providing any updates.
"We have no answers about what will happen to our future. Our lives are in limbo," the letter read.
"We are getting more helpless and hopeless. More people are becoming mentally sick. More people are self-harming from despair ... we demand [the government] provides us with full information about the US deal and when the next group of people will go to the US."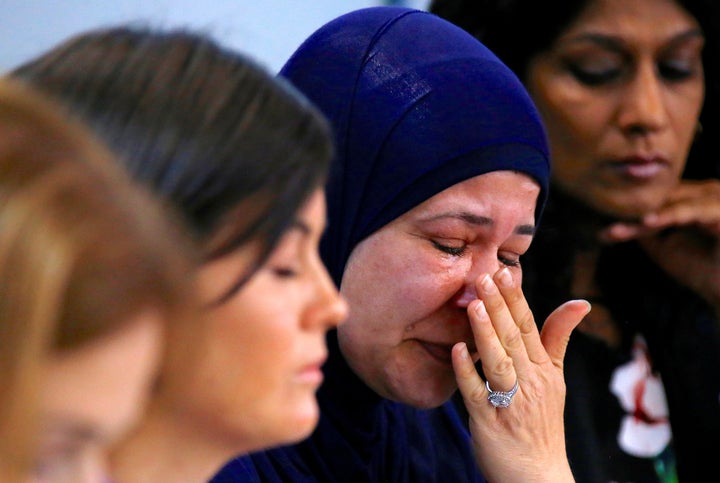 Rintoul said he expected another group of people from Nauru, up to 130 refugees, to be transferred to the U.S. sometime next month, but said they had received no concrete information about their status.
He also said the Trump administration's controversial travel ban on people from largely Muslim-majority countries was affecting the deal. Many of the families on Nauru are from Iran or Somalia, two countries named in the travel ban, meaning they will almost certainly not be eligible for U.S. resettlement.
"The consequence of the ban is that the vast majority of families will be left behind," Rintoul said.
"They're not being told what's going on. The Iranians and Somalis protested on Nauru yesterday in an effort to get information, but as of now, the request for more information has been stalled."