Elton John is letting the sun go down on his performing days after all.
The bespectacled icon announced a three-year farewell tour and his subsequent retirement during a press conference on Wednesday.
"I'm not going to be touring anymore," he told moderator Anderson Cooper at New York's Gotham Hall.
"I'm not going to be touring and traveling the world. My priorities have changed. I have young children... That doesn't mean I won't still be creative," the iconic singer said. "But I won't travel any more ... I don't want to go out with a whimper. I want to go out with a bang ... It'll be the most produced, fantastic show I've ever done."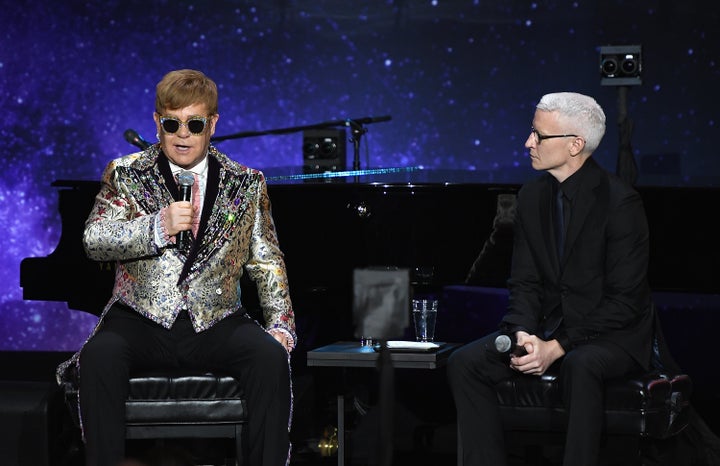 The 300-date tour, spanning over the course of a several years, is called the Farewell Yellow Brick Road tour. John insists that this will be the one and only farewell tour he will do.
"I'm 71. I can't physically do the traveling anymore," he said. "I want to be at home. I really want to spend time with my children at home. I've had an incredible life, but life is all about change."
Despite the desire to stop touring after this stretch, John expressed interest in making more albums.
"I definitely want to make a couple more albums, but that will be easy since I can do that at home. I want to see friends. I want to spend time at my house and with my photography collection. I'm really looking forward to this tour and I'm really looking forward to the 300th date," he said.
He'll be answering more questions about the tour on an upcoming Facebook Live stream, which is set to occur sometime on Wednesday.
John's first massive hit, "Your Song," was released in 1970 alongside his self-titled debut album, and he hasn't really stopped since. He'll finish his Las Vegas residency in May after six years and embark on the farewell tour in September. Tickets are available on his website.
In the meantime, the five-time Grammy winner is slated to perform at the 60th Annual Grammy Awards show on CBS this coming Sunday.