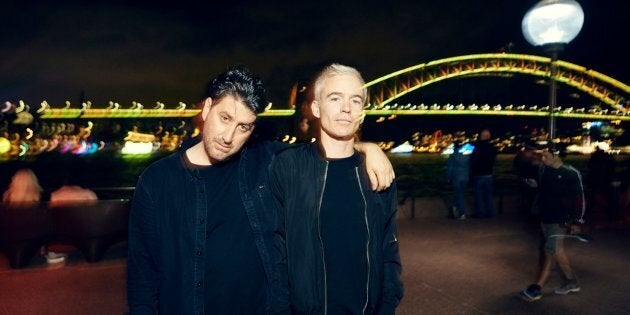 Australian electronic crate-diggers delighted long-despairing fans in 2016 when they finally -- finally! -- released 'Wildflower', the forever-delayed follow-up to their ground-breaking 'Since I Left You'. Coming 16 years after their debut, the 'plunderphonic' group returned with an astonishing group of friends in tow, the new album featuring Danny Brown, Chaz Bundick, Tame Impala's Kevin Parker, Biz Markie, MF Doom, Rye Rye and more. They criss-crossed the world on a giant tour of the world's biggest festivals, and generally lived it up once they finally got the opportunity to leave the studio and get back on the road.
Now, after a year and a half of solid touring, the cycle for 'Wildflower' is finally settling down and The Avalanches are already back in the studio and working on new music. Just a few more shows, including a big slot at the inaugural Sydney City Limits festival this month, and their endless touring schedule finally lets up. Taking a breather back at home, band leader Robbie Chater spoke to HuffPost about how he coped with the whirlwind 18 months, and when we can expect even more new music from the band (hint: he says we won't have to wait nearly as long this time around).
Hi Robbie. What's going on today?
I'm going through a bunch of old vinyl I've had in story. We've got some DJ business coming up over the next few months, and writing some new music, just enjoying life at the moment
You're having a bit of time off in the last few months, after a pretty hectic year. What have you been up to in the last while?
Just coming back to earth after this whirlwind touring and travelling. just setting up a little studio workspace, kind of getting balanced out again after the mayhem of touring, and starting to write songs again. It's a really lovely time at the moment, very chilled
It's been a very big year and a half for you guys, since the album came out. what's it bene like to get back into that grind - touring, festivals, promoting the record all over the place, after not doing the avalanches for so long? what was it like to get back into that grind?
Personally I love the touring, I don't find it a grind, it's such a thrill. For us, we've experienced success once before then had a huge hiatus, so certainly there was no guarantee it would happen again. It's a very fickle industry. We've been extremely grateful to be so busy, and really appreciated it. To be so busy, to be able to travel and tour, play shows on the other side of the world, have people know the songs, we're just really grateful.
How have you enjoyed this last 18 months? is it what you were expecting to be? was it a process to transition back into that lifestyle?
I was pretty cabin fever-y from being in the studio for so long. It's been really liberating to travel, reconnect with friends in different parts of the world, have new experiences and travelling with the new live lineup has been such a blast too. It's such a great gang of people. That side of it has been fantastic. It's been really great. I've really loved it. I could tour forever. It's gruelling but I feel alive when I'm on the road. I love soaking up new experiences, and so much work went into this record over such a long period of time, so to go places outside of major cities as well, have people turn up and know the words to all the songs. We've played to people who have been waiting to see us for 16 years, from the first album. It was quite emotional some nights, we'd finish a show and just hang out and chat to people for hours. There'd be a hundred people waiting, just to talk. It was pretty humbling and pretty overwhelming.
It has been a while now since Wildflower came out. It'd been 16 years since the first album, the personnel was different, so much hype and anticipation. How do you feel about the album now, about how it all came together?
I feel like i'm really rapt that we stayed true to ourselves. It undeniably sounds like an Avalanches record. There were times when it was difficult, so much time had passed and music changes so quickly, things go in and out of style every six months, so i'm happy we managed to find the essence of who we are and the spirit of 'Since I Left You'. Even though it's a different record, it still sounds like us when you put the needle down. I'm really glad we made it. We threw everything at it, and everything into it. Now it feels like we've got a clean slate to move on, and we're writing a bunch of new stuff.
Back in August, you posted on social media that it was day one of LP three. How are things going there, in terms of new material?
It's great. 'Wildflower' had lots of snippets of music over a long period, that we pulled together into the final record. Some samples were 15 years old, some were put into the record at the last minute. It feels like the end of one huge era, both 'Since I Left You' and 'Wildflower' were mining the same record collection really. Now I've moved into a tiny flat, i've got rid of all my records, it's like a clean slate and now the new music is flowing so beautifully. It's really simple, melodic, up-tempo and fun. It's flowing really easily. We posted that because we want to try and make a record quickly, and we've never done that really. It's a challenge to see if we can make a record in a year or 18 months. That'd be really nice. We love touring so much, it'd be great to put some new music out and get back on the road.
Are there any things from Wildflower that you'd do differently, or that you've learned from, for this upcoming new music?
What I've learnt is that I don't need much gear to make music. It's not about the equipment. I think I'm at my best when i have a limited sample set of tools, a turntable and a laptop, and my imagination can run wild. I don't need a studio full of gear. We tried all different permutations of equipment over Wildflower, different studios, and every few years some new music software comes out. But that technological realm of limitless possibilities, that doesn't really serve me very well. I work better with a simple set of tools, a handful of records and my own imagination. I'm happy with a record player, a sampler and a few records.
Is this a good sign that you're in a good groove with this new iteration of the band?
It feels really effortless and easy. I've always been the core and done the bulk of the writing, so that hasn't really changed, but the energy of touring has been great. Being around other musicians. That energy filters through when we're writing somehow. We've got a bunch of sketches, a bunch of demos, and we want to keep writing for a few months then pick the best stuff and finish it off.
The Avalanches play Sydney City Limits on February 24, as well as further shows in Perth, Brisbane, Adelaide, and at the Golden Plains festival in Victoria. For more information, see their website.