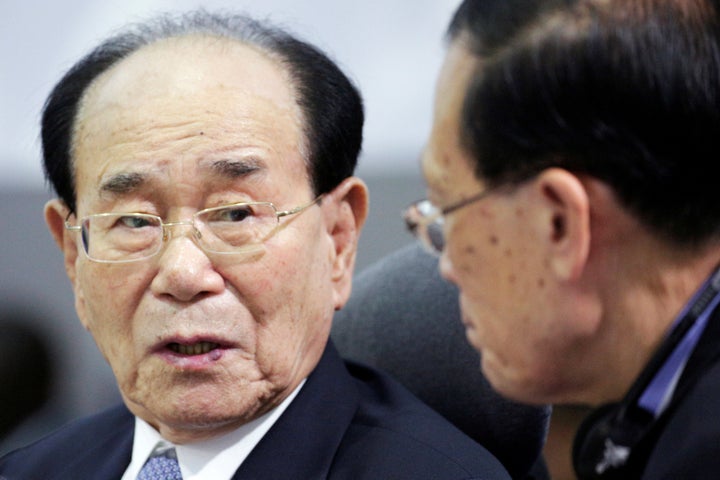 North Korea's ceremonial leader reportedly will attend the Winter Olympics' opening ceremony in Pyeongchang, South Korea, on Friday — an appearance that's been described as "unprecedented" and suggestive of possible high-level talks between the neighboring nations.
Kim Yong Nam, the 90-year-old head of the North's parliament, will lead a 22-person delegation to South Korea for a three-day trip starting Friday, according to Reuters, citing North Korea's official KCNA news agency and Seoul's Unification Ministry.
Kim will be the highest level North Korean official to visit the South since 2014, when close aides to North Korean leader Kim Jong Un attended the Asian Games in Incheon.
Kim, whose official title is president of the presidium of the Supreme People's Assembly, will be accompanied by several senior officials, The Guardian reported.
News of the visit has sparked speculation about possible talks between the two adversarial Koreas, and potentially even the United States, during the games.
Kim's visit "shows North Korea's resolve for improved inter-Korean relations and the success of the Olympics, as well as its sincere, earnest attitude," Kim Eui-kyeom, spokesman for the South's presidential Blue House, told reporters on Monday, per Reuters.
U.S. Vice President Mike Pence, who also plans to attend the opening ceremony in Pyeongchang, has reportedly expressed less optimism about North Korea's appearance.
Quoting a Pence aide, Axios reported Sunday that the vice president "plans to try to disrupt any normalization of North Korea amid the feel-good setting of the games."
"The vice president will remind the world that everything the North Koreans do at the Olympics is a charade to cover up the fact that they are the most tyrannical and oppressive regime on the planet," the aide was quoted as saying. "At every opportunity, the VP will point out the reality of the oppression in North Korea by a regime that has enslaved its people. We will not allow North Korea's propaganda to hijack the messaging of the Olympics."
North and South Korea have begun a rare rapprochement in the lead-up to the games. The two countries have agreed to march under one flag and will field a joint women's ice hockey team.