When it comes to clinching gold at the Winter Olympics, sometimes every millimeter counts.
French biathlete Martin Fourcade captured the gold medal ― the fourth in his career ― in the men's 15km mass start competition on Sunday in a dramatic neck-and-neck finish at the games in Peongchang, South Korea.
The 29-year-old crossed the end line just barely ahead of Simon Schempp of Germany. Both men, in a last-ditch dive, stretched toward the line but it was Fourcade who managed to cross it first, passing Schempp by just a few millimeters, the BBC reported. That's less than an inch.
Both recorded the same time of 35 minutes, 47.3 seconds. Biathlon combines skiing and shooting, with the men's 15km event featuring five laps around a 3km course and four shooting rounds
Bronze went to Emil Hegle Svendsen of Norway.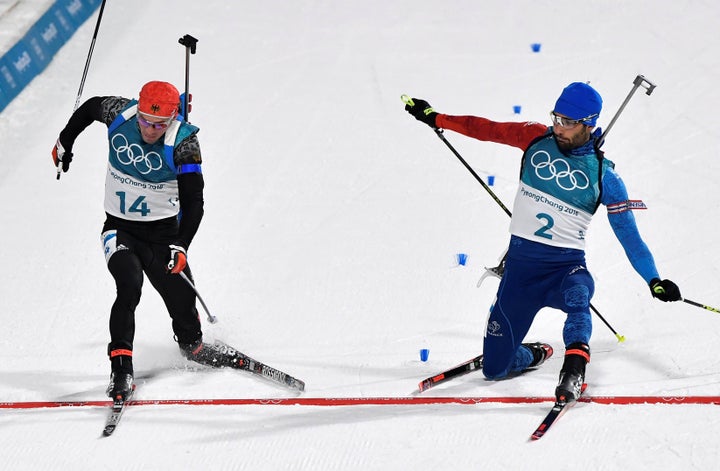 The race's victor took more than a minute to declare, as judges reviewed replays that ultimately showed Fourcade's left boot crossing the line before Schempp.
Fourcade, who placed second in the event at the 2014 Winter Olympics in Sochi, Russia, initially thought he lost to Schempp. He was seen angrily hitting one of his ski poles on the ground.
"Four years ago in Sochi I lost by only three centimeters, so I thought the story was repeating again. Tonight it's incredible," he later told reporters.