KFC restaurants in the United Kingdom are facing an unprecedented problem: not enough chicken.
The shortage, which was blamed on delivery issues, has forced KFC to close more than half of its 900 British restaurants, leaving some of its customers clucking mad ― with some apparently even calling the police.
As of late Tuesday morning, 646 of the fast-food chain's restaurants remained closed after its delivery contractor failed to make good on its orders, the BBC reported.
"The chicken crossed the road, just not to our restaurants," KFC said on Twitter. "We've brought a new delivery partner onboard, but they've had a couple of teething problems ― getting fresh chicken out to 900 restaurants across the country is pretty complex!"
DHL reportedly took over responsibility for delivering chicken for the restaurant last week. The delivery company has since blamed "operational issues" for the delays and incomplete shipments.
According to The Financial Times, delivery company Bidvest had supplied KFC's European restaurants since 2011.
The decision to switch contractors didn't come without criticism from the U.K.'s general trade union, GMB. In a statement posted to its website on Monday, GMB criticized KFC for making what it called a "bird-brained" decision in an attempt to increase profits.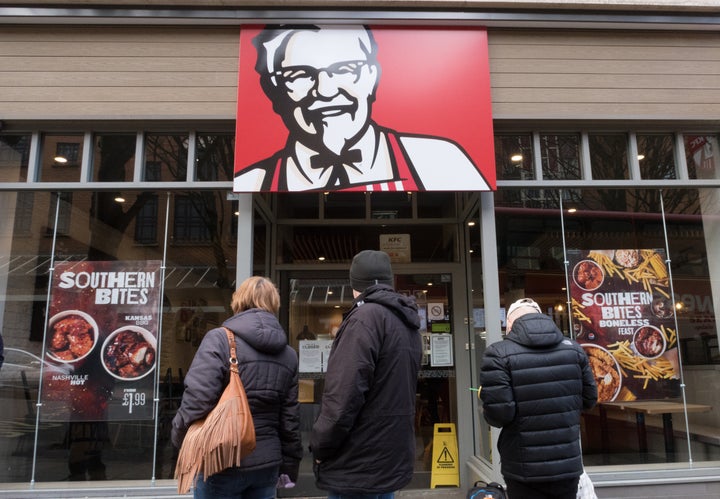 "We tried to warn KFC this decision would have consequences – well now the chickens are coming home to roost," the union said in a statement. "Bidvest are specialists – a food distribution firm with years of experience. DHL are scratching around for any work they can get, and undercut them."
GMB expressed concern not only for KFC's chicken-loving customers, but also the restaurants' employees "who are not being paid."
KFC told the BBC that its employees working at chain-owned restaurants, as opposed to franchises, will be paid the average number of hours worked per day over the past 12 weeks, and that those who receive fixed salaries will be paid as normal.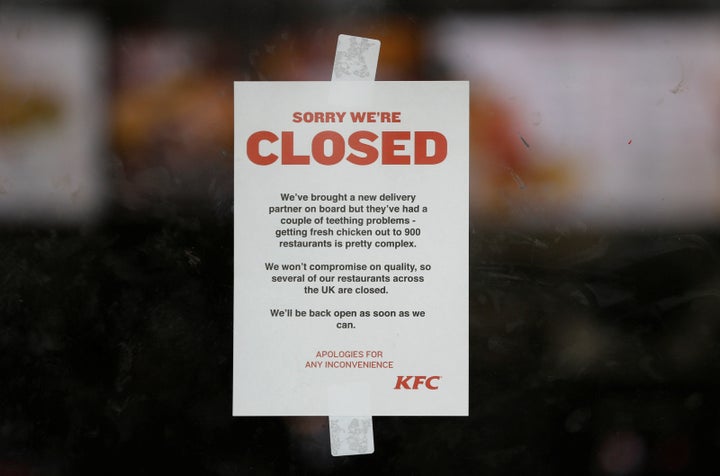 The chain encouraged franchise owners to follow the same compensation protocol. According to KFC's website, 95 percent of its U.K. restaurants are owned and operated by franchisees.
John Boulter, a managing director for DHL in the U.K. and Ireland, said Tuesday in a statement to HuffPost that it is committed to ensuring that KFC will be able to reopen its stores in the coming days.
"DHL regrets the interruption of supply and is working diligently to rectify the situation by working with KFC and other partners involved in the supply chain," Boulter said. "Whilst we are not the only party responsible for the supply chain to KFC, we do apologise for the inconvenience and disappointment caused to KFC and their customers by this incident."
A representative for KFC did not respond to HuffPost's request for comment on Tuesday.
As KFC works to rustle up some chicken, Twitter users offered some advice, alternatives and theories behind the delays. Among the social media posts were local police in the east London borough of Tower Hamlets reminding the public that a fried chicken shortage isn't enough of a crisis to call them for help.
This story has been updated with a statement from a DHL representative.