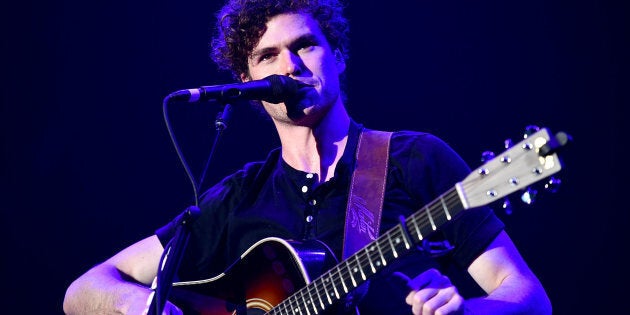 James Keogh is a busy guy. The Melbourne native doesn't spend too much time in his home city anymore, criss-crossing the world on long winding tours or recording sessions. You might know him better as Vance Joy, the ukelele-loving folk-pop balladeer who burst out of nowhere with 2013 earworm 'Riptide'. Since then, his earnest, honest tunes have taken him from the small stages of his hometown to huge crowds at some of the biggest festivals in the world like California's Coachella, and even a slot opening for Taylor Swift on her 2015 world tour. In between, his debut album 'Dream Your Life Away' hit #1 on the Australian charts, broke the top 20 in America and the United Kingdom, and has achieved certified platinum sales figures in his home country, in the USA and Canada.
Keogh is now preparing to release second album 'Nation Of Two' on February 23. Despite the accolades, the success and the whirlwind world tour he now constantly finds himself on, he retains that easy-going Aussie charm and says he just wants to chill out on the beach at home whenever he finds himself with some free time. HuffPost caught up with him on a rare visit back home, as the promotion schedule for the album started to really ramp up, and he seems ready for the busy few months ahead of him.
HuffPost: The album is out soon, is this a busy period for you? Getting all the prerelease things done?
Keogh: I had a good break over Christmas and New Year's, but the past few days have been busier and then on Saturday I leave to do a three-week trip to America and Europe for promotion, then we start touring for most of the year. It's a slow build to being busy for most of the year. I'm excited, it's nice to have new music out and have something on the go. It's nice to have the album all recorded and done and turned in, like you've done an exam or something
When you get that time off, do you try and savour it? Is it important to take that time at home to see friends and family?
I definitely make the most of it, to just totally do nothing for a few days. I did that down at the beach with my family, we were just totally relaxed, as relaxed as you can get in a week. Now it's taking me a few days to get my head into gear, back into emailing and that sort of thing. It's not to just do not much. I'm not great at remembering every day of the week, because when you're on tour, it's less about what day it is and more whether you have a show or not. I definitely feel in that week around Christmas, it was nice to not know what day it is - that's a good sign you're relaxed
Tell us how the album came together. How long have you been working toward getting this ready?
The first album came out in September 2014 and I had a bunch of songs already written, then a few songs came along not too far before that release. From then, I went on tour and from the end of 2014, I was compiling and collecting ideas. I guess it came together over 18 months or two years, just coming up with bits and pieces of songs and recording them in my phone. In early 2015 we were playing Coachella, and I was thinking "I've got three songs, I'm making good progress" - but it turns out these songs weren't really written, they weren't really worthy of being excited about. You write a lot of songs and they turn out to not be as good as you think they are. You start a lot of ideas then put them in the wastepaper basket. All the time between albums, you make music - but from about mid-2016 I had no distractions, it was like 'I've gotta write some songs now, the touring season is over, now it's writing, producing recording.'
Where did you actually make this album?
It was all over the place. We had a couple of recording sessions. I went overseas to record songs as they came in. I wasn't able to go to one place with 10 songs because I didn't have 10 songs, I had to wait for them to arrive. That was an interesting experience but also a lot of pressure, and my manager is like "OK what's the schedule?" I didn't know, the schedule was just when the song arrives. I did recording in Seattle, the Catskills and Malibu, those were the main spots. I did some songwriting in London, Nashville, all around. I was travelling around a lot in 2016, working with new people and experimenting.
Can you look at these songs and think 'that was from when i was feeling that emotion in that place'?
I think of the life each song had to being recorded. I think of a song called 'I'm With You', I wrote that just before I left in January 2017 and thought it was pretty close to being done. That was a good time, I went to LA then did a few days writing in Malibu and had some good days. then I went to the Catskills and recorded it. So yeah I remember how each song came into the world. So when I'm playing or rehearsing them, I have good memories from each place I wrote them
Now you've said the wider album itself is themed around a couple, a romantic relationship. Is this a kind of fictional couple or is this maybe a more personal thing, a relationship you've had?
I think I've always gravitated toward love songs, that's the well for inspiration for a lot of songwriters. You write a heartfelt song, it usually has some kind of love story in there. It's a combination of my own experiences - it's not a direct relationship translated into song, but it's more experiences and memories and reflecting on them.
The most autobiographical song I have is one called 'Little Boy' and it gave me confidence I could write a song that was more directly about me. It's a song about when I was eight or 10 years old, and a story about me falling off my bike and going to the hospital.I was remembering that time, how my parents cared for me, just little details of my childhood. I was definitely inspired while on the road with Taylor Swift and I was writing songs, but none of those experiences have yet turned into songs. Maybe one day I'll write a song about being on the road, it might just take me some time to turn them into songs
I read an interview you did with Forbes in October, and you said "As an artist, sometimes I get pressured to do things I'm not comfortable with, but I always know when a sound isn't me." I can imagine with your profile rising, you've got a lot of people around you now and maybe giving you different advice, so considering that quote, have you kind of had to stand up and say "this is what I will do, this is what I won't do"?
Yeah that's a constant battle. Early on, I released 'Riptide' and it was a popular song so it gave me a lot of opportunities. It was such a whirlwind and I was so green that I said yes to everything - I didn't want to really look at the fine print, I just did it, I'm saying 'point me in the direction and I'll do it'. Eventually that ran me down, I felt tired and powerless, just exhausted, and I lost my voice at the end of 2013 because it was too much of a hectic schedule. I'm glad I did, because you need to know where the line is, what you can handle. There will always be so many people's opinions, the record label, your manager, it's always going to be a balance. You have to give each thing its moments. Sometimes when I make decisions, I need to listen to everyone. You also need to know when you're totally uncomfortable singing a song or don't want to do something, and you need to stand your ground. It's so easy to be moulded. You don't want to have that thing of 'who am I, who am I as an artist?' when people are like 'you need to have a cool edge or an interesting story'. I just want to be, do what I do, and hopefully over time it will connect with people. It's an interesting one and a constant battle for artists.
I want to ask you about 'Riptide', because a lot of artists who have that monster breakout hit song end up kind of resenting it after a while for whatever reason, they get sick of it or don't like playing it. Do you still like the song and still like playing it, or are you a bit over it?
I still enjoy playing it to a crowd. It's an upbeat song, the one everyone knows, they sing along. I'm there and it's my job to entertain, to contribute to the vibe and give people an upbeat song to sing along to. That's like my little secret weapon. You want to have a bunch of songs like that. When people are having fun, you're having fun. I can't resent that song, it's the reason i'm doing this, it opened a lot of doors and got everything started. I think i'll keep playing it, unless i have a massive meltdown in a few album's time.
'Nation Of Two' is out on February 23. Vance Joy plays at Sydney City Limits on February 24, then tours Europe and America in coming months, before returning for an Australian tour in September. See his website for more details.