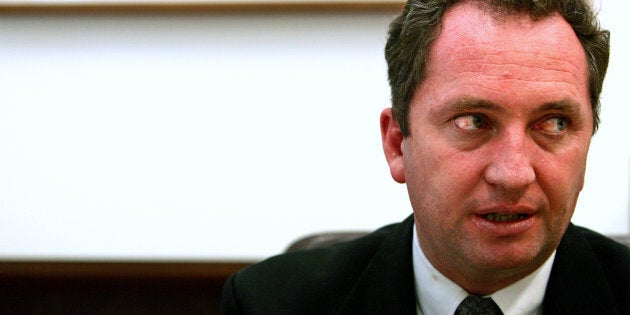 This is a developing story -- check back for further updates.
Joyce, the leader of the National Party, confirmed speculation around his future in a press conference in Armidale on Friday afternoon. He will remain as the Member for New England and plans to contest the next election, but will step down as Nationals leader and deputy PM.
"On Monday morning at the party room [meeting in Canberra], I will step down as the leader of the National Party and deputy leader of Australia," he said.
"I have informed the acting Prime Minister, Mathias Cormann, of this. I informed my colleagues of this."
Joyce said "without a shadow of a doubt I'm staying as the member for New England", but avoided a question over whether he had informed PM Malcolm Turnbull -- who is currently in Washington DC -- of his decision to resign before the press conference.
The news came just hours after the National Party confirmed it had received a formal complaint of sexual harassment against Joyce, believed to have been lodged by a Western Australian woman.
Joyce called the latest allegations "spurious and defamatory" following their publication, while acting Prime Minister Mathias Cormann said the claims were "very serious". However, at the afternoon press conference, he admitted his decision to stand down as deputy PM "was confirmed by the allegations that I read in the paper. I just thought that has to be the straw that breaks the camel's back."
Also on Friday, Nationals MP Andrew Gee became the second member of the party to publicly distance himself from Joyce, saying "until I have clarification regarding some of the issues about Barnaby, I won't be able to back him". On Thursday, fellow MP Andrew Broad said Joyce "needs to step down as leader of the National party and take a step back to the backbench at this time."
Earlier, Broad had tweeted a not-so-cryptic message "for the Leadership of the National Party" about "character".
The Joyce scandal has been ongoing for more than a fortnight. The deputy PM ― a married man with four daughters ― was reported on February 7 to have been involved in a months-long affair with one of his former staff members, who is now pregnant and expecting a baby in April. The pair moved in together after Joyce separated from his wife last year. Journalists and politicians have described the affair as being an open secret in political circles for many months, but it was only reported recently.
The reports exposed how Campion was shunted between the offices of different government politicians as the affair became more widely known, provoking claims of nepotism and favouritism. Ministers' relatives and partners are not allowed to be appointed to executive government offices without approval from the prime minister, but Joyce battled the calls for his resignation by claiming she was not technically his partner at the time she was appointed to the roles.
Following a brutal fortnight of criticism in parliament, Prime Minister Malcolm Turnbull last Thursday moved to head off further damage by announcing an update to the ministerial code of conduct banning federal ministers from sexual relations with their staff. At the same time, Turnbull slammed Joyce for the "terrible hurt and humiliation" he had inflicted on his family and new partner, saying his deputy had made "a shocking error of judgment" and "appalled all of us."
The following day, Joyce held his own press conference where he called the PM "inept". The extraordinary press conference set alight talk that the coalition government itself was splitting along party lines, leading to Turnbull and Joyce holding emergency crisis talks to smooth their issues over.
Joyce has spent the last week, in which he was relieved of his acting PM duties and asked by Turnbull to consider his future, in the media spotlight, agreeing to several interviews. These included a long feature piece in Fairfax where he told the public "it's time to move on" and claimed coverage of the issue had moved from "inquiry to malice".
"I don't want to say have sympathy for me. I just want people to look clinically at the facts and basically come to the conclusion he is not getting a gold star for his personal life, but he has made a commitment, he is with her, they're having a child, and in a 2018 world there is nothing terribly much to see there," Joyce told Fairfax.
Last year Joyce was involved a long-running feud with Johnny Depp and then-girlfriend Amber Heard after their terriers, Pistol and Boo, were smuggled into Australia on a private jet.