After learning that his far-right Infowars channel is now only one strike away from being terminated on YouTube, conspiracy theorist and radio host Alex Jones is challenging a teenage school shooting survivor to a debate.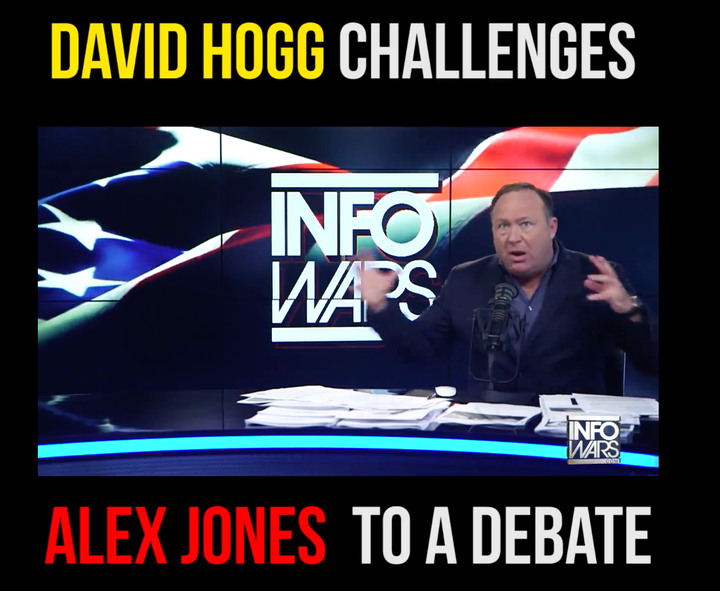 According to The Hill, Infowars claimed it had received a notice from YouTube on Tuesday morning that it would be temporarily barred from uploading new content after receiving a second strike for videos it had posted about the Feb. 14 school shooting in Parkland, Florida.
"This is the second strike applied to your account within three months. As a result, you're unable to post new content to YouTube for two weeks," read the alert. "If there are no further issues, the ability to upload will be automatically restored after this two week period."
Will Sommer, campaign editor at The Hill, tweeted out the alert in its entirety:
Per YouTube's community guidelines, an account that gets two strikes for violating the rules will be unable to post new videos for two weeks. A third strike within three months means the account would be terminated permanently. YouTube did not immediately reply to a request for comment about the strike on Infowars' account or specify which rule had been violated.
Infowars, which currently has 2.2 million subscribers, has been part of the effort to discredit school shooting survivors like David Hogg, a vocal teenage advocate for gun control since a shooter killed 17 people at his high school.
In a video titled "David Hogg Can't Remember His Lines In TV Interview," Infowars suggested that Hogg and other student activists were paid "crisis actors." That video earned the outlet its first strike from YouTube on Feb. 23, and has since been removed for violating YouTube's policies on bullying and harassment. Hogg's family members, including his 14-year-old sister, say they have received threats due to conspiracy theories surrounding the shooting.
But Jones claims he's the one being bullied. Evading YouTube's temporary ban on new Infowars content, he posted videos to his own YouTube account on Tuesday to talk about the temporary content freeze and to claim that Hogg was "bullying" him.
The debate talk started on Tuesday morning, after Hogg tweeted that he wanted to "clear some of this up" with Jones:
Jones responded be saying he would be "thankful for that."
Hogg soon responded with a few tweets poking fun at Jones.
Nevertheless, Jones has continued to challenge Hogg to a debate. He's also accused Hogg, who called him a "shit journalist," of "defamation."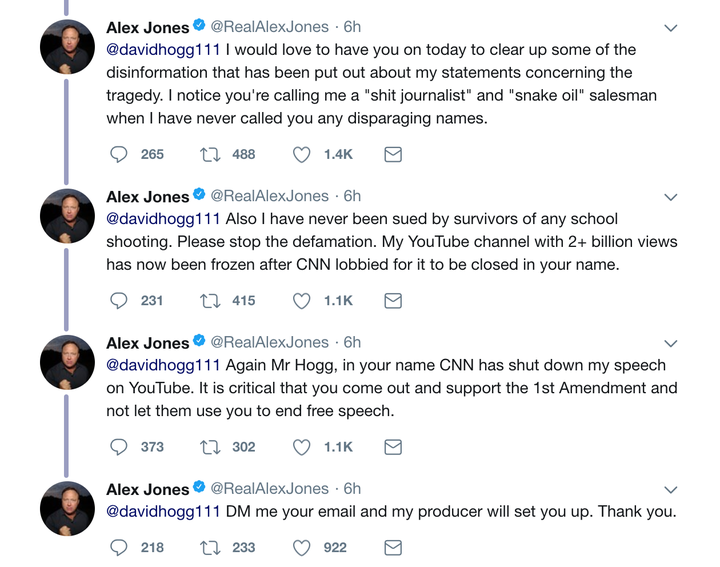 Jones even posted another video regarding his desire to debate with Hogg:
On Tuesday afternoon, Hogg tweeted that he was not at all interested in debating Jones. "I will not speak to anyone that has had disgusting remarks to victims of mass shootings in the past," he wrote. "I sent that tweet without realizing just how awful so many people have been to victims and witnesses of these events in the past."