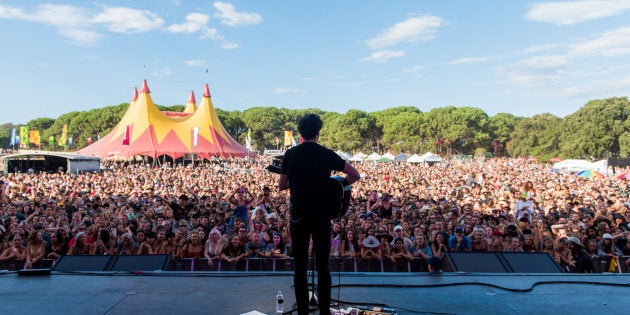 Starting a new festival is like organising a party. You make all the arrangements, order in the food, organise the entertainment, get the drinks on ice -- but even the best laid plans can be blown away if nobody decides to turn up. In its first iteration, Sydney City Limits had no such issues, with a huge crowd of young and old packing into Centennial Park on Saturday for one of the more eclectic, surprising and charming festival lineups this city has seen in some time. Tkay Maidza, The Libertines, Justice, Phoenix, Grace Jones and Future on the same day? Not a bad feat of festival booking.
A mix of firm Aussie festival favourites, some local and international newcomers, and some of the most beloved headliners currently making the circuits around the world brought 14,000 people to the venue on an overcast day. Centennial Park is one of the more underused parts of Sydney's beautiful outdoor offerings and it proved a top spot for a festival -- flat open expanses, lots of grass, and more than enough room to make sure you didn't feel packed in like a sardine. Too much dust and dirt in thoroughfares between stages, and a lack of shade when the blazing sun burst out between the rain clouds, were about the only gripes you could have with the location.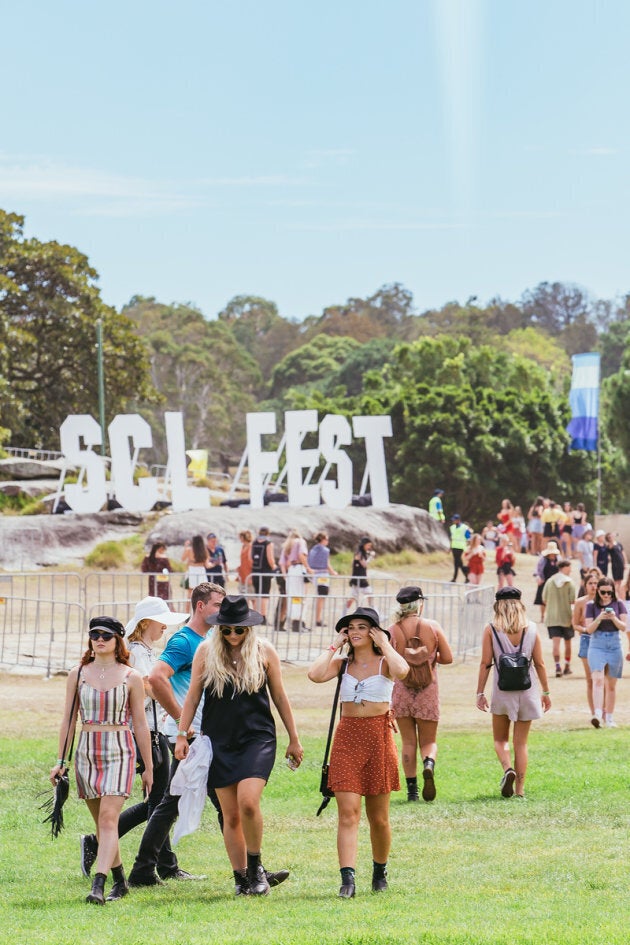 This was the first instalment of a Sydney festival from the organisers of the world-famous Austin City Limits festival in Texas, and the name was far from the only local alteration. The entire day had a very Sydney-centric flavour -- literally, with a food offering from Instagram-buzz-worthy restaurants and bars from this city, curated and handpicked by the crew behind cult food institutions Mary's and Lansdowne -- with locally-produced booze, and stages named Harbour and House. The fine selection of restaurant stalls and food trucks blew away the normal festival food offerings of pies and hot dogs, with dumplings, fried chicken, pasta, Asian noodle salads, an array of Mexican, and even a truck serving up halal snack packs.
The lineup was a solid mix of indie rock and electronic, drawing a crowd of young and old -- from Newtown hipsters to whole young families with babies and prams in tow, to some middle-aged (and older) folks keen to see the likes of Beck or Grace Jones. The first band we caught was Car Seat Headrest, the Seattle indie-rockers lighting up the big top tent as rain started sprinkling down. Their blistering live set drew a large crowd, and the six-piece band turned on a heavier and harder set than their lo-fi recordings, full of 90s-style slacker rock tunes. In a similar vein, they were followed by festival favourites Dune Rats on the main stage in the park.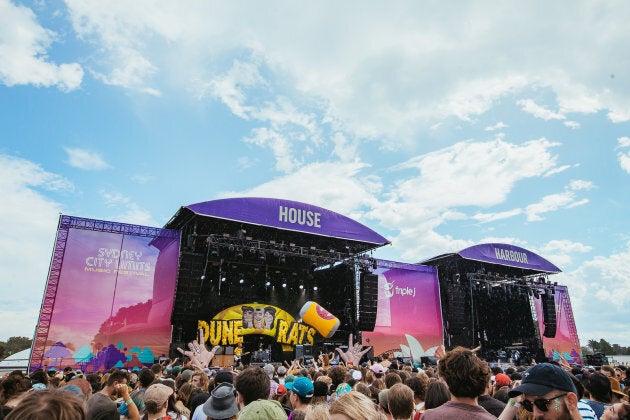 The Brisbane trio turned in the stock standard set they've played at seemingly every festival in the country in the last year -- huge inflatable beer cans thrown into the crowd, unintelligible stage banter, songs about drugs and drink, long hair flying everywhere -- and the crowd ate it up as usual. They're a fun live act and have garnered a rabid cult following for their high-energy live shows, and people don't seem to be growing weary of their shtick just yet. A mid-set security lapse saw a punter hop the barrier at the front of the moshpit, clamber up the stage platform and run straight into the middle of the band's performance. Police and security sprinted to apprehend him as he tried to hug Dune Rats' signer Danny, and the band tried to bring him back and rescue him from the clutches of police, but to no avail. The Dunies continued thrashing away, finishing their set to a heroes' round of applause.
There's not much left to say about Gang of Youths at this point. Simply put, one of the most important and vital bands of their generation -- ARIA winners, massive sold-out shows, one of the most electrifying live shows going around the circuit right now, the band returned to Australia from their new European homebase to play for a capacity crowd in their home city. Melancholy and sad and joyous and triumphant all at once, the five-piece write happy songs about sad stuff, putting on an uplifting, commanding stage show, led by the most beautiful human in rock and roll, in David Le'aupepe. The ARIA winners are based in London now but gushed about their former hometown, saying it was "the most special place in the world" for them.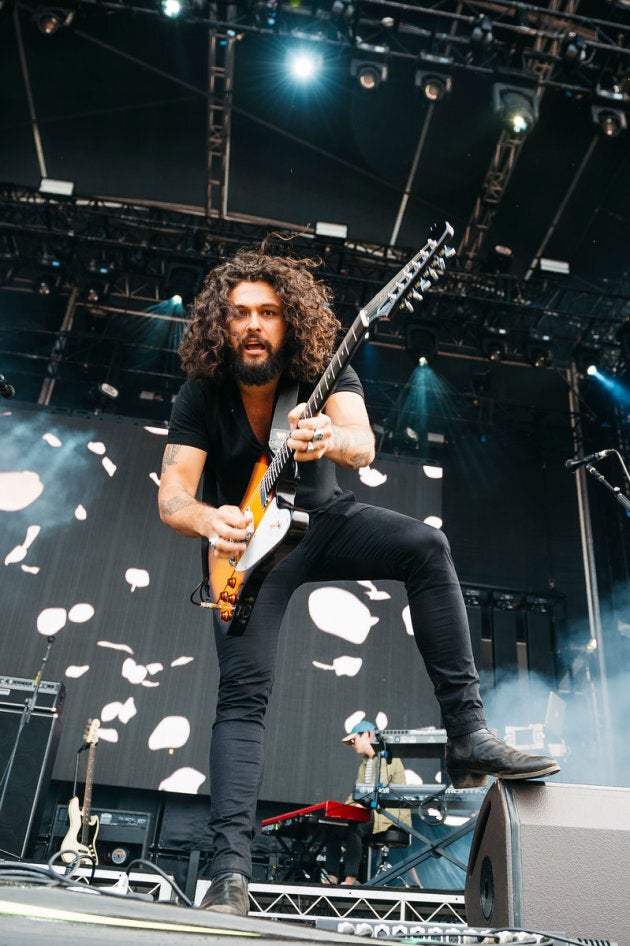 They ripped through their already-envious back catalogue, with the the biggest cheers saved for big hit 'Let Me Down Easy' and the joyous set-closer of 'Say Yes To Life', all big choruses and positive vibes and never-say-die attitude. They battled through a wishy-washy sound mix, which at times was kept at a strangely low volume -- in a since-deleted tweet to a fan, the band explained noise restrictions at the festival contributed to the worries -- but still came out as arguably the most impressive, enriching and nourishing set of the day. Gang Of Youths are the type of band that make you feel ballsy and brave enough to take on the world, and even in a broad daylight setting (rather than the night-time festival headlining shows they're getting more used to) they blew everyone else off the stage today.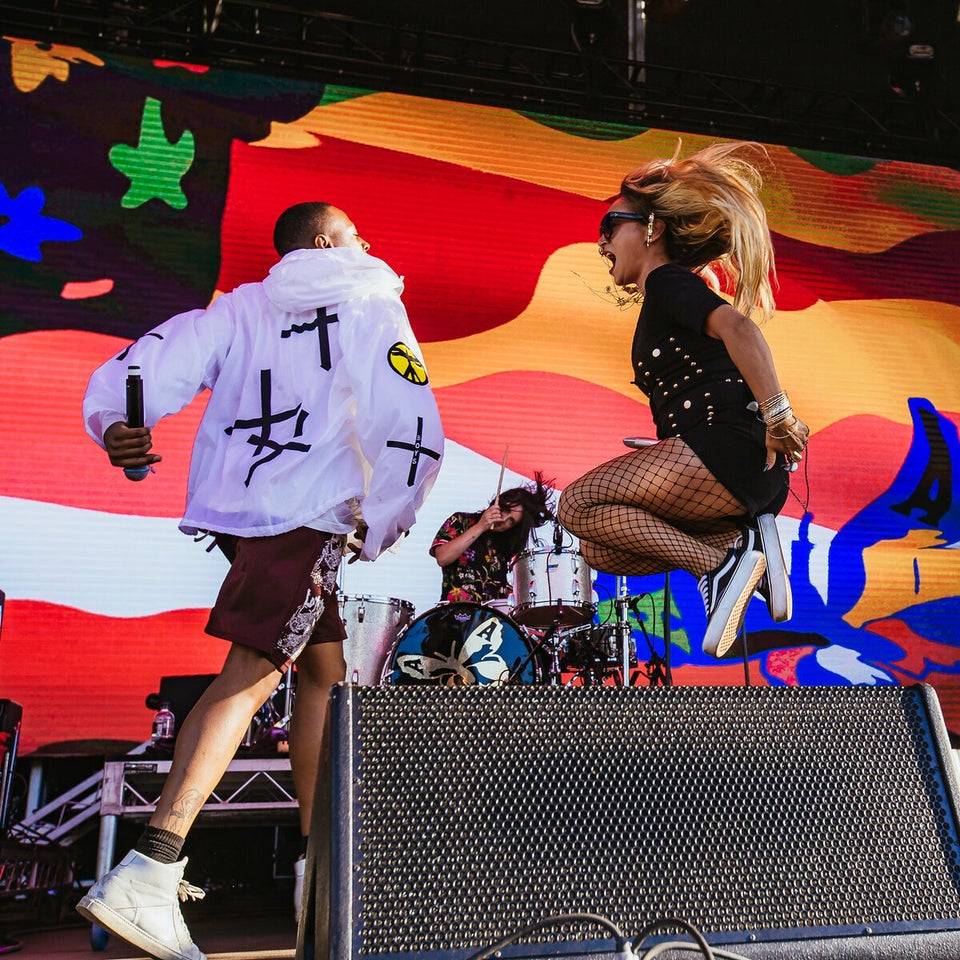 It was then a bit of a deflation to go straight into the twee indie-folk stylings of Vance Joy. The Melbourne balladeer has a swag of sunny, bright, airy tunes at this point -- he'd just released his second album the day before -- but he failed to really stand up to the powerful performance from Gang Of Youths. He's a great festival performer armed with a great clutch of tracks, and thousands at SCL loved the opportunity to put their hands in the air, sway, dance and sing along to the likes of 'Riptide', but the energy seemed to sap out of the place.
Over on the Park stage, however, things were heating up for The Avalanches. They've been criss-crossing the world with their latest album 'Wildflower', their first in a decade-and-a-half, but they showed no signs of fatigue from their hectic touring schedule as they blasted through the day's most fun, upbeat and energetic set. A lively show featuring live drums, guitar, keyboards and two vocalists -- a male and female rapper sharing hype duties -- The Avalanches bounced around the stage from the very first, fusing disco and hip-hop and house music to keep fans dancing and jumping right through. Drawing equally from their two albums, the highlights were those from the new one, infused with a more immediate and fun energy than their older predecessors. It was a party in the moshpit, more like a nightclub atmosphere than a festival scene, with fans sweating in the late afternoon sun in front of a fun backdrop video of old film clips fused with cartoon characters and trippy CGI animations. A perfect festival band, and a perfect festival set.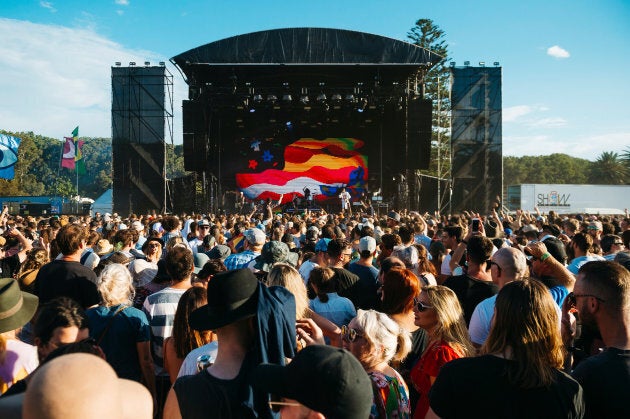 American rapper Future was a surprising addition to the lineup, and he took to the early evening main stage to usher in the night's headliners. Forced to temporarily pause his set soon after starting due to technical difficulties, the Atlanta star didn't lose any energy or momentum when he returned to the stage for a long set of high-energy rap under dense, menacing production. The dreadlocked Future came out in a fluoro orange hoodie despite the lingering heat, accompanied by the novelty of three black-clad male backup dancers who prowled the stage, popping and locking and crumping to the beat. A mix of his own headline chart-toppers and some cuts he featured on -- pulling out Ace Hood's 'Bugatti', which Future featured on in 2013, was an unexpected highlight -- it was a true party-starting set, featuring his 'Jumpman' collaboration with Drake and his own hits 'Thought It Was A Drought' and 'Fuck Up Some Commas'. Despite the uptempo set -- rapping about sex, drugs and money, under shuddering bass and dense, menacing beats and percussion -- Future's gimmick ran a bit tired toward the end, thanks to the endless calls to "put your hands up" and monotonous, repetitive lyrics. The rapper walked back and forth on stage, dancers cycling the same moves. It was a fun and energetic, but a bit unimaginative performance-wise.
Towards the end of the night, a lot of acts started separating the old from the young, the families from the young partiers. On the one hand there were the likes of Beck and Grace Jones, on the other young up-and-comers like Tash Sultana and Ocean Alley, with the French dance music double act of maestros Justice and Phoenix to close out the night. Beck took to the main stage in front of a huge packed crowd, a surprisingly large and young audience for the indie veteran, and wasted no time getting the entire place singing along to 'Loser'. Middle-aged couples, young parents with toddlers on their shoulders and trendy young types came together as one to shout "I'm a loser baby so why don't you kill me?" into the night sky, while a massive crowd was brewing on the other side of the grounds for a young female talent from Melbourne.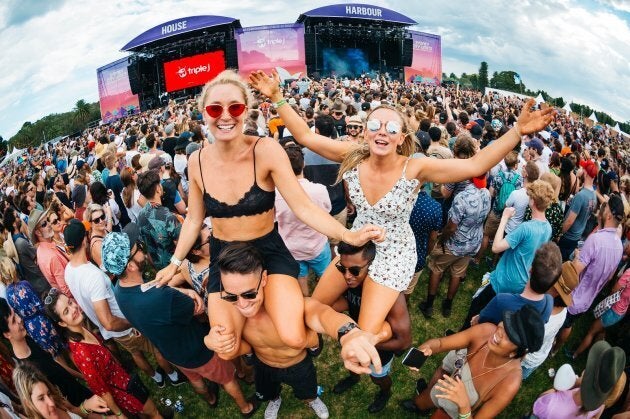 Tash Sultana is a mind-boggling talent. Through her hour-long set, she variously tried her hand at guitar, keys, beatboxing, trumpet and even pan pipes, all filtered through her loop pedals. Her live show is just her on stage, accompanied by only a few gadgets, a rack of guitars, a keyboard stand and some twinkling fairy lights wrapped around a frame, but she produces an alluring, hypnotic sound that some five- or six-piece bands would envy. There's little stage banter, besides a show-starting directive that any homophobes or racists leave immediately -- but when you manage to entrance a crowd the way she does with just a few simple instruments and a couple of pedals, you don't need to do much talking. She just plays. And amazingly, stunningly well.
Each song starts slowly, a simple guitar lick or keyboard riff (or pan pipe interlude), before layer upon layer upon layer is added via recorded loops. All of a sudden, what was a lean few notes has swirled and coalesced into a full-throated, startling crossover of roots, rock, funk and R&B, immensely danceable and catchy and fun. She's simply too busy on stage to bother much with theatrics, madly running between instruments, but Sultana allows herself one bit of rock star self-indulgence, leaning back on her haunches in her best Slash pose, guitar wailing as she shreds away. She's humble and almost a little shy still, bidding goodnight as the lights go down.
For its first time, Sydney City Limits went off seemingly without a hitch -- beautiful location, well-organised logistics, great food, and an interesting lineup that fused old favourites and sure things with some up-and-comers and left-field headline choices. Here's looking forward to it becoming an annual fixture on the summer music festival schedule for years to come.