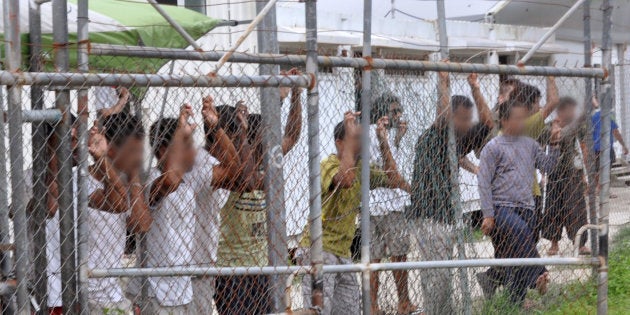 Refugee agencies have slammed the Australian immigration minister Peter Dutton's eagerness to offer fast-tracked humanitarian assistance to white South African farmers, saying Australian has ignored asylum seekers and human rights abuses in its own backyard for years.
"It was communicated to the High Commissioner that the South African Government is offended by the statements which have been attributed to the Australian Home Affairs Minister and a full retraction is expected," the government said in a statement.
Others involved in the South African farming industry said some in the country were "spreading wrong information to cause panic and fear".
Dutton's comments have also sparked outrage domestically in Australia. Asylum seekers and refugees are a hot-button issue in Australia, with the issue being a key theme in every federal election campaign for more than a decade. Australia's controversial policy of mandatory detention for unauthorised boat arrivals, and offshore processing and indefinite detention in sub-standard facilities on small islands in Papua New Guinea and Nauru, has drawn sustained international condemnation. However, Australia has not shied away from the policy, and has even rebuffed offers from countries such as New Zealand to resettle some of the approximately 2000 refugees who remain in offshore detention.
Australia has also refused to engage with calls for an emergency intake of Rohingya refugees from Myanmar, even as the United Nations warned the government purge of the religious minority constituted "a textbook example of ethnic cleansing". Up to 800,000 Rohingya have fled to neighbouring Bangladesh in recent months, in the face of what the UN called a "frenzied scale of unspeakable violence".
Kon Karapanagiotidis, CEO of the Asylum Seeker Resource Centre which assists resettled refugees and advocates for those attempting to secure humanitarian assistance from Australia, said Dutton's plan was "really troubling".
"He had a good quote saying that when people are being persecuted, we have an obligation to assist. I couldn't agree more with that, but what's so troubling is that he wants to prioritise a particular group on the basis of being white. He's talking about a fast-tracked visa process for them, while at the same time, leaving 2000 people languishing on Manus and Nauru," he told HuffPost.
"How can you just cherry pick people because they're white? [White South Africans] are not considered to be in the top most persecuted groups on Earth. How can we do that? There are calls for a one-off intake of Rohingyan refugees but we're not taking in any. If we were going to take in any for a fast-tracked program, we'd take in Rohingyans or Syrians."
HuffPost has contacted Dutton's office for comment on what assistance Australia is providing to Rohingyan refugees, but did not receive a response by publication time.
Paul Power, CEO of the Refugee Council of Australia, said he would not be against the idea of bringing South African farmers to Australia, but said he was unaware of any situations where those people had tried to claim refugee status.
"If I'm looking at this glass half full, it's good to hear Dutton actually thinking about people possibly facing rights abuses and we'd encourage him to think about people facing abuses in other countries and contexts as well," Power told HuffPost.
"A well-founded fear of persecution can be experienced by people of any skin colour, any socioeconomic background, in any country. Are they facing great discrimination, are they at risk, are they not being afforded protection from the state? I don't know enough about the situation but refugee assessment doesn't happen until or unless they leave that country and seek protection elsewhere."
Power also said he saw why some Australians were upset by Dutton's proposal.
"One of the reasons people might question this is the level of concern he's showing for white South Africans, seems to be significantly greater than the concern he's shown for abuses faced by people sent to Nauru or Manus, or the situation of Rohingya refugees. Their needs are significant too," he said.
"There would be more ready and willing acceptance of the government being interested in [South Africans] if this was a consistent position of the government. But at the heart is inconsistency and concern about cherry picking."
"But if their lives are at risk and they have a well-founded fear of persecution and their government is not providing help, they would and should get refugee protection."
Ian Rintoul of the Refugee Action Coalition, which focuses on advocating for people in Australian detention centres, told HuffPost that the government should be looking at Rohingya refugees first.
"Dutton has made an fool of himself with this extraordinary hypocrisy that they should fast-track white farmers, when there are people kept indefinitely on Manus and Nauru who have been persecuted in a far more dramatic way," he said.
"Can you compare the persecution of farmers with the Rohingya suffering in refugee camps?"