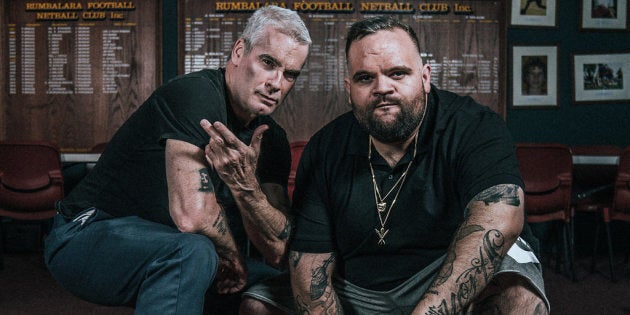 "I attempt to slow time down by packing it full of stuff so everyday feels like a knotted rope being pulled out of your nose. It's memorable. I hate when you think "wow, time flew." Well that means I used it incorrectly. I want it to be more eventful."
Henry Rollins is midway through an answer to my simple question -- "what fuels you these days to keep working so hard?" -- that is so inspiring, that stokes such a fire in my belly to just pack a bag and travel the world tomorrow, that I catch myself staring into his intense face with my mouth slightly agape. I'll later transcribe the answer and post it on Twitter, telling people that the man is "a force of nature".
The punk rock renaissance man, the stage and screen polymath, is in Australia on what he estimates is possibly his 40th visit to the country ("high 30s, at least") for an interview series called 'Tough Conversations', a partnership with Mercedes Benz where he travelled nationwide, talking to Australians from Sydney Lord Mayor Clover Moore and surfing champion Mick Fanning to rapper Briggs and ordinary farmers, about what it means to be "tough".
Sitting in a Sydney hotel, dressed simply in grey combat boots, blue trousers and a grey shirt, topped off by his crewcut hairdo and arms full of iconic tattoos, Rollins stills cuts an imposing, well-built figure at age 57.
Jumping in a ute with just a bag of clothes and traversing our wide brown land for weeks on end might sound like a daunting task for many, but for a guy like Rollins -- who has a house in Los Angeles, but says he rarely spends more than 72 hours at home at a time before packing a rucksack and heading to Lima or central Asia or the Middle East or through Europe on his latest assignment, whether that be acting or interviewing or his celebrated speaking tours -- it's just another day. A life of travelling, from the back of vans as frontman of legendary hardcore punk band Black Flag, to trekking solo through wartorn corners of the world or treading the boards on the stages of the most renowned venues on the planet today, means his answer when offered a new freelance job is "give me 48 hours to make sure the windows are closed, I'll pack a bag and go."
"Right now life is good because I'm busy. I like a full schedule, I like to be overworked because it keeps me in line."

"I make myself busy by just saying 'there's a day off, fill that'.When you sign on the dotted line and you must report to the place and do whatever you said you'd do, I go "cool, I'm on four hours of sleep, it's gonna be a long day so let's just make it amazing" and I get right into it."
He has this unique ability to just talk and talk and talk, seemingly without drawing breath, an endless stream of words that seem desperate to escape his mouth in full and vibrant and rich sentences with nary an 'um' or 'ah' as punctuation.
People say Foo Fighters leader Dave Grohl is the nicest man in show business. Rollins -- who cut his teeth in the same Washington D.C. hardcore punk scene that Grohl did, just a few years earlier -- must be the busiest man in show business.
"When my schedule is full, I'm at my best. When my schedule is empty, it leads to depression."
He says he's "been flooring it" since leaving LA in November, detailing a mind-boggling schedule that took him from Oregon to speak at a cannabis entrepreneurs' conference, to Vancouver to shoot a TV pilot called 'Deadly Class' ("it's a high school for assassins, it's wild"), to Luxembourg to shoot a film called 'Dreamland', then into a fortnight of editing a book he's writing, then five weeks of speaking dates in America and Europe where he shared photos from his never-ending travels around the world. A few weeks in Australia shooting 'Tough Conversations', then straight onto another TV shoot in the USA, and then "either screen work or an insane sleepless month of book editing to get this damn book off my desk." Between that, he also writes, hosts a radio show, and does whatever else creative takes his fancy on any given day.
It's enough to make you either yearn for your own comfy bed, or to pull out your passport and jump on the closest plane going anywhere. But right now, Rollins is amped up -- he seems to exist in a perpetual state of energy and positivity -- on the 'Tough Conversations' project, and getting to spend time tapping into the Australian psyche.
"I wanted to get an assessment from the people we were interviewing as to what they thought about the idea of traditional Australian male toughness. This is in no way a put-down, but I've been all over the world and I've never seen a country with so much football, sports, vigorous male things. Not macho to the point you're running for your life, but just big healthy men everywhere going [at this point he affects a crude Hollywood-style Australian accent] 'HOW YA GOING MATE?' [at this point he smacks me hard in the shoulder in mimicry of an Aussie greeting] and that's just 'good morning' for these guys, they knock the wind out of you, like a friendly pit bull," Rollins says, almost without drawing breath.
"These were not lightweight interviews. They were way more intense than I thought they were going to be. Really intense. Not screaming, but getting really into it. I was asking some of these men 'what is it with you guys?' The punching, the drinking, the misogyny, the homophobia. I got right into it and they got right back at me about it, they all said 'not onboard with it, we've got to change'. We're trying to understand, is Australia moving forward? Is the idea of toughness and male culture changing in this country?"
After chatting with a wide range of Australians, all across the country, Rollins thinks that culture is changing. He speaks fondly of his time with Mick Fanning, with farmers and ordinary people, but his most endearing words are saved for a wheelchair rugby team he spent time with, and Indigenous rapper Adam Briggs, half of celebrated duo A.B. Original. Rollins was particularly chuffed by a shirt presented to him by Briggs, a reinterpretation of Black Flag's iconic four bars logo containing the Aboriginal flag.
Rollins and Black Flag were -- forgive the pun -- flag-bearers for the hardcore punk genre in its 1980s heyday, fertilised by rage at the conservative reign of Ronald Reagan in the U.S., and across the pond at Margaret Thatcher in the U.K. As we head into an uncertain future under President Donald Trump, I asked Rollins if he thought the world would see a creative explosion in protest as we saw under those 1980s politicians, or the Bush administration in the early 2000s -- it was the trend predicted by Briggs when we spoke to him in 2016, just days after the Trump election, when he said "I think rappers, punk rockers and comedians are set for a few years."
"What you might get out of this isn't necessarily the next big political rock band but a rapper like Adam Briggs, who is so smart. He's so politically aware, and unafraid. He gets right in your grill. You can like him or dislike him, agree or disagree, but he won't quit. I really like it. I really like that guy," he gushes.
"In America it'll be the rappers, talking about black America trying to tell white America what's up. Black America understands black and white America, but white America doesn't understand black America. You'll get great books like Ta-Nehisi Coates. It'll be comedians being funny some of the time, but right all of the time. We're seeing that already with comedians as the truth-tellers, the Stephen Colberts of the world, they're really getting to it."
"The news people are propping up soap companies and selling light bulbs. The comedians are like 'no no, he is a bastard. It's funny and it's pathetic and here's some facts.' There's more truth in 26 minutes of John Oliver than in hours of corporate news. I just don't think rock does that anymore."
And as for that inspiring answer on what still fuels his creative output? I tried to paraphrase it, or pick out a few good lines, but I thought a reader might get more out of the entire answer, in full, as he spoke it to me. Enjoy.
"Understanding my physiological limits and the reality of mortality. The fact I'm insanely curious and I have nothing to lose, because I'm not afraid of dying. It's gonna happen, today or next week. I attempt to slow time down by packing it full of stuff so everyday feels like a knotted rope being pulled out of your nose - it's memorable. I hate when you think "wow, time flew." Well that means I used it incorrectly. I want it to be more eventful, so when I travel, I don't go on vacation - I come back about eight pounds skinnier, hopefully with no intestinal parasites. I try to live eventfully. I come from the minimum wage working world, wearing an apron and serving food. I know that world very well. I lucked out by getting in a band, and from there, into film and voiceover and television and writing."

"I'm a yes man, I say yes to stuff, and the world is fascinating to me. I was raised by a mom who always had National Geographic magazines in front of me. I went to the Smithsonian museum all the time, where you see whale bones, a picture of the pyramids. Like, you think I don't want to go to that? Are you kidding? I've wanted to visit the Sphinx since I was like six. I've seen that thing - it's smaller than you think it's gonna be. I've been there at least three times and stood in awe at Giza. The world is my oyster. I just go. I like working. This thing with Mercedes Benz, I feel like I won the lottery with this. Like 'they want me? Me? Damn.' They said 'thanks for doing this,' I'm like 'are you kidding? Thanks for letting me'."

"That's what drives me. It's not money, it's not fame. It's curiosity, it's anger, angry that I want to know stuff and angry that life is short. I can feel my body is changing. I'm almost 60, I know I look 27 to you, but I feel it's harder to get up the stairs, harder to climb up hills, so I gotta strike while the iron is hot because 10 years from now, I don't know what my body will be like and I don't know if I'll be able to take a backpack and hit central Asia for six weeks like I did a few years ago."