More than 40 children were among the dozens killed in a blaze that ravaged a Siberian shopping center Sunday. Heartbreaking reports of the youngsters' final moments suggest many were trapped in a cinema where they'd gone to enjoy a screening of a kids movie. Many of them called family members to ask for help or say goodbye as the blaze encroached.
One child penned a final message on social media: "We are burning," wrote 13-year-old Maria Moroz. "I love you all. This is perhaps farewell."
The fire reportedly started on the fourth floor of the "Winter Cherry" shopping center in Kemerovo, Russia, at around 4 p.m. on Sunday afternoon.
According to Vladimir Chernov, a deputy governor of the region, the blaze originated in the children's play area in the mall. The cause of the fire remains unknown, though Chernov suggested a child may have used a lighter to ignite the foam filler of a trampoline in the play area, according to The New York Times.
Video shared online by Russian news outlets showed thick smoke rapidly filling the fourth floor as the fire began to spread.
Russian authorities confirmed Monday that emergency exits at the shopping center had been blocked and the fire alarm system had been switched off, corroborating eyewitness accounts.
Harrowing videos posted on social media showed desperate people jumping from windows to escape the fire. An 11-year-old boy was among those who jumped.
Russia's Health Minister Veronika Skvortsova said the child had survived but was in "serious condition." He lost his parents and a younger sister in the fire, Skvortsova said.
At least 64 people died in the inferno, described as one of the worst fire disasters in modern Russian history. Interfax news agency said Monday that at least 41 of those killed were children. Earlier reports said an entire fifth grade class and their teacher had perished in the blaze.
The aunt of one of the fifth-graders said her niece, 11-year-old Viktoria, had called her just minutes after the fire began.
"She said that everything was in flames, and that the doors were blocked in the cinema. She said she couldn't escape and couldn't breathe," Yevgeniya Oganesyan told the newspaper Komsomolskaya Pravda. "I told her: Vika, take off your clothes and bring them to your nose, breathe through your clothes. She told me, 'Tell Mummy that I loved her. Tell everyone that I loved them.'"
Other families recounted similarly agonizing calls.
Alexander Lillevyali told independent news outlet Meduza that his daughters had called him from the movie theater saying the room was filling with smoke but they couldn't escape because the doors were locked.
Lillevyali said he'd accompanied his three young daughters into the theater and had placed them in their seats with boxes of popcorn. He'd then gone downstairs to wait for their movie to finish when he received their desperate call.
"As I was running up the stairs, somebody handed me a wet rag, and I used it to cover my nose," Lillevyali said of his attempt to rescue his children. "When I reached the fourth floor, I broke a window to send the draft upwards. Then I collapsed. I started crawling, but I realized at this point that I'd lost all strength."
One of his daughters "kept calling me and calling me," he continued, speaking through tears. "I just shouted into the phone that she needed to try to get out of the theater, but there was nothing I could do. In front of me, it was already flames."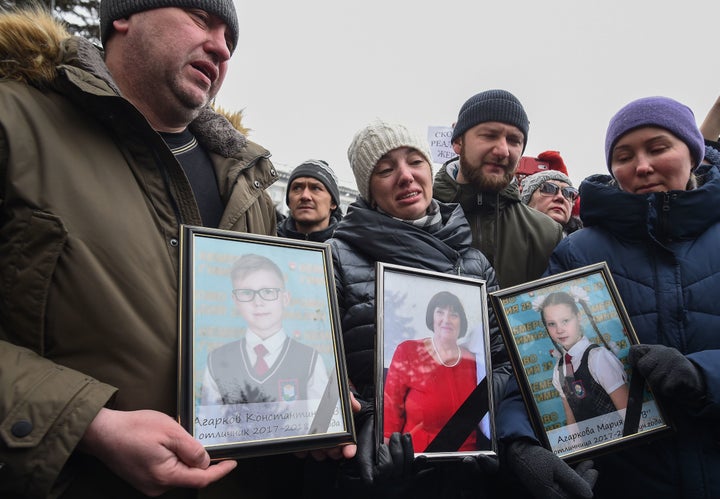 Igor Vostrikov said he also lost his three young children in the fire. His wife and sister had also perished, he said ― all of them had been in the cinema when the fire broke out.
"[My wife] Lena called from there," Vostrikov told Komsomolskaya Pravda. "She screamed, 'Help us, rescue us, we've been locked up.'"
Russian authorities have launched an investigation into the cause of the fire and said they would punish anyone found guilty of negligence. Several people involved in the mall's operation, including the building's owner, have reportedly been detained for questioning.
Russian President Vladimir Putin visited the scene of the blaze Monday and blamed "criminal negligence" for the tragedy.
"What's happening here? This isn't war, it's not a spontaneous methane outburst. People came to relax, children. We're talking about demography and losing so many people," Putin was quoted as telling Kemerovo officials, according to The Guardian. "Why? Because of some criminal negligence, because of slovenliness. How could this ever happen?"