With just days to go before Prince Harry and Meghan Markle's royal wedding, the internet has a lot of questions. While Harry has captured the world's attention for decades, Meghan has piqued many people's interests in the last few years, first for her acting role on "Suits" and her humanitarian work, and now as she prepares to join the British royal family.
We wanted to know what exactly the internet was wondering about Meghan. So we mimicked a Google search about the former actress to learn what people were searching in real time and turned to Google Trends to see popular searches over the last year and in the last 30 days. Here are some of the most common questions, keywords and searches associated with Meghan on Google.
'Meghan Markle father'
In a 2015 essay for Elle, Meghan shared that her dad, Thomas Markle, and her mom, Doria Ragland, met in the late 1970s. Doria was a temp at the studio where Thomas was working as a lighting director for a soap opera. Thomas also worked on the sitcom "Married With Children," which Meghan brought up in an interview with Esquire in 2013.
"I wasn't allowed to watch it at home," she said. "I could watch the end credits so I could give the screen a kiss when I saw my dad's name go by."
The recent surge in searches for Meghan's dad likely has to do with his probable absence the day of the wedding. On May 4, Kensington Palace confirmed that Thomas would walk his daughter down the aisle. In the weeks prior to the wedding, her dad was photographed preparing for the event by reading books about Britain, exercising and being fitted for a suit.
Reports emerged this week that he had staged the photos, and Thomas told TMZ he was responsible. He also said he recently had a heart attack and that he would not be attending the wedding. On Tuesday, Thomas seemed to change his mind, telling TMZ he would be attending, then he changed his story again, saying he had a major heart surgery scheduled and would not be traveling to Britain for the event.
Kensington Palace has since put out a statement from Meghan confirming that her father will not attend the wedding.
"I have always cared for my father and hope he can be given the space he needs to focus on his health," she wrote in the statement. She also thanked "everyone who has offered generous messages of support."
Many wondered if Meghan's mom would walk her down the aisle, but Kensington Palace tweeted Friday that Prince Charles will accompany her.
'Meghan Markle mother'
Unlike Meghan's father, her mom has met Prince Harry. The royal and his future mother-in-law were both in attendance at the 2017 Invictus Games closing ceremony. During Meghan and Harry's first joint interview after their engagement, Harry described Ragland as "amazing."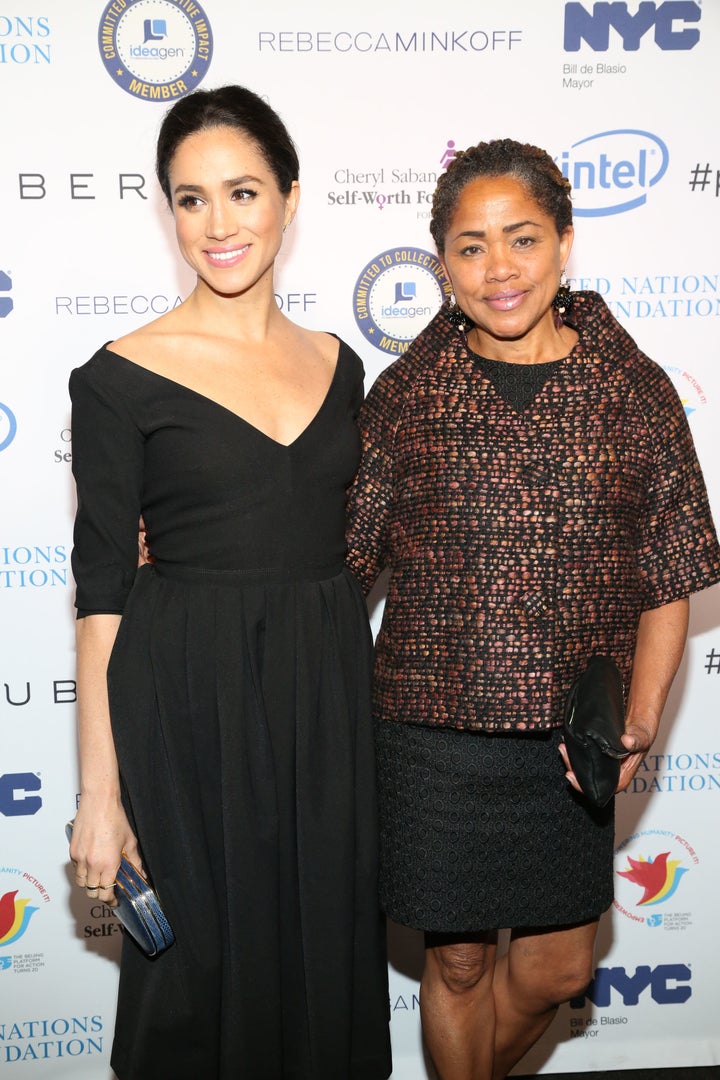 In her essay for Elle, Meghan described growing up in a neighborhood that wasn't very diverse. She said many people assumed her mother was her nanny because her mom's skin was darker than her own. In August 2017, Meghan included her mother, who is a yoga teacher and a social worker, on a list she put together for Glamour about 10 women who changed her life.
"We can just have so much fun together, and yet, I'll still find so much solace in her support," she wrote. "That duality coexists the same way it would in a best friend."
Meghan has since described how her parents, who are divorced, helped her to be proud of her background and supported her dreams of acting. Many are wondering if Ragland will be the one walking her daughter down the aisle on her big day.
'Meghan Markle age'
Meghan, 36, was born Rachel Meghan Markle on Aug. 4, 1981, in Los Angeles. She shares that birthdate with former President Barack Obama, born 20 years earlier in Honolulu. Harry and Meghan have spoken fondly of their trip to Botswana last year where they camped under the stars and were able to have some privacy. The trip was reportedly for Meghan's birthday.
'Meghan Markle wedding'
Harry and Meghan will wed in St. George's Chapel at Windsor Castle at noon in the U.K. (that's 7 a.m. EST and 4 a.m. PST for royal family devotees across the pond).
Kensington Palace also announced the plans for after Harry and Meghan exchange their vows.
"At 1 p.m. the couple, now married, will undertake a Carriage Procession from St George's Chapel through Windsor Town returning to Windsor Castle along the Long Walk," the palace tweeted.
There will be a reception at St. George's Hall followed by another more private reception for the couple's close friends and family.
'Meghan Markle wedding dress'
Erdem, Jenny Packham, Christopher Bailey and Stella McCartney have all been thrown into the royal wedding dress rumor mill recently. Meghan could also go with Alexander McQueen, whose creative director Sarah Burton designed the Duchess of Cambridge's (and Meghan's soon-to-be sister-in-law's) wedding dress, or Ralph & Russo, the designers behind the sheer dress she wore in her engagement photos.
It's worth remembering that Meghan will likely wear another dress after she walks down the aisle, like Kate did.
"Meghan Markle first wedding dress" is also a popular search. Meghan married her first husband, producer Trevor Engelson, in 2011, in Jamaica. According to Inside Edition, Meghan wore "a simple white dress with a shimmery silver belt." The couple divorced in 2013. This year, her fans got a sneak peek of her in a wedding gown for an episode of "Suits."
'Meghan Markle movies'
Throughout her acting career, Meghan was best known for her role as Rachel Zane in the law-focused TV drama "Suits." She also starred in a couple of Hallmark movies, "Dater's Game" and "When Sparks Fly."
'Meghan Markle sorority'
Meghan joined Northwestern University's chapter of the Kappa Kappa Gamma sorority before she graduated in 2003. Her sorority portrait (below) has been picked up by various news sites.
'Is Meghan Markle still on Suits?'
Meghan will no longer be on "Suits" and will be focusing on her royal duties full time.
'What will Meghan Markle be called?'
Just like Kate is now the Duchess of Cambridge, Meghan will receive a title after marrying Harry. Many are speculating that Harry will be named the Duke of Sussex, making Meghan the Duchess of Sussex.
'Meghan Markle Oroton'
Meghan has an enviable sense of style, according to internet searches. When the future royal stepped out with a black-and-white crossbody bag, people flocked to Google to learn where she got it. It turns out it's from the Australian brand Oroton.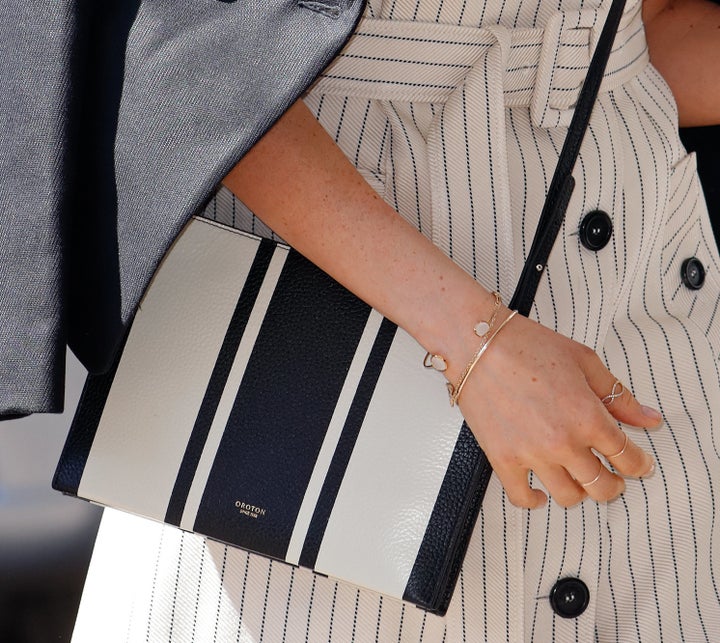 Other fashion-related searches involving Meghan include "Meghan Markle coat" and "Meghan Markle handbag." The "Kate effect" refers to Kate's fashion sense triggering new trends and higher sales for certain brands. We're likely well on our way to the "Meghan effect," as well.
This piece has been updated to reflect that Meghan confirmed her father would not be at the wedding, and with additional comment from Kensington Palace.