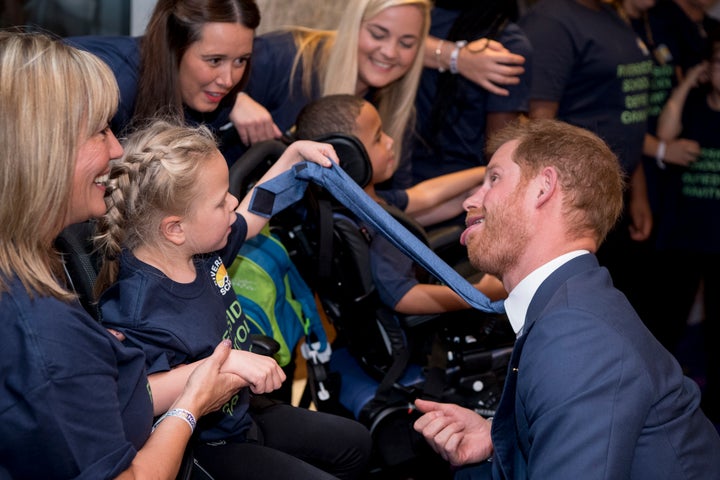 Prince Harry playfully made a face at a young girl who played with his tie when he went to an awards ceremony recognising children with severe illnesses.
The Duke and Duchess of Sussex met seven-year-old Ruby Joslin-Smith at the WellChild awards ceremony in London on Tuesday 4 September. Ruby has a genetic disorder and is wheelchair-bound.
After she grabbed his tie, Harry crouched down and flopped the end of it in her face as he played up to her antics. Jacqui Burrows, who works as an expressive arts specialist at Ruby's school, Riverside, said: "Ruby was very excited to see Harry and Meghan.
"She was attracted by the dangling tie, she does have some vision impairment but could see the tie and just wanted to play."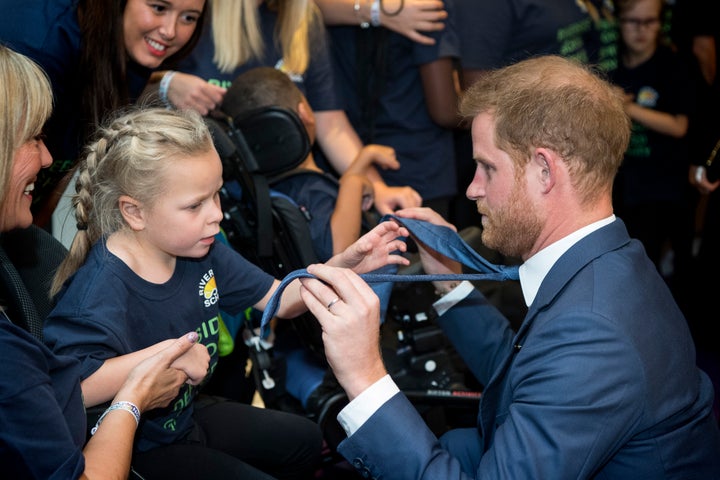 Harry also pulled funny faces when interacting and meeting other children at the event.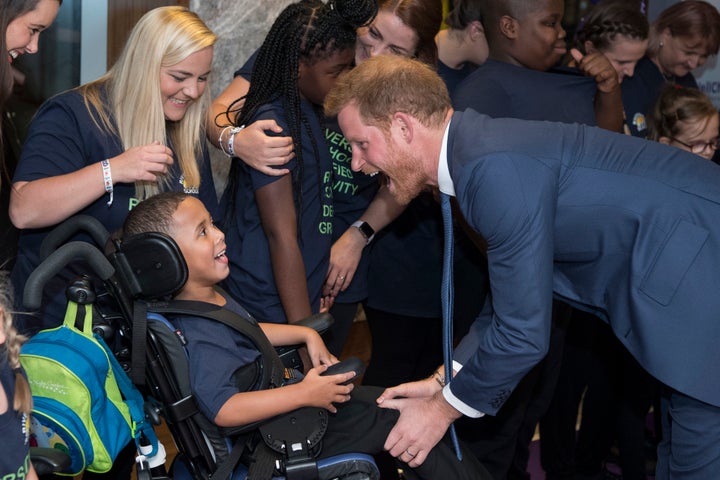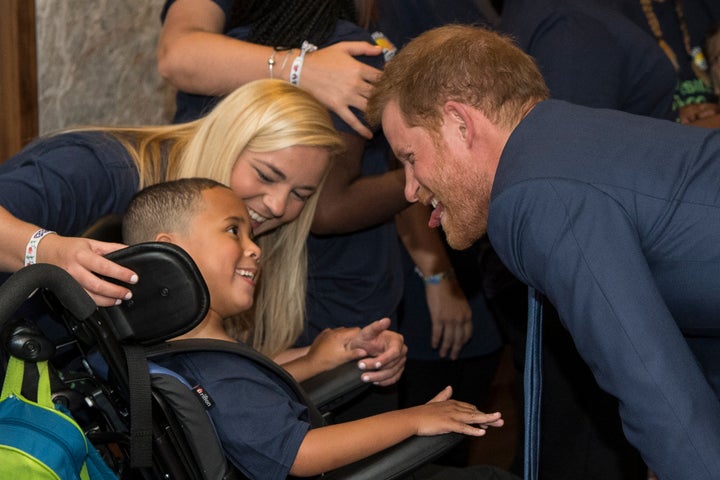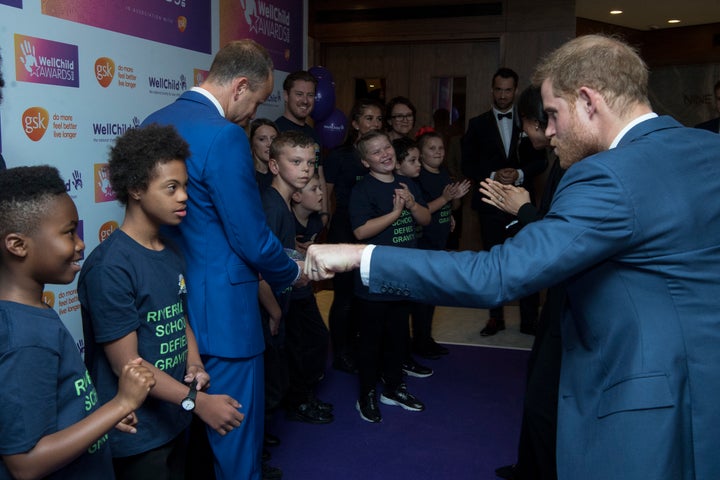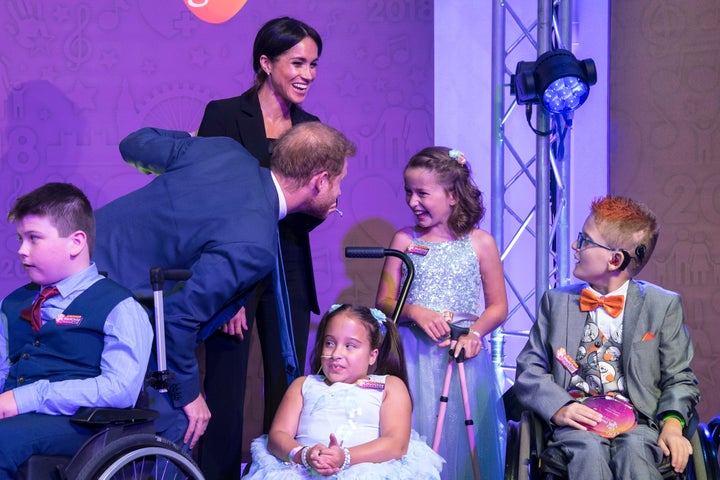 During the WellChilds awards, the Duchess of Sussex also presented a little girl with a white rose.
Matilda Booth, who won the inspirational child award in the four to six-year-old category, made the first presentation, giving Meghan a bouquet of white blooms, and in return the Duchess picked a rose from the bunch for the seven-year-old, who has spina bifida and is paralysed from the chest down.
Harry also made a "pinky pledge" with Matilda during a reception before the awards ceremony began, hooking his little finger around the girl's finger.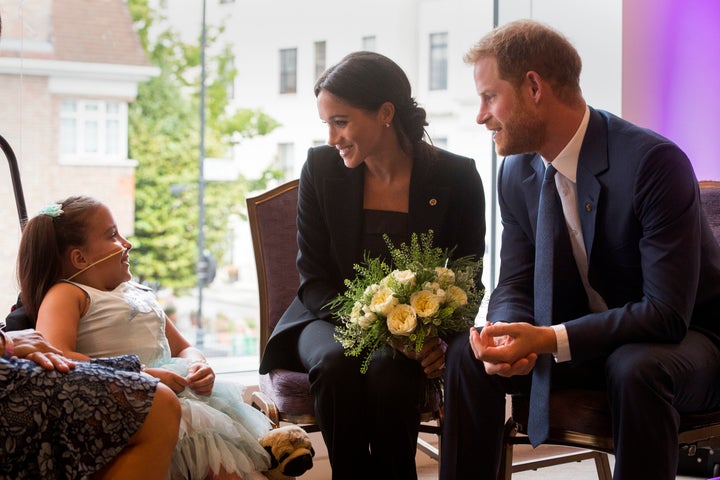 Sharon Booth, 47, who lives with her daughter Matilda in Sowerby Bridge, West Yorkshire, said after the royal encounter: "Matilda chose the flowers, she was shell-shocked to be given the rose, she said she's going to put it in her memory box."
Booth said the royal urged her daughter, who wants to be a nurse, to "never stop smiling as you've got a beautiful smile".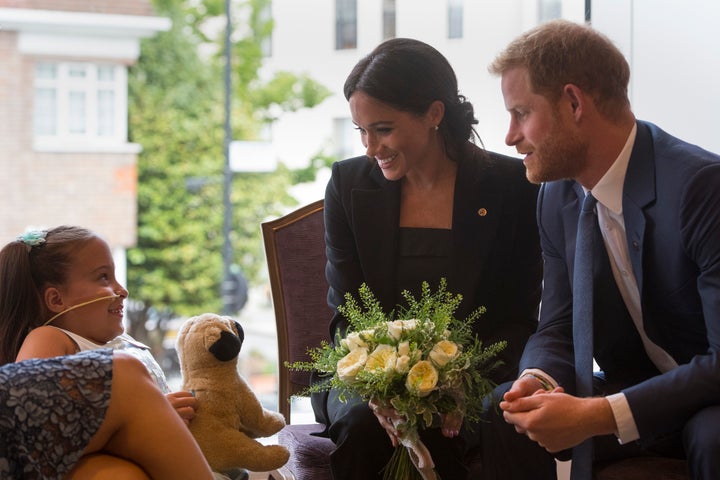 When Matilda brought out her soft-toy pug, she told the Duke and Duchess, it was named after talent show mogul Simon Cowell, to which Harry replied: "I can see the resemblance."
Harry has been patron of WellChild – the national charity for seriously ill children and their families – since 2007 and regularly attends the annual awards ceremony.
During the awards ceremony, he said: "For the past 40 years, WellChild has been identifying issues and finding long-lasting solutions so that families can care for and support their children at home in the very best possible way.
"I have been a patron of the organisation for 11 years now and this year I am especially grateful to be able to share the scope and magnitude of this work with my wife, who joins me here this evening."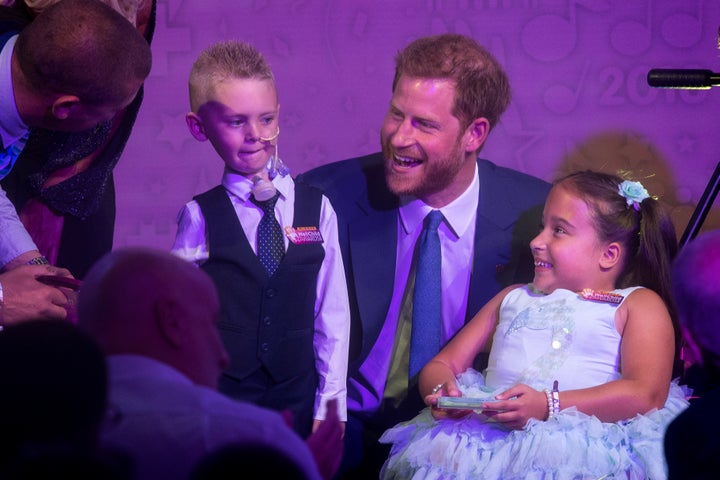 Harry also praised the unshakeable spirit of the young people living their lives despite debilitating illnesses: "I want to acknowledge the young people who have been dealt the toughest cards imaginable – but who persevere, rise above, and set the example of living life to the fullest.
"In fact you are often the ones who lift us up – your 'can-do' attitude and unwavering spirit serves as a constant reminder that we must always look to the positive and never give up."