The human body is a remarkable thing, especially when it's carry three mini humans within it. A Norwegian mum-to-be, who is expecting triplets, has been wowing the world by keeping an online photo diary of her bump, which just keeps growing and growing.
Maria Jorstad, originally from Norway, is expecting two girls and a boy with her Danish husband, Anders, and has gained more than 63,000 followers for detailing her journey via the Instagram account @triplets_of_copenhagen.
"We had never even thought about the possibility of triplets, so it was really a surreal moment," she told HuffPost UK, recalling the life-changing scan.
"I started crying immediately thinking about everything at once, while Anders' first thoughts were about getting a bigger apartment and car. The rest of the session I both laughed and cried, laughed and cried. It was very emotional to see three healthy babies kicking around on the screen."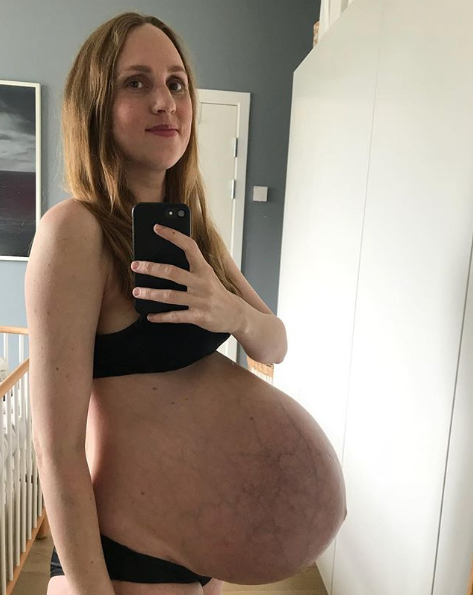 Carrying triplets has been tough and Maria has experienced itchy and stinging skin on her stomach, bad sleep, sore gums and "emotional breakdowns over the smallest things". But the biggest challenge has been having to slow down and not being able to carry her toddler son.
"The back and belly pains have also been straining, and when I got a heavy episode of rash I almost lost it," she said. "But all in all I have been lucky not to have any serious complications, and that I've been able to carry them all the way to 35 weeks."
[READ MORE: Mum to triplets and toddler reveals her bedtime routine]
Triplets are frequently delivered before 40 weeks and Maria is due to have a caesarean on 12 September. In a recent fascinating post on Instagram she detailed how her body has changed from week 12 to week 34 of pregnancy.
"What a journey this has been," she captioned the images. "From the huge shock of learning there were three, to people's reactions, the numerous scannings/checks [sic] and all the preparations and planning for this life-changing event. Nothing like the ordinary."
She added that she's surprised she can stand without falling down – as are we.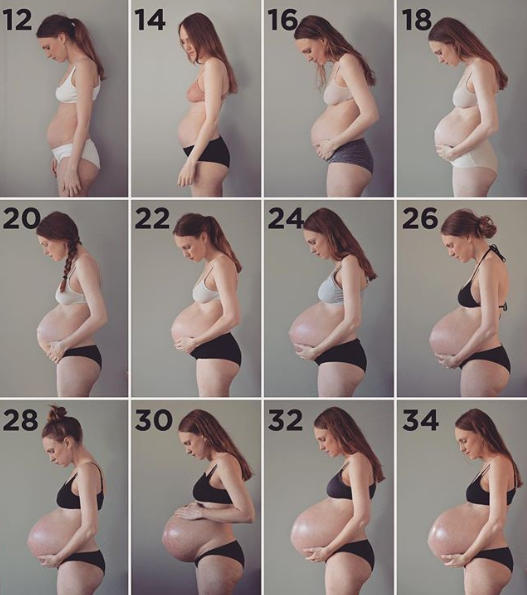 Other parents on Instagram have been sharing their support for Maria and their amazement at her changing body. On her time lapse image one wrote: "Wow, what an incredible woman you are! My belly with one child never got bigger than yours with 22 weeks. Keep up the good spirits, almost there!"
Another added: "Wow! I made it to 34 weeks with mine also. However, I had to hold my belly up. They are about to turn 13. Best of luck!"
Back in August the mum-to-be admitted she was at the end of her tether, writing: "I'm reaching my limits now, and counting the days until delivery. The babies are kicking hard and moving around all day and night, to great discomfort. And my belly feels so full and stretched; I literally have to lift it with my hands to be able to turn over in bed.
"But I still want them to cook for another 16 days, so I try to move as little as possible and occupy myself by binging TV series during the day time."
But now she she's "extremely excited" to finally be welcoming her babies to the world. "We have been able to follow them closely because of a dozen ultrasounds," she said. "And now we are anxious to see what they look like and if they have gained as much weight as we hope."