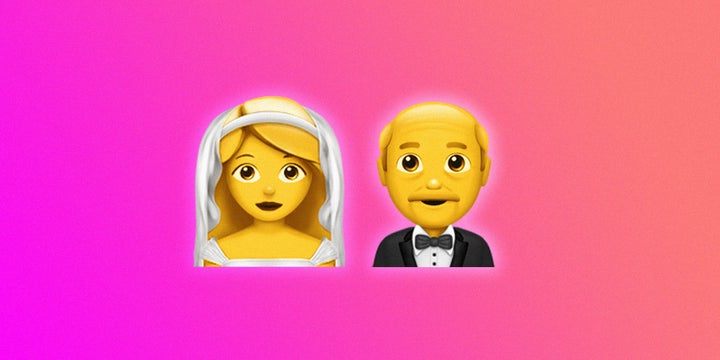 Last month, 21-year-old Chelsea McCullough posted a photo of herself and her fiancé on Instagram. It's pretty innocuous. She's wearing a purple floor-length dress, her partner's wearing a baby blue button-down and khaki pants. They're both smiling with their arms so tightly entwined behind their backs they could pass as a single, smiling, two-headed being.
"We have two months till we say 'I do' 💍 I can't wait to be Mrs. Maynard 👰🏼," the photo's caption reads. It's a typical social media declaration of love ― part authentic gushing, part performative humblebrag ― save for one detail.
The hashtag: #HusbandNotDad.
It's a short and confusing collection of words. But the tag's meaning couldn't be more straightforward. The man pictured alongside McCullough is her romantic partner, not the man who raised her. He is husband and definitely not dad. You might not have asked, but there it is. The explicit refutation of a familial bond that never was exudes a whiff of incestuousness. Why bring your dad into it at all?
McCullough is one of many people (predominantly young women) to use the phrase on Instagram. The nearly 400 photos currently tagged #HusbandNotDad feature typical Instagram fodder ― pictures of couples cuddled in bed, flaunting matching face masks, adopting puppy ears and floppy tongues with filters.
In some, the age gap between man and woman is apparent. In others, the chasm seems negligible. Of the men pictured, most if not all are white.
Following the hashtag k-hole illuminates a unique pocket of the internet, where women in heterosexual, monogamous relationships enact the online decorum of outsiders. They claim the stigma of existing in an age-gap relationship has led to alienation and pain of varying degrees, and they've rallied around a hashtag in order to secure the solidarity they don't find elsewhere.
#HusbandNotDad users make proudly visible a kind of traditional gender setup as old as patriarchies themselves. Even today, relationships between older men and younger women are not only common but predominant, according to a 2014 Current Population Survey (CPS), which states the average age gap between men and women is 2.3 years (with women occupying the junior position). In 64 percent of heterosexual couples, the survey found, the man is older.
In Hollywood, more significant age-gap relationships are sometimes cartoonishly exaggerated and played for laughs. See movies like "The First Wives Club" or "Book Club," in which love affairs between 20-something women and decades-older men are meant to signal a man's midlife crisis or a young woman's lust for a fat endowment. But more often than not, blockbuster films feature gaping gaps not as punchlines but as status quo. Richard Gere was 44 when he starred in "Pretty Woman" opposite 22-year-old Julia Roberts. Liam Neeson's 51-year-old lonely dad in "Love Actually" fell for 33-year-old Claudia Schiffer. Johnny Depp was 48 in "The Rum Diary," while the actress who played his love interest, Amber Heard, was 25. They later married in real life, because in reality and on-screen, romantic relationships between older men and younger women are more a norm than an outlier.
Yet according to the persistent #HusbandNotDad taggers of Instagram, the magnitude of the age gaps separating particular husbands and wives drags their otherwise traditional relationships outside the scope of accepted convention. These individuals identify less with the love story of Gere and more with that of 46-year-old comedian Dane Cook, who is alternately bashed and virtually high-fived for his relationship with 19-year-old Kelsi Tyler.
Though Cook has never himself used the #HusbandNotDad tag, he is the cause's celebrity poster child.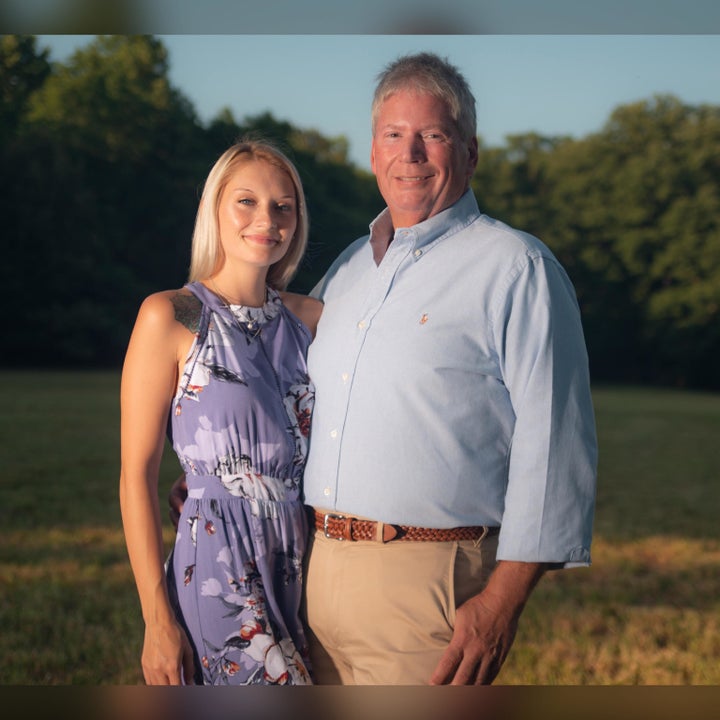 In conversation with hashtag users, several women explained to HuffPost that, for them, #HusbandNotDad is simply a pre-emptive measure. A defense against an ever-present threat: the question ― "Is that her husband or her dad?" ― which they feel lingers in the air around them and their partner, even online, like a pronounced odor.
The tag is "a way to let people know so they don't have to ask," as McCullough explained to me.
Rosie, a 33-year-old in a relationship with a 66-year-old, says her significant other is mistaken for her father "anytime we go anywhere." (Rosie requested she be referred to using a pseudonym because certain family members aren't aware of her relationship.)
"It's embarrassing, it's uncomfortable, it's kind of hurtful," she told HuffPost. "But at the same time, I understand it's their first thought. Dad and husband, whether we say it or not, it's going to be said. We're not going to ignore that people think that way. We can't. But we're going to own it."
For many other women who use it, though, the hashtag's function has evolved from a necessary caveat to a marker of solidarity, a rallying cry for women who say they are experiencing a sense of shared hardship because of their romantic preferences.
"The first time that people actually thought he was my father versus my husband was a shock to me," 20-year-old Jamie ― also a pseudonym ― said of her 49-year-old partner. "And it hurt. So it was very nice to be able to have a hashtag for people that understood that feeling."
Some users even admitted to overt political aspirations, hoping #HusbandNotDad tagged posts could revamp the public-facing image of women in age-gap relationships ― often stereotyped by the media as "gold diggers and sugar daddies," as 27-year-old Melanie Hall explained.
″There is that societal stigma," Jamie said. "People look at you like you're a freak. It still kind of gets me sometimes, when all I see is people looking at us like he's a cradle robber and I'm a gold digger."
"I think it could be similar to how people perceive gay couples," Melissa said. "A lot of people are not OK with the idea of us and never will be, because they don't listen."
Under the hashtag, age-gap partners can hold hands on the beach, make kissy faces at the camera and take #IWokeUpLikeThis selfies just like any other couple. In doing so, they embrace the online tactics of activists advocating for marginalized communities, or the brands who've savvily (and not-so-savvily) cannibalized those strategies, effectively concocting a curious hybrid of both.
"I kind of wanted to prove that you can be in a very healthy, very happy, secure, safe relationship while being in an age-gap relationship," Jaime said.
When 25-year-old Natalie Workman fell for Brandon, who now, at 50 years old, is her fiancé, she knew the biggest challenge would be overcoming other people's perceptions of their love. Additionally complicating matters was the fact that Brandon, aside from being only 10 years younger than Workman's dad, was also her father's friend.
Workman, though not the first to use the #HusbandNotDad tag, is one of its most devoted disseminators.
"I identify with it because we've been asked if he's my dad more times than I can count," she told HuffPost. "To me, the hashtag brings humor to age-gap relationships. Yes, he could be my dad. But so what? We love each other."
Workman's use of the hashtag is just scratching the surface of her #HusbandNotDad advocacy. Her lifestyle blog "He's 25 Years Older" doles out advice specific to age-gap couples, sprinkled between staged photographs of her and her S.O. donning matching outfits in various opulent locales.
Workman's posts include "How to Tell Your Mom," "Why Do Younger Girls Fall For Younger Guys?" "Reasons Couples Should Match," "Age Gap Music: A Playlist to Help You Say Buh Bye To Judgy People," and "Our Engagement Story" (Parts 1, 2 and 3). A disclaimer on her site notes that these blogs may feature ads, sponsored content and affiliate links "to cover the cost of running the site."
In Part 1 of the engagement saga, Workman offers a glimpse into her world. The couple's V-day celebration featured Veuve Clicquot champagne, a Chanel bag, Tom Ford sunglasses, a stay at the Beverly Hills SLS Hotel, a private tour of Jay Leno's garage and yes, a proposal. The privilege on display crudely contradicts the browbeaten circumstances the hashtag presumes.
In a recent post, Workman divulges her decision to write a book, ostensibly on the subjects illuminated on her blog. "I am committed to this blog process," she wrote. "I don't know if I've mentioned this yet but I want to write a book. And likely more than 1."
Workman's particular use of #HusbandNotDad demonstrates just how quickly the internet can metabolize narratives into movements and movements into marketing opportunities. How a sense of marginalization and oppression ― along with being earnestly traumatic for so many ― can also be marketable.
Just ask Dove, whose "Real Beauty" campaign turned body issues into a way to sell soap, or Pepsi, whose famously bungled ad appropriated the #resistance to sell soda.
"I love a strong personal brand," Workman wrote.
At this point, Workman's strong personal brand reaches far less people than Pepsi or Dove. And her civic-mission-cum-lifestyle-brand seems to have positively impacted many female followers in her virtual midst, who otherwise feel isolated and misunderstood.
Some #HusbandNotDad users, who say they have been shunned by their families and communities because of their unorthodox partnerships, likened their online community to those of marginalized groups like LGBTQ people.
"We don't feel alone. Just like with LGBTQ community, they are not alone," Rosie said. "They have their people. This is a way to bring us together. Some days are rough. These are women who have gone through the same thing and it really means a lot."
To be clear, none of the women I spoke to experienced systemic discrimination, hate speech or violence because of their decision to date or marry older men. What they have reported is a daily sense of alienation ― a lack of acceptance from their family or friends that they feel is a result of coupling with much older men ― and a desire to mediate it all online.
And in many ways, they have. But social media flattens so much of our identities, razing the differences between alienation and oppression. A dirty look and a death threat can become interchangeable obstacles. The internet would have you believe an effective hashtag just might provide a panacea for both.
In an age when we're told to transmute struggle into strength, and strength into profit, #HusbandNotDad demonstrates the way the internet implores us to find our niche and share our story.
And eventually, if all goes well, capitalize off it.