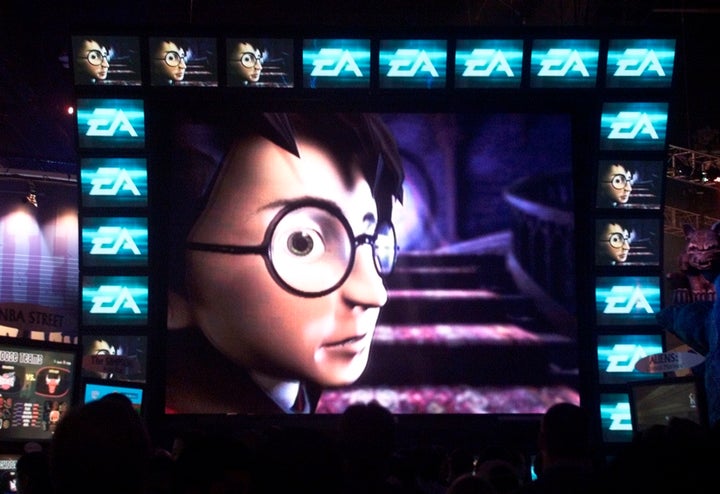 "Harry Potter" video games have run the gamut from pretty terrible to downright unplayable ― the LEGO versions are a welcome exception ― so 10 points to whoever is responsible for this rumored new entry in the series.
A Reddit user posted video footage to YouTube on Monday, characterizing it as a clip from a currently unannounced video game. The game appears to borrow heavily from the Potterverse, and it looks like something wonderful this way comes for fans of the fantasy series.
Described as a "third person open-world action RPG" by the individual, the game appears to let the player design their own witch or wizard who enrolls at Hogwarts School of Witchcraft and Wizardry as a fifth-year student. The Reddit user claimed to have obtained the footage while attending a focus group.
The footage has since been removed from YouTube, with the former video displaying a message stating that Warner Bros. has blocked it on copyright grounds. You can still watch a mirror version of the video here.
Representatives for Warner Bros. did not immediately respond to HuffPost's request for comment.
But a report from gaming site Eurogamer said that "sources with knowledge of the project" had confirmed the game is very much in development. And BBC News reporter Lizo Mzimba tweeted that he had been "told this is from a yet to be announced RPG" and that possible titles included "Harry Potter Magic Awakened" and "Magic Forever."
The clip features iconic "Harry Potter" locales like The Great Hall, The Forbidden Forest and the village of Hogsmeade.
Beasts, fantastic or otherwise, also make a few appearances, with goblins, trolls, owls and a large winged creature getting some screen time.
Spell casting seems to be the mode of play, with various avatars reciting classic spells like "Lumos" and "Reparo," but the options apparently expand depending on whether you choose a path of either good or evil.
The Reddit user even released what looks like an official description for the game, which apparently is set in the 19th century hundreds of years before Harry Potter was even born.
"Upon arrival, strange events begin to materialize In the Forbidden Forrest and trouble begins [to] brew within the castle walls. Together with Professor Elezar Fig, you embark on a journey through both familiar and never before seen locations to bring to light the truth behind these mysterious occurrences," the Reddit user's description reads.
Let's just hope the leak doesn't scare the "Harry Potter" powers that be from actually releasing the game because it's clearly already bewitched fans.