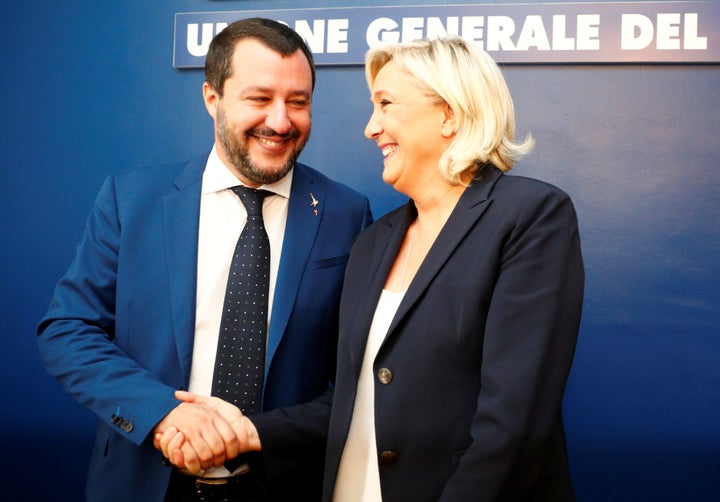 French National Rally leader Marine Le Pen and Italian interior minister Matteo Salvini have joined forces, announcing Monday that they're working to elect more populist leaders to positions of power within European Union.
The politicians, arguably two of the most well-known far-right figures across the continent, are trying to "save the real Europe" from the "totalitarian system" that has become the EU, Le Pen said during a news conference. They're hoping to construct a new majority in the European Parliament ahead of next year's elections, working to bring various populist and far-right parties under the same umbrella. Salvini said he envisions this being a 30-year-long project.
The rise in support for populist politicians continues around Europe. Viktor Orban won a fourth term as Hungary's prime minister earlier this year after campaigning on a heavily anti-immigrant platform. Germany's AfD won 12.6 percent of the vote in elections last year, allowing it to enter the country's parliament for the first time.
Salvini and Le Pen share common ground on a variety of topics, namely their hard-line positions on immigration and disdain for the EU.
The Italian politician, head of the country's League party, turned back rescue ships packed with hundreds of migrants this summer on several occasions, demanding that other EU member states help Italy bear the burden of welcoming such a mass influx of newcomers.
Le Pen praised Salvini's response to migrant arrivals, saying that the politician is proof that solving the massive migration issue is possible.
"Most people wish to stay in their home countries, grow up there, raise their children and preserve their culture," Le Pen said Monday, ignoring some of the primary reasons ― war, conflict, poverty ― that people flee their homes.
Populist candidates have thus far struggled to unite and win much ground, but the rise in popularity of Euroskepticism may usher in some unprecedented wins. More than 60 percent of EU citizens believe that "new political parties and movements can find solutions better" than existing parties, according to a Eurobarometer survey released in May.
Support for the EU as a whole also appears to be waning in some countries, despite it being on the rise overall. Italy shows some of the lowest support levels for the bloc ― 44 percent ― in all of the EU, explaining in part why Euroskeptics like Salvini are now in power.
Steve Bannon, a former adviser to President Donald Trump, announced the launch of his own foundation in July aimed at getting more populist leaders into parliament.
Le Pen specified Monday that neither she nor Salvini plan to rely on Bannon for help.
"We, and we alone, are the ones who will shape the political force that is born from the European elections, because we are attached to our liberty, attached to our sovereignty and we together, the representatives of the different peoples of Europe, are the ones who will shape the political forces that aim specifically to save Europe," she said at the news conference.