Close to two days after Turkish government sources first said prominent Saudi journalist Jamal Khashoggi was killed at a Saudi consulate in Turkey, Saudi authorities have yet to publicly identify his whereabouts to senators in the U.S., Khashoggi's employer The Washington Post or journalists and experts closely following the case. Semi-official sources are filling the gap ― pushing a counter-narrative designed to protect Saudi Arabia from international criticism and turn Khashoggi's weeklong disappearance into just one more battle in an information war between the kingdom and its regional foes.
High-profile figures close to the governments of Saudi Arabia and its key ally, the United Arab Emirates, are using social media ― notably Twitter, which is popular in the region ― to suggest that the global concern over Khashoggi is the product of a conspiracy. The tactic allows them to stoke Saudi nationalism, preparing the kingdom's subjects and supporters to eventually defend any kind of behavior, and play victim, forcing third parties seeking real information to bend over backwards to show they're being fair to the Saudis. All of that, of course, draws attention away from the central issue: Where is Khashoggi?
"I've never seen such a coordinated attack against a country like Saudi Arabia in past few days, all based on a piece of fake news by an unnamed Turkish official via Qatari media," analyst Ghanem Nuseibeh wrote on Monday. "Islamist extremists want Saudi Arabia to fall, but this has created even greater unity amongst Saudis."
The references to Turkey and Qatar, whose governments have had years of tensions with the Saudis and the UAE, are a way to underscore the "fake news" argument. Qatar owns the television network Al Jazeera, one of the many media organizations reporting on Khashoggi's disappearance, and Turkish sources were responsible for the first reports that he had been killed. But what Nuseibeh and his ilk are distracting from is that it was Reuters, a source neither Turkish or Qatari, that made the professional news judgment to publish the Turkish claims, and that The New York Times and others have since published follow-up reporting on the allegation including quotes from named officials.
When Kristian Ulrichsen, a Rice University professor, responded to Nuseibeh's tweet with a question about Khashoggi's location, Nuseibeh had a curt response that again deflected attention from the Saudis: "Ask Erdogan and Tamim," referring to Turkish President Recep Tayyip Erdogan and Qatar's ruler Tamim bin Hamad Al Thani.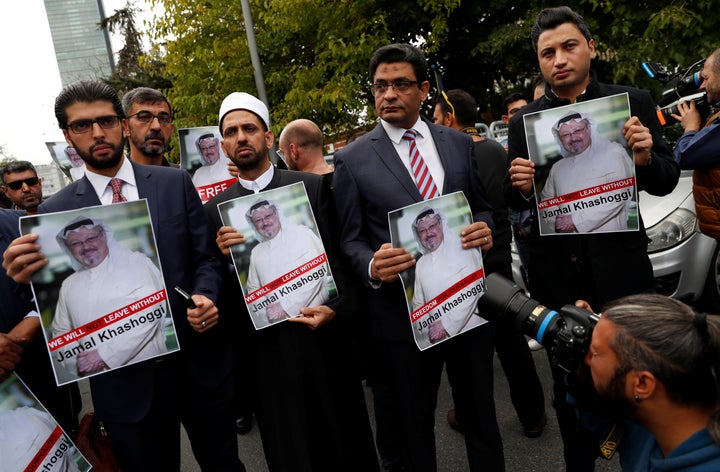 The real problem is the global media, according to a Monday tweet from Abdulkhaleq Abdulla, an academic in the UAE who is close to the country's leadership. He said press coverage had been rushed and unfair to Khashoggi. And in a follow-up tweet, he argued that the entire episode had become simply a cudgel with which to bash Saudi Arabia ― echoing a favorite message of human rights violators around the world, who frequently claim any information about abuses is simply unfair press, while simultaneously denying and justifying their behavior.
Scattered throughout messages like these are references to regional forces the Saudis dislike, like Qatar and the Muslim Brotherhood movement, and claims of respect for Khashoggi. The implicit signal, particularly to supporters of the regime, is that it's time to close ranks and that even demands for clarity are attacks. The spin campaign even has its own branding: the hashtag "Qatari intelligence murders Khashoggi" began trending on Twitter over the weekend, activist Iyad el-Baghdadi noticed. Researchers and the press have previously documented huge social media campaigns by the governments of the Persian Gulf to delegitimize each other amid their internecine spats.
Traditional media has a role to play too. What Khashoggi's disappearance really shows is that Saudis cannot feel safe in Turkey, a popular tourist destination in the region, the government-friendly Saudi newspaper Okaz is telling its readers. On Sunday, the Saudi-owned television network Al-Arabiya reported that it had interviewed Khashoggi's family members and they challenged a key detail in the story of his disappearance: that he was engaged to be married. "They are wrong," wrote Margherita Stancati, a veteran Wall Street Journal reporter. She said her team had independently confirmed Khashoggi's engagement.
Responding to Al-Arabiya's claim that the family was confident in Saudi authorities' handling of the case, Middle East Institute analyst Randa Slim and others noted that Khashoggi's family members had been subjected to travel bans and were still inside the kingdom ― very much within the reach of Saudi officials.
One week after Khashoggi's disappearance at the Saudi facility in Istanbul, the official Saudi line remains that the kingdom is as confused as everyone else. Top Saudis who are generally in frequent contact with Washington won't even offer answers to American counterparts at the level of Secretary of State Mike Pompeo, according to the Post. The consulate was opened to Reuters ― with the caveat that its cameras apparently were not working the day Khashoggi came in ― but Turkey's claims about the killing made it to the agency the same day. Both Riyadh and Ankara say their investigations will continue, with Turkey now suggesting the journalist may still be alive but sticking to the idea that he is in Saudi custody. And despite rising anger in Congress, the Trump administration hasn't publicly ramped up pressure.
For now, it appears there's just not enough of an incentive to ditch the spin and tell the truth ― the worst possible outcome for Khashoggi, his friends and family and many other Saudis who suddenly feel far more vulnerable. "I believe Jamal Khashoggi deserves better than partisan spin and rumors driven by political agendas," former State Department official Tamara Cofman Wittes posted on Twitter. "#TruthForJamal."