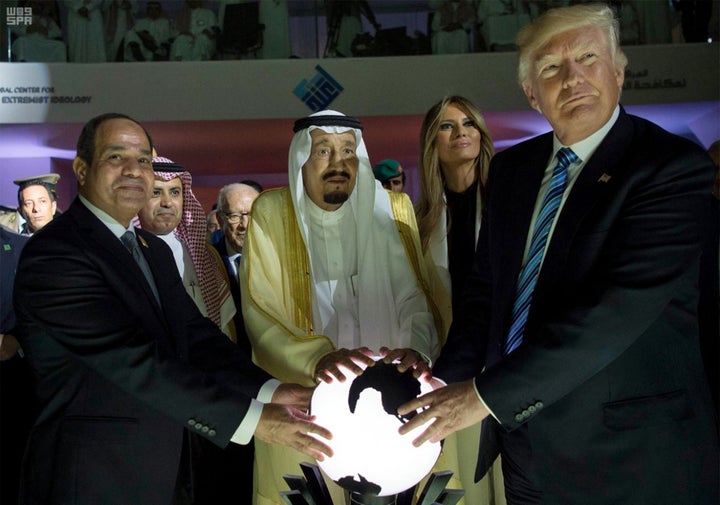 President Donald Trump on Monday jumped on the bandwagon of conservatives who have spent more than a week arguing that he should not risk a serious rupture with Saudi Arabia over the alleged murder of Saudi journalist Jamal Khashoggi.
By giving credence to the Saudi government's denial of involvement in Khashoggi's disappearance, Trump moved toward putting his stamp of approval on a narrative that suits his ally, Saudi Crown Prince Muhammed bin Salman. That narrative has focused on criticizing Khashoggi, downplaying Saudi human rights abuses and, above all, avoiding pressure or embarrassment for Trump over a major international scandal.
Trump, in comments to reporters outside the White House, raised the prospect that "rogue killers" are responsible for whatever happened to Khashoggi, who has not been seen since he entered the Saudi consulate in Istanbul in early October. Trump's remarks, which came after he spoke by phone with Saudi King Salman, directly challenges the intelligence gathered by the U.S., Britain and Turkey that indicates Khashoggi was murdered by a Saudi hit squad.
Trump also stressed that King Salman "firmly denied" any knowledge of what's become of Khashoggi, a point he also made in a tweet.
Trump's approach lets him simultaneously say he is seeking answers about Khashoggi while signaling support for a historic U.S. partner to whom he has become especially close. And it's a Saudi-friendly turn that pro-Trump figures have quietly laid the groundwork for while lawmakers and rights groups have been loudly demanding accountability from the Saudis and threatening major changes in American support for the kingdom.
Some right-wing commentators cast the Khashoggi mystery in tribal terms. In their telling, shadowy enemies of the president are responsible for the global outrage over Khashoggi's disappearance and for blaming the Saudis before all the facts are known. The goal, they say, is to undermine the close relationship Trump has established with the Saudi leadership.
Those fueling this effort point to bogeymen familiar to Trump fans. These include the Muslim Brotherhood ― a largely non-violent Mideast political movement that the Islamophobia network in the U.S. describes as terrorists in a bid to cast doubt on all Muslims ― as well as the establishment media, officials who served under former President Barack Obama and Iran.
Occasionally, some of this commentary gets pretty close to justifying murder by raising doubts about Khashoggi himself. But the larger goal is to make it harder for the public to accept that Trump's Saudi friends are to blame or should be punished for the journalist's disappearance.
The pro-Trump outlet The Federalist published a classic of the genre Monday morning. In "10 Key Questions About The Khashoggi Affair To Answer Before Buying The Press Narrative," Lee Smith argues that Turkey ― whose president, Recep Tayyip Erdogan, is close to the Muslim Brotherhood ― is deliberately misleading the world with its investigations and comments.
Smith also suggests media coverage of the matter is being influenced by Qatar, another supporter of the Brotherhood and a regional rival of the Saudis. He casts doubt about how Khashoggi got permission to live in the U.S. ― hinting at the favorite Trump trope of undesirable people, particularly extremists, exploiting the immigration system. And he rounds it all off with aspersions about Obama aides. Former CIA director John Brennan, a Trump critic, should be asked about Khashoggi's immigration process, Smith wrote, and other influential members of the Obama team should be seen as partisan critics of the Saudis as part of their continued advocacy for the Iran nuclear deal.
"How much is U.S. reporting and opinion regarding the Khashoggi affair shaped by the pro-Iran echo chamber? Nearly all of it," Smith wrote. "Having acquired over the last several years the customs and manners of Arab media outlets, it's only fitting the U.S press has taken sides against certain Arab regimes, just as it has taken sides against the current White House. Since Trump looks with favor on Saudi and the (United Arab Emirates), the media considers them enemies, too."
Jacob Wohl, a pro-Trump commentator, on Monday amplified the effort to smear Khashoggi, posting on Twitter that the journalist "was a spook." Donald Trump Jr. on Friday had helped boost this type of assault by retweeting an exchange that linked Khashoggi to "jihadists."
Over the weekend, Conservative Review reporter Jordan Schachtel scoffed at the push for sanctions targeting the Saudis, posting that "I'm told we need to change U.S. policy because an Islamist noncitizen disappeared overseas under unknown circumstances." He added that it was time "to tune out demands & fake news coming from Erdogan, Iranian regime, & Qatari state-media organs, & continue to support Middle East reformers."
Other Trump supporters insist on a need for skepticism over Saudi involvement in Khashoggi's disappearance, recycling the "presumption of innocence" watchword touted by Trump supporters when sexual assault allegations surfaced against Brett Kavanaugh during his confirmation process for the Supreme Court.
But the trend is clear. And it suggests how advocates of Trump and the Saudis will behave as debate over Khashoggi continues in the U.S. and the rest of West. Conspiratorial Trump fans will get their red meat while institutions threatening repercussions for the Saudis over Khashoggi's disappearance ― from Capitol Hill to the private sector ― will be targeted by the more sophisticated network of Saudi influence in Washington that will argue against a dramatic rupture with the kingdom.
It's a double whammy that might just work ― versus one journalist whose voice has likely been silenced forever.