Thomas Markle, Meghan Markle's father, said he found out his daughter and Prince Harry's baby news like everyone else: from the media.
Markle, a former Hollywood lighting director who lives in Mexico, told The Mail on Sunday that he was "sitting in line waiting to cross the border when I heard the baby announcement on the car radio."
"The first thing I thought about was holding Meghan in my arms as a newborn 37 years ago," said Markle, who reportedly hasn't spoken with his daughter since the day after her royal wedding in May. "I thought, 'My baby is having a baby.' It was a very proud moment."
He added: "I was filled with love, joy and happiness for both my beautiful daughter and my son-in-law. A new baby is a blessing and I look forward to seeing a little Meghan or a little Harry."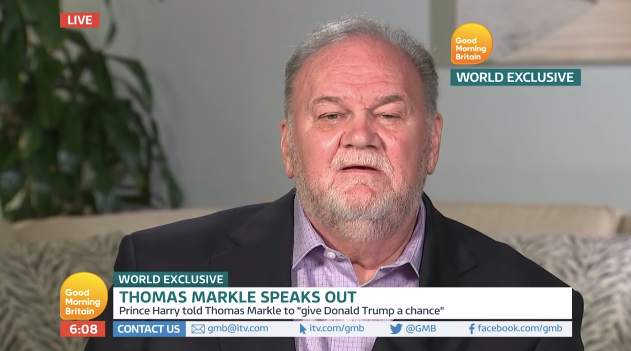 Kensington Palace announced last week that the Duke and Duchess of Sussex are expecting their first child in the spring of 2019.
"Their Royal Highnesses have appreciated all of the support they have received from people around the world since their wedding in May and are delighted to be able to share this happy news with the public," the palace said.
While Thomas Markle sounded excited about the news, Meghan's half-sister, Samantha Grant, was upset that their father was not included in an official palace statement about the baby.
"I would hope that — for the sake of the baby, the family, the world and my dad — that leaving him out of the statement was not intentional," Grant said in an interview with The Sun last week.
The palace has only issued a statement from Meghan's mother, Doria Ragland, since the pregnancy was announced. Ragland "is very happy about this lovely news and is looking forward to welcoming her first grandchild," a palace spokeswoman said.
HuffPost has reached out to Kensington Palace for comment.
The Duke and Duchess of Sussex are currently on a 16-day royal tour that includes stops in Australia, Fiji, Tonga and New Zealand.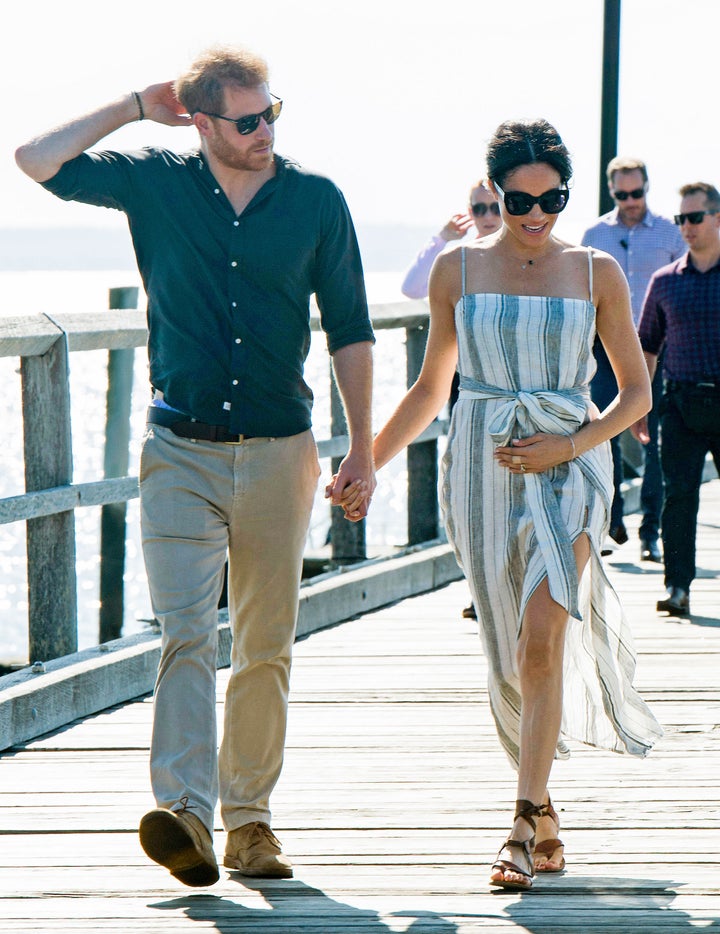 Meghan spoke about her pregnancy during the trip last week, telling a royals fan it "was like having jet lag."
"She said she was up at 4:30 a.m. this morning doing yoga in her room as she couldn't sleep," the fan, named Charlotte Waverley, told Sky News.
The palace said the former "Suits" actress was temporarily reducing her schedule on the tour.
"After a busy program, the Duke and Duchess have decided to cut back the Duchess's schedule slightly for the next couple of days, ahead of the final week-and-a-half" of their tour, the palace told The Sydney Morning Herald.
The two will need all the rest they can get before the baby comes!