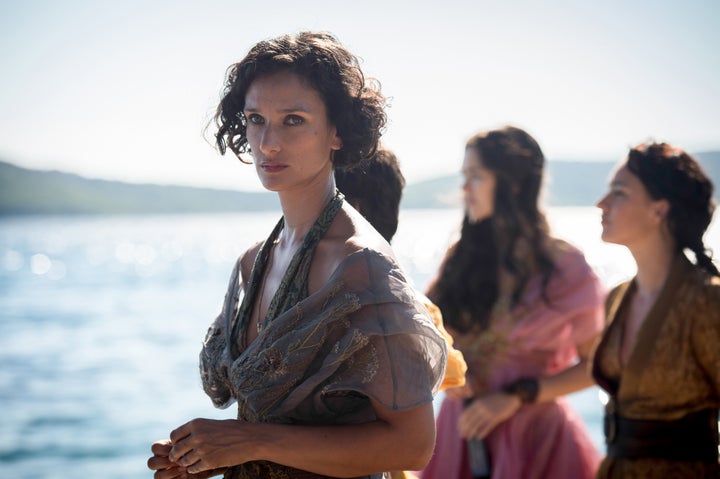 Ah, the Sand Snakes, some of the most controversial characters in Westeros. Throughout their time on "Game of Thrones," the Snakes' storylines garnered mixed reviews, up until the very moment they met their ends courtesy of Euron Greyjoy (Pilou Asbæk) and Cersei Lannister (Lena Headey).
Divisive reputations aside, however, Ellaria Sand (Indira Varma) and her three Snakes ― Nym (Jessica Henwick), Obara (Keisha Castle-Hughes) and Tyene (Rosabell Laurenti Sellers) ― are undoubtedly part of one of the HBO show's biggest unsolved mysteries. In fact, not even director David Nutter can explain the conundrum.
It all started in the Season 5 finale, when Ellaria and her daughters are on a dock in Dorne watching a ship sailing away for King's Landing. This ship carries Dornish heir Trystane (Toby Sebastian), Jaime Lannister (Nikolaj Coster-Waldau) and Myrcella Baratheon (Nell Tiger Free), Jaime's biological daughter.
(Myrcella dies on that boat ride thanks to a poisoned kiss Ellaria delivered before the ship cast off. Prior to expiring in Jaime's arms, she acknowledges him as her father for the first time. It's a whole thing.)
But events didn't get truly weird until the Season 6 premiere.
Prince Doran (Alexander Siddig), the ruler of Dorne, receives a note from Jaime Lannister revealing Myrcella's aforementioned murder and indicating he's sending Trystane back to Dorne. The Sand Snakes and their mother spring into action. Ellaria and Tyene murder Doran and his guard Areo Hotah (DeObia Oparei). Then, to ensure their control of Dorne, the other Snakes, Obara and Nym, kill Trystane while he's still on the ship, which is now chillin' near King's Landing.
Here's the problem: How did the Sand Snakes get to King's Landing? They were definitely standing on the Dornish dock in the Season 5 finale, watching the ship sail away:
You might be thinking, well, what if when Trystane was killed, he was on a different ship than the one he first sailed off on? Or what if his ship had made it back to Dorne already, and wasn't, in fact, at King's Landing?
Nope.
Jaime's note to Doran indicated that he was sending Trystane back on the same ship, so it's unlikely that he would have switched boats. Furthermore, an exterior shot before Trystane's murder shows the ship is indeed still at King's Landing. A quick analysis of the shadows in the exterior shot of the ship before and after Jaime Lannister went to shore at King's Landing indicates not much time had passed before Jaime left the boat and Trystane was killed.
TL;DR: Those Snakes made it to King's Landing hella fast.
Before Jaime's onshore: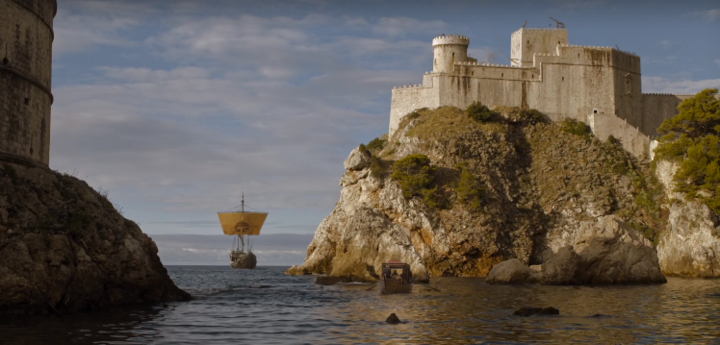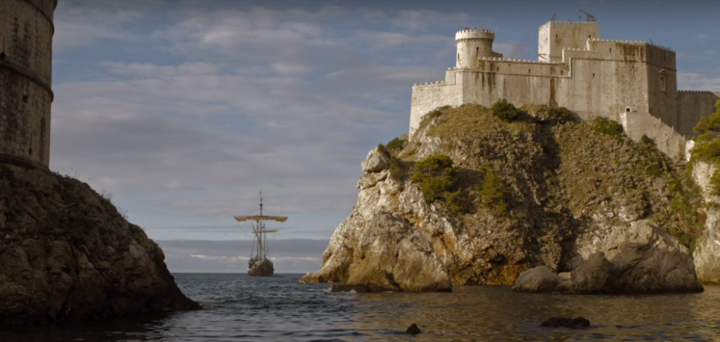 What the forked tongue? Did they teleport? Did they slither? We asked Season 5 finale director Nutter, who's also directing three of the show's final six episodes in Season 8, how the Snakes made it to King's Landing so fast, and he was just as baffled as us.
"Well, my friend, I'll be as honest as I can be. I have no idea," he said. "I have no idea."
"They are Sand Snakes by the way, so you never know, right?" the director added. "They're sneaky snakes."
Nonetheless, Nutter said he wouldn't change the course of events in his episodes. When asked if he had any desire to go back and revise scenes he worked on — perhaps to make plot points fit together better for the show's ultimate end or, you know, get the Sand Snakes off the dock in the Season 5 finale — Nutter told me: "Not at all."
"I'm so proud of everything I've done on the show, and it all married so well together with everything else they've done ... I felt like the fifth Beatle sometimes with respect to the quality of the material. It was so damn good. And to get a chance to be involved in it ― nothing to change," he said.
May you stand on that dock proudly, Sand Snakes. You, your super speed and maybe that raven that somehow flew from the Wall to Dragonstone in a matter of hours in Season 7: You're the heroes Westeros really needs.