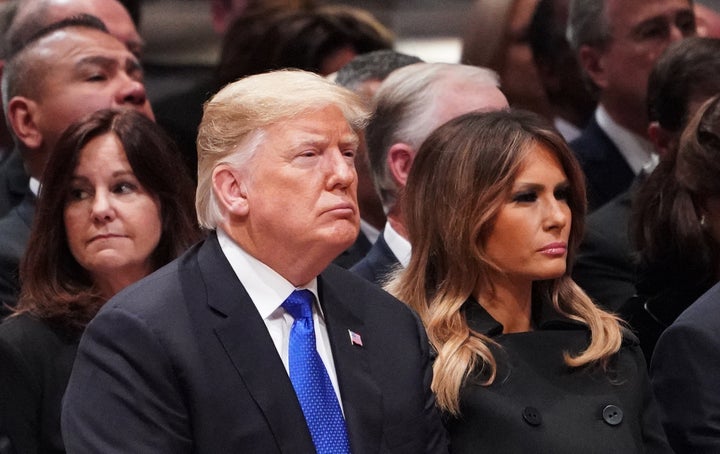 A Catholic nun has opened up about her daily ritual of tweeting at President Donald Trump with prayers for him to "grow in humility" and "do good and be kind in return," calling it "the hardest spiritual practice I've ever committed to."
"I usually just sit for a little while and see what comes," Sister Susan Francois told The New York Times. The New Jersey-based nun is with the Sisters of St. Joseph of Peace religious order.
As of Sunday, the 46-year-old has racked up more than 660 prayers to Trump's official @POTUS account since shortly after his Inauguration.
"When I sent the first tweet, it was purely for myself. I didn't expect it to make a big splash," she told the Times of her ritual, which she said she began as a "calming spiritual practice" for herself to fight all the negativity. "But [the] fact that it was public and that I committed to it every day means I have to do it, even if I don't want to. It's been the hardest spiritual practice I've ever committed to."
Francois isn't the only nun or religious devotee to pray for the president, but she has stood out thanks to her daily dedication and use of Twitter, which is Trump's own preferred method of communicating.
In 2017, she wrote an article for the Catholic news site Global Sisters Report about her online activism, saying that she is "taking advantage of new technology to stay engaged in the midst of my busy life."
"Am I under the misconception that he is reading my tweets or that they will have an impact on his policies? No. But I am less distracted by the crazy, claiming my voice & speaking out in a way that models and points to the world Jesus calls us to build," she tweeted on Sunday, linking to her article.
That's not to say she doesn't hope her words will have an impact or get attention.
Francois told the Times that she specifically tweets to @POTUS, instead of Trump's more popular and widely used @realDonaldTrump handle, because that account is archived by the federal government. Knowing that, she said she hopes her outreach to him is archived too, for history's sake.
"From my academic research on resistance as a response to injustice, it is important for consistency and for history to know that ordinary people didn't look away," she told the Times. "I wanted it to be a record of history that a Catholic sister wanted to tweet a nonviolent prayer at the president."