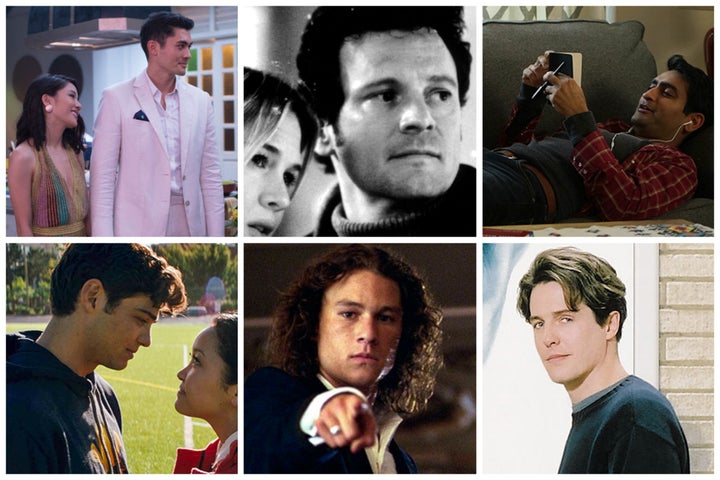 The best romantic comedies are the ones we're willing to fight for. Welcome To HuffPost's Rom-Com Week.
Hollywood rom-coms may be comfort viewing, but they do not portray a utopian vision of love. As a whole, they're formulaic, lightly misogynist, heteronormative and white. They're riddled with abusive acts framed as healthy romantic gestures. Most of the men offered to the bright-eyed female leads are either aggressively mediocre or simply aggressive. Jake Ryan of "Sixteen Candles" may have a jawline straight out of Michelangelo's workshop, but there's that teeny detail where he arranged his own girlfriend's rape.
And for better or worse, these films have played a crucial role in defining the romantic predilections of, in particular, male-attracted young women for generations. Out of this primordial sludge of hucksters, stalkers, trolls and dimwits, the best and most swoonworthy of them emerged like the earliest tetrapods from which all future crushes and loves would be (spiritually) descended. In short, the rom-com boys we've loved before will always be with us.
Some of them, at least, we're happy to have along for the ride. For every Jake Ryan, there's a Peter Kavinsky; for every Joe Fox, there's a Matt Flamhaff. Here and there, sprinkled throughout the rom-com canon, we find a man so ridiculously good-hearted and good-looking that we'd happily relive ages 13 to 30 with him.
In honor of HuffPost's Rom-Com Week, some of our most avid rom-com fans ranked their fantasy movie boyfriends and reflected on just what, exactly, made these lads worthy of our devotion.
21. Michael Moscovitz (Robert Schwartzman) in "The Princess Diaries"
Just as Peter Kavinsky did for lax bros, Michael Moscovitz embodied a classic fantasy stripped of all its intimidation to make it more comfortable to adolescent girls. He plays in a garage rock band; he fixes cars; he has dangerously alluring sideburns. It would all be almost too much edgy masculine energy were he not so slight and shy, so reserved that his younger sister's best friend, Mia (Anne Hathaway), doesn't even notice that he adores her. Also, he loves M&Ms ― not sure what that says about his character, but I guess that he's not afraid to enjoy the sweeter things in life. Michael is delicately handsome, multitalented and soulful, but he's not a conceited prick about it. All he wants is one special girl to come to his band Flypaper's rehearsals and get free car maintenance from his own loving hands. No disrespect to Mia and her truly embarrassing crush on status hound Josh Bryant, but I would have seen Michael when he was invisible. ―Claire Fallon
20. Westley (Cary Elwes) in "The Princess Bride"