The appearance of Meghan Markle's mother, Doria Ragland, in the official royal photo of her daughter's new-born son has been hailed as symbolic of multicultural Britain.
In the picture shared to announce the royal baby's name, Doria and the Queen can be seen smiling adoringly down at Archie Harrison, held by a beaming Duchess of Sussex.
The Duke of Edinburgh also beamed happily at his great grandson in the snap, who is seventh in line to the throne and their eighth great-grandchild.
It was Doria's appearance as the royal baby's grandmother that captured the attention of many, with some likening it to when Michelle Obama broke new ground as America's first black First Lady.
Patrick Vernon OBE, a prominent campaigner during the UK's Windrush scandal, said that it reflected the royal family's embrace of "modernity".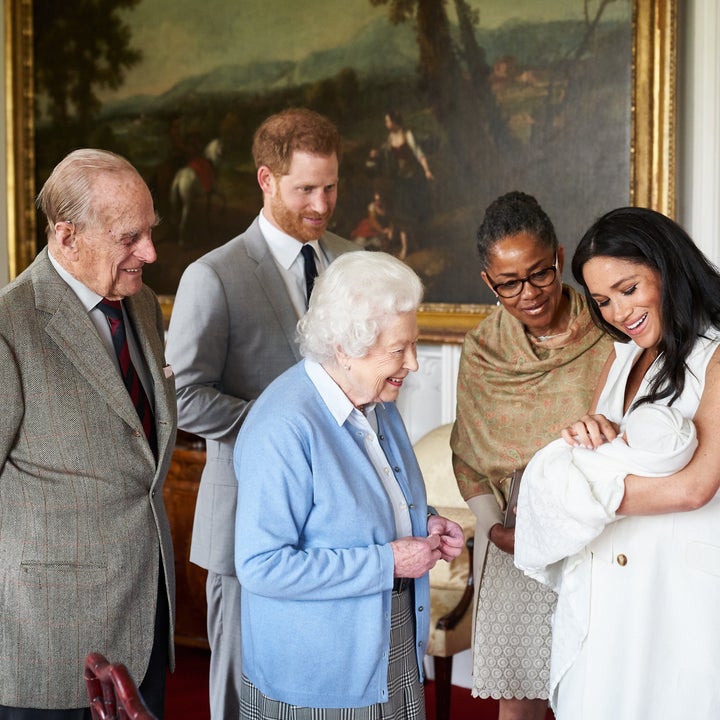 "The presence of the mother is significantly important as it reminds the public and the royal family there is black in the Union Jack," he told HuffPost UK.
"Britain is a multicultural and secular society - and Meghan and Harry reflect a new modernity to the royal family.
"When people write the history books in the future...historians cannot erase us from the history of Britain again. Like all black mothers, she'll play an important role in nurturing and giving her grandson a sense of identity and empowerment."
Doria, 62, is a yoga instructor who was born in Ohio, United States, to an antique dealer father and her mother, a nurse.
After finishing school, she worked as a make-up artist and met her ex-husband, Thomas Markle, who was a Hollywood lighting director at the time.
The couple married in 1979; Meghan was born two years later but the marriage fell apart when Meghan was six-years-old.
Olivette Otele, who recently became the UK's first black, female history professor, said though the photograph's symbolism will "not right the wrongs of the past" it is significant.
She told HuffPost UK: "Meghan Markle mentioned her mother when she talked about her baby being introduced to the Queen; she didn't have to.
"Her African-American mother was among the women who she said inspired her and that child will most likely have a loving grand mother around in many ways - as well as one who understands the struggle, history, resilience and power of people of African descent."
The cultural significance was seized by many on social media.
Sunday Times journalist Grant Tucker tweeted: "When the Queen ascended to the throne the last remnants of the British Empire were still brutalising many on the African continent. 65 years later that same woman looks down upon her great-grandson, alongside his African-American grandmother. Such an historic photograph."
@HowAboutBeth wrote: "my heart just burst, thanks for this one. protect doria ragland at all costs!"
Reacting to the photograph, writer @KathleenNB tweeted: "Doria in colour! No one else matters!"
Solicitor @KayReneeESQ posted: "I love seeing Doria Ragland there with Duchess Meghan for the birth of her first child. Like Michelle Obama bringing her mom to the White House, nothing can keep a Black woman from her baby [...]."
US reporter Robbin Simmons wrote: "Baby Archie Harrison Mountbatten-Windsor meets the Queen & Duke...aka the Great Grandparents. Grandmother Doria Ragland they're looking on. Can't help but think of Princess Diana at these moments."
@Erikk_the_Dane2 wrote: "This is such an endearingly awesome and iconic photo. It's great that Meghan's mother was also apart of the proceedings when her HM the Queen and Prince Phillip met their great-grandson. This makes the moment even more heartwarming and special."
A user, known as @ulogo, tweeted: "What a wonderful feeling for Meghan's mum to see your grandson the Prince....bet 37 years ago she never imagined that her grandson could have a claim as 7th in line to sit on the Iron throne in GB.....well played GoT Doria."
Baby Sussex, whose name was revealed to the world after the family-of-three posed for photos for the first time, was born at 5.26am on Monday.
Harry and Meghan could not hold back their smiles, with a delighted Harry calling the baby "our own little bundle of joy".