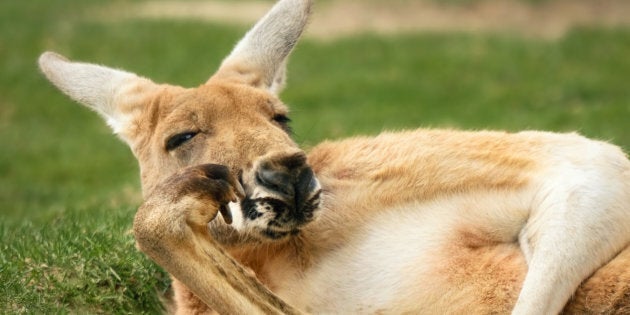 When you think of Australians, what mental image comes to mind? Let me guess, we are still the 'Bronzed Aussie', standing proud in our Speedos on a golden beach, our abdominals rippling, our biceps rock hard and our faces salt-caked and weather beaten, but smiling.
And laughing, just a bit, at the pudgy people from other countries that don't have a super-fit, outdoorsy lifestyle like ours.
Mocking the pasty Poms has long been a national pastime, but it's one that no longer stands up, because the facts show they're actually fitter, and less lazy, than us these days.
It might be hard to believe, but a study by Stanford University that collected smartphone data from 700,000 people around the globe to analyse how many steps they take per day has created an International Laziness Ranking, and it doesn't look good for us.
The study, published in the journal Nature, ranked Australia as the 19th laziest country in the world, with our slothful citizens averaging just 4941 steps a day, compared to the UK, which came in at 12th, with 5,444 strides, which is the equivalent of 5km a day.
Hopefully, in another generation's time, we might all be slightly more like the Bronzed Aussies of old again.
The average amount of steps a day, worldwide, is around 5000, or four kilometres a day, but Australia, Canada, America and New Zealand all fell below the world average. (Hong Kong was the most active country, at almost 7000 steps, or 6km, a day, with China close behind in second).
So, you're really hoping we at least did better than America, a country of strip malls and endless parking lots, where people will drive to their letterbox if possible.
Well, the marginally good news is that we are less lazy than them, but not by much. The Yanks came in at 17th, with 4774 steps a day. On the plus side, we're a few strides ahead of the world's laziest nations, Indonesia (3513 steps a day), Saudi Arabia, Malaysia and the Philippines.
You might find the results surprising, but are they really? If I think about Australia as an active nation of people, it's incredible how much we've changed over the past 10 or 20 years.
There was a time when you'd visit places like America and see Aussies looking bemused on their Travolators or moving sidewalks. You could always spot your countrymen, because they'd be the ones walking on them, rather than standing still and crawling along yawning.
Now, if you visit our airports, you'll find plenty of Australians not just refusing to move their feet, but leaning on the handrails for support.
Yes, we still love our sport, but we tend to spend a lot more time watching it -- and doing so on TV rather than getting out to a live game -- than partaking in it.
The whole point of the Stanford University study was to look at the effect that moving, on a daily basis, has on overall obesity rates. And again, we don't look good.
Maintaining a healthy weight isn't rocket science; it's about burning more calories each day than you take in, or as close to it as possible. So what can we do? Obviously, we need to focus on our children, and fortunately, technology should make the job easier.
Clearly, the last couple of generations have been moving less than the couple before, as we let our kids watch more screens and play more video games than real ones. We need to get them up and moving, and game-ifying that goal can be the way ahead.
I give my kids a pedometer or fitness bracelets -- which a pretty cheap these days -- and I set them a challenge of a minimum number of steps a day. Then I offer them some kind of reward for doing so (but not a donut or a finger bun).
Just focusing on that minimum number of steps will start to put the idea front of mind for your children, and will hopefully establish habits, and a focus, that will last them a lifetime.
Getting them involved in team sports, or out there running, is obviously the next step, and a good one, but at a bare minimum, just getting them moving has got to be a big step ahead in the fight against childhood obesity.
It might be a good idea to start counting your own steps, as well, and trying to match the example set by Hong Kong residents.
And hopefully, in another generation's time, we might all be slightly more like the Bronzed Aussies of old again.