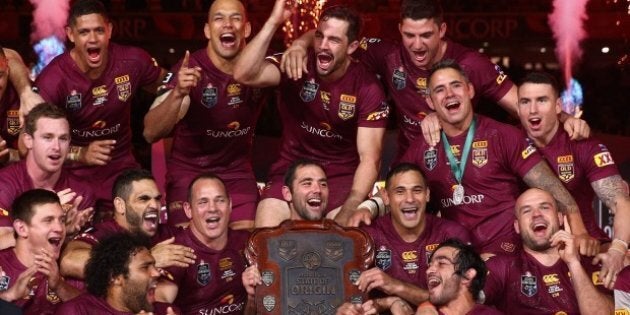 State of Origin football is the biggest stage in rugby league. There is no greater rivalry and dislike than that between New South Wales and Queensland, and, as a player, there is no greater measure of your skills.
Every young boy who plays rugby league dreams that one day he will play State of Origin footy. I will be hoping, along with every other Blues fan, that the debutants, especially Adam Reynolds, will feed off this excitement and give the Blues the direction and kicking game that they have lacked over the past decade. The Blues will also be looking to their experienced warhorse Paul Gallen to give the exciting Blues backline the go-forward-required dazzle.
However, you cannot put a price on experience when it comes to State of Origin and, unfortunately, the Blues will be up against a Queensland team that is packed full of experience and some of the greatest players to have ever pulled on a rugby league jersey... Thurston, Smith, Cronk and Inglis just to name a few. I am sorry to say it, but this is not good news for the Blues.
The one advantage the Blues, and especially the debutants, have on their side is they are playing the first game in NSW, which is a massive boost to their chances of winning the all-important first game -- history shows the winner of the first game usually goes on to claim the series.
I will never forget my first State of Origin in Queensland. While my teammates and coaches had warned me about what to expect, nothing could have prepared me for what we encountered once we touched down in the Sunshine State. From the constant abuse and yells Queenslanders directed at us, to the unforgettable bus trip to the game down Caxton Street, in which our team bus was attacked by flying XXXX beer cans and Queensland fans using their bodies as human missiles.
Our dressing room literally shook with cries for our blood, and once we stepped onto the field, the roar for Queensland was deafening. My blood was surging with adrenaline and it felt like my heart was about to burst out from underneath my sky blue jersey. However, despite the hostile environment, I managed to thrive on the Origin stage by simply reminding myself to breathe and telling myself I was in the backyard playing footy with my brothers and mates.
The difference in the skills of this year's two teams is hard to measure, and, in fact, the history of this amazing contest has time and time again shown that victory will not go to the most athletic or skilful team but to the team who is toughest mentally. It will go to the team that is able to stay in the present and not be consumed by the build-up to the game, which, in the past, has seen many players beaten before a whistle has even sounded.
It is strength of mind, not body, that makes a player refuse to stop moving even though his muscles and lungs are burning and the little voice in his head is yelling at him to stop, as the one time you choose to walk and not run to cover your teammate could likely be the time that victory is stolen from your grasp.
You see, what sets State of Origin footy apart is that there is nowhere to hide. From the brutal collisions to the breakneck speed of play, any physical or mental weakness will be exposed. There is no time for regret -- the game is gone in the blink of an eye.
This is the arena for greatness to shine, so the question is, will the ageing champions Queensland still have the desire to continue to dominate on it, or will the young and hungry Blues be able to harness their minds and help restore pride in the blue jersey?
The only thing I can guarantee is that, once again, State of Origin footy will not disappoint and you will witness 34 players stepping onto rugby league's biggest stage and pushing their bodies and minds further than you could ever imagine. My heart says NSW but my money says QLD purely due to the amount of talent and cohesion they have had for such a long time.
__________________________