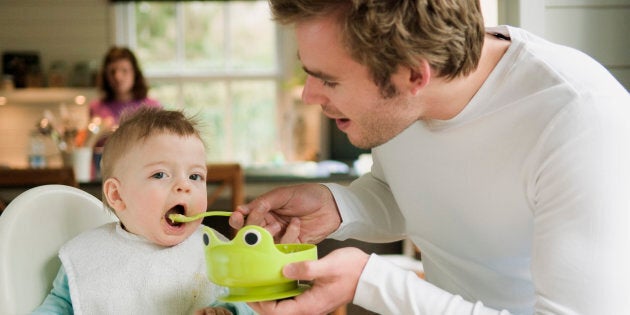 Everyone I know agrees that maternity leave is a vital right. It allows women to maintain a career while balancing the ability to have children. But there's a catch: by focusing on mothers and excluding fathers, it creates an expectation of disparate responsibility. If being a father to a seven-month-old has taught me anything, it's this: paternity leave should match maternity leave. Anything less is unfair.
When my son was born, I had planned to teach him about gender equality. But for new parents, it doesn't exist.
I could see it coming. During pregnancy and childbirth it was her body on the line, not mine. I was merely a bystander to that inexorable tempest of pain.
But once the little guy popped out, screaming on cue, I thought it was finally my time to step up. Yes, he would rely on a continuous supply of breastmilk, but his neonatal whirlwind of destruction would leave plenty of other chores in its wake.
Then I discovered the truth. Paternity leave is generally so brief that it is essentially meaningless. Where equality for women should have started, there was instead the first unavoidable discrimination to show my son.
Most dads I know are entitled to two weeks off work. That is not enough time to correctly assemble a cot, let alone cope with the complete adjustment of every facet of your life that is necessary with a baby.
Infants are inevitably hard work. My own son could easily employ a small team. Fathers should be there to help, and this should be the expectation.
So I pushed the envelope and took four weeks. In my occupation, even that was controversial. Any longer would have been unheard of. This is representative of the ingrained perception within most workplaces that men should maintain gainful employment while women care for children.
All too soon, it was over. I was back in the workforce. And my wife was left alone with our incomprehensible bundle of joy. Maternity leave for a year.
Undoubtedly, women suffer professionally from maternity leave. It is, of course, imperative that jobs be held until the time mothers choose to return. But there is manifestly no way that there can be career progression during the period they are away.
Fathers, or partners, don't have this dilemma. Their presence at work, even if bleary-eyed and under-productive, accrues time and experience. That translates into growth within a position, or even eventual promotion. Little sacrifice is made.
So the parental leave difference as it stands cements the fallacy of inequity: that a man's career should be valued more highly than a woman's.
In our house, we try to be as equal as possible. For the hours I am home I attempt to do most of the work. All feculent nappies are referred to as a "Papa Surprise". Almost every night, I put him down. But in the morning, I walk out the door into my 40 hours of respite a week. My wife still does the bulk of his care.
It now seems crazy to me that our society lays the burden of early parental responsibility almost exclusively upon mothers. This is something we should be trying to change; we need to, both to share care needs fairly and to set an example of equality to children.
I believe the only way to achieve this is to match paternity and maternity leave. Yes, it may hold men back in their careers. It would do so in the same way as it has women since maternity leave was first enshrined in law.
But fathers have a responsibility to care for their children to the same extent as mothers. Until they do, there can never truly be equality between parents. And that's something I never want to teach my son.