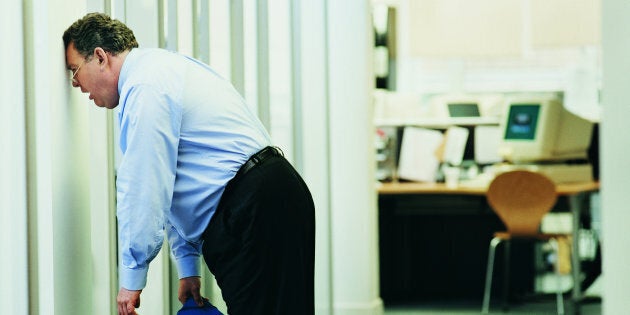 It was a photo that did it. It's always a photo.
Over the past year, I knew I had put on weight. Dresses and pants that used to fit comfortably now squished against my growing belly and left nasty red lines against my skin.
Whenever I was upset, I would skip dinner and instead plunge into a family-sized bag of Doritos, and the only exercise I was getting was waddling to the fridge and back to the lounge room, where I would read.
I knew what was happening but I had someone convinced myself that I wasn't as big as I thought I was. My clothes were getting tighter, but it can't be that bad, right?
But you can't deny a photo of yourself, staring at you from your friend's Facebook post. I looked happy, but I didn't really recognise myself.
Making the decision to shed some kilos wasn't the type of thing that I thought of and then did straight away. It took about four months for that decision to break through my wall of denial and mind games. And then trying to figure out how to lose weight -- which program to choose -- took a while. Deciding to commit, handing over my credit card, felt like I had entered into an arranged marriage -- I had no idea what was going to happen or if it would work.
But the biggest thing about this whole process is that no-one tells you that losing weight is hard.
It's really hard. But that doesn't mean it's not doable.
The weight-loss industry is centered around the concept of making it easy, which is great, in theory, but it made me feel like a weak failure when I couldn't adjust to eating less, eating smaller portions and staying away from my favorite foods within a few days.
Losing weight has meant slowly realising that my old habits were making my life really hard.
Losing weight has meant that I've had to adjust my social life and how I spend time with friends. There are a lot of decisions to make, and the ones that support my weight loss are often the ones that I don't want to make.
Losing weight has meant it's hard to celebrate birthdays with friends and socialise with colleagues. Whenever my workmates go out to lunch, I'm the one who says no because I need to stay on track -- I'm not so far along that I can be in the same room of baskets of hot chips and stay focused. Maybe in a few months I will be, but I consider what I'm doing as an investment -- in my health and my wellbeing -- and I don't want to undo all of that hard work.
Losing weight is a full-time job. Particularly in those first few weeks, when the smell of a burger was enough to make me second-guess what I'm trying to do, I felt vulnerable. I didn't always believe that I could do this, or that I was strong enough to change or stick with it. In those first few weeks and beyond, there's a lot of thinking -- thinking about food, portions and exercise. When I did drink a glass of wine or whiskey, I would think about how many kilojoules were in it and what I would have to do to work it off.
It's really quite tiring at times.
For me, the first two months of this whole process has been about my brain, not my body. Science tells us that it takes about two weeks to change a habit. It's taken a lot longer for me to change not only my taste buds and idea of what a suitable portion should be, but also changing my desires.
Eating the right food -- and right amount -- is the key to losing weight. But you've also got to move and I hadn't really moved properly in about a year. I didn't want to exercise; I didn't want to have to sweat and feel sore. Dragging myself off my couch was the hardest thing about this whole process; I was mentally kicking and screaming the whole way to the treadmill.
But I walked. And walked. And walked and walked and walked.
Just like changing my food habits, I've had to change my exercise habits. Again, it's taken a while to enjoy this new way of doing things, but I now feel angsty if I haven't moved at least once a day. I would never have expected that, but it feels good.
I'm losing weight slowly. I reckon it will take me another six months to get rid of the 10 kilos I put on, but I'd rather do it slowly, as I'm more likely to stick to the habits I'm getting used to. It's much easier to put on weight.
But the hardest thing about losing weight is simply starting. Getting to that point of saying 'yes', I want to do this, was the biggest hurdle I had to jump (not literally... I really wasn't fit enough for that). Sticking with it is also hard, but once I'd had a few weeks of this 'new way' under my belt, I felt inclined to stick with it.
It's the ultimate trophy for participation and the prize in the end is going to be jeans that don't leave angry red marks on my skin.