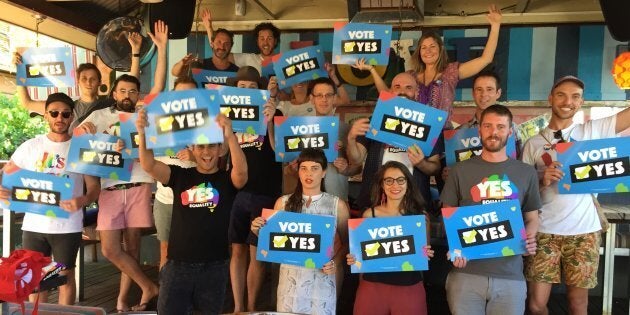 Not surprisingly, when the postal survey began many people were uncertain about what lay ahead. How would the LGBTQ community respond to the particularly difficult experience of having to ask their friends, families, neighbours and workmates, as well Australians they'd never met, to support them with a 'yes' vote? Would people step up and turn out?
This week we are approaching the date by which the Australian Bureau of Statistics has advised people to return their surveys if they are to reach them in time. Now that we are reaching this point, we are able to reflect on what has come out of this process.
Nearly 12 million Australians have already returned their postal surveys. That's a higher participation rate than in the UK vote on Brexit or in the last U.S. election. It's an absolutely amazing turnout.
As great as those figures are, no one should ever minimise how difficult this experience has been for a great many LGBTQ Australians. They have been placed in a position where they have been treated fundamentally differently from other Australians. When the Marriage Act was amended previously it was done by Parliament, not after an expensive national survey.
There are many who have struggled throughout this survey. It is an enormous credit to the LGBTQ community, and to so many others in the broader community, that many have reached out to support those hurting throughout this process.
Throughout this process, though, we have seen and experienced something without precedent. That is, people from all across Australia joining together in a scale never before seen in support of their family and friends and marriage equality.
Australians have responded to the postal survey in numbers that are overwhelming and with efforts that are both touching and beautiful.
LGBTQ Australians have also organised on a level never before seen in Australian history. They have done this precisely because marriage equality matters profoundly to so many across this country. Australians are sending a message that resolving this issue will unite us as a country, by allowing same-sex couples to receive the same civil recognition as everyone else.
In September, more than 30,000 people from all walks of life and backgrounds joined together in the largest rally for marriage equality in Australian history. This was matched by rallies in Brisbane, Melbourne, Hobart, Adelaide and Perth, all exceeding previous rallies in scale, colour and sheer determination. Mums, dads, families and friends joined joyous crowds, making it clear that they expect action on this issue.
A level of national organisation and collaboration, also unlike anything that existed previously, has also emerged throughout this process. In Alice Springs, over the past weekend we heard from community members who told us how they had come together like never before to work to win the postal survey.
Across Australia, so many men and women who had never previously lobbied for social change have engaged with this issue.
Parents have handed out leaflets in the rain, supported by thousands and thousands of men and women dotted across Australian neighbourhoods. Workmates have held morning teas in support of marriage equality. Houses have been decked out with rainbow colouring in support of this cause. A nation has truly put its heart and soul into winning this survey and into showing LGBTQ Australians that they are full and equal citizens in this country and should be recognised as such.
This level of support from across the country is not going to go away. Politicians have thus far failed to deliver marriage equality, despite 10 years of consistent polling showing Australians support the reform. Instead, they have delayed, obstructed and finally they outsourced this issue in the form of a never-before-tried postal survey.
Australians have responded to the postal survey in numbers that are overwhelming and with efforts that are both touching and beautiful. This must not be in vain. Politicians must act on the will of the Australian people. If the survey returns a result that reflects public support for marriage equality, there will be an absolute expectation across this country that this issue will be rapidly and fairly resolved.
Australians have put in an extraordinary effort during this campaign. Parliament needs to respect that. Australians deserve to be celebrating marriage equality before the year ends.