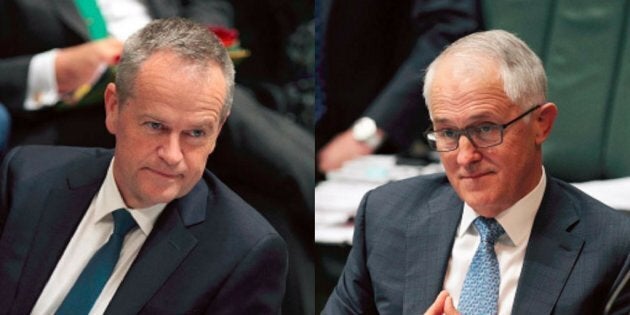 There's a will and there's a way, let's make sure this opportunity doesn't waste away.
Next Wednesday the results of the Australian Marriage Law Postal Survey will be announced. For many Australians this moment will feel like the culmination of not only the past two months but the past 13 years.
Throughout this time we've had a national conversation about marriage equality, and members of the LGBTQ community have had hundreds of personal conversations about fairness, equality and why this reform matters to them.
Although a hoped for YES result would be greeted with joy and celebration -- as well as some relief -- it will not mark the end of our journey to marriage equality. The Federal Parliament would still need to pass legislation to give effect to the desire of the Australian people for equality.
Should YES prevail next week, the Prime Minister has committed to allow the introduction of a private member's Bill. The obvious Bill for consideration is the Marriage Amendment (Definition and Religious Freedoms) Bill, which was first proposed by Western Australian Senator Dean Smith following the roadmap set by the multi-party consensus Senate report earlier this year. This Bill represents our best chance at achieving marriage equality by the end of the year.
Throughout the campaign we have said that marriage equality is an issue that should unite and not divide Australians, and this Bill gives us a way forward that will hopefully unite all Australians around this important reform.
Twenty-two different Bills have been introduced into Parliament to attempt to introduce marriage equality. Part of what makes this particular Bill historic and ground-breaking is that it has consensus. It is supported not just by political leaders from both the Coalition and the Labor Party, but also LGBTQ organisations and faith leaders.
No one political party has the numbers by themselves to legislate for marriage equality, and so it is significant that this Bill, that was first put forward by a group of Liberal MPs and Senators, has also been supported by the Labor Party. Even with a strong YES result next week, we still need our supporters from both sides of the political aisle to work together to bring about reform that is fair, just and enshrines equality for all.
Fortunately this consensus Bill does exactly that. If passed by Parliament, the Marriage Amendment (Definition and Religious Freedoms) Bill will change the definition of marriage from a union between 'a man and a woman' to a union between 'two people'. A change that is inclusive of all LGBTQ people and relationships. The Bill would also recognise marriages of same-sex couples married overseas, including couples married before the Bill comes into effect.
The Bill contains exemptions to allow faith communities to celebrate marriages in accordance with religious beliefs, while ensuring that marriages performed by civil celebrants are conducted without discrimination. However, in recent days, these two aspects of the Bill have been criticised, with some even suggesting that the Bill should be rejected and we start from scratch for the 23rd time. These criticisms misunderstand both the Bill and the political context.
In terms of accommodating religious beliefs, the Bill confirms that ministers of religion will continue to be allowed to refuse to perform marriages that don't conform to their religious doctrine or beliefs, just as they can now.
This is not controversial.
The Bill also replicates the existing religious exemption already available only for religious organisations under existing anti-discrimination laws to refuse to provide facilities, for example a Church Hall.
Although some may not like this exemption, unfortunately it is a well-established part of discrimination law in Australia. Many Australians -- like us -- wouldn't support new provisions that discriminate against LGBTQ Australians being inserted into Australian law through a marriage equality bill. This is also not the legislative vehicle to alter religious exemptions -- that is a much bigger topic for discussion in the future, not one that should delay equality.
In terms of civil celebrants, the Bill does create a category of 'religious marriage celebrants' for ministers of religion from small, independent and emerging churches which are not officially recognised religions. Similar to ministers of religion from recognised denominations, these religious celebrants will be permitted to conduct marriages in accordance with their religious belief after marriage equality becomes law.
Under the Bill, all civil celebrants will be required to uphold civil law and will not be allowed to discriminate against same-sex couples. The small number of celebrants who want to continue to perform marriages in accordance with their religious beliefs after the introduction of same-sex marriage will have a 90-day window to choose to be transferred into the new category of 'religious marriage celebrant'. This is a transitional arrangement and only available for a short period. Anyone registering to become a marriage celebrant after this date who is not a minister of religion will not be able to join this category and cannot discriminate against same-sex couples.
The Marriage Amendment (Definition and Religious Freedoms) Bill may not be the perfect Bill for all supporters of marriage equality, and opponents of marriage equality clearly want to muddy the waters with further exemptions that would unnecessarily wind back anti-discrimination protections that have served all of us well.
This Bill does, however, achieve exactly what we have all been working for over the past months and years: marriage equality, 'a union of two people, to the exclusion of all others, voluntarily entered into for life'. It does so in a way that respects people of faith and brings together a wide and diverse range of political viewpoints. Importantly, the rigorous inquiry and political consensus behind it means that it's the first Bill that can actually pass the parliament.
Throughout the campaign we have said that marriage equality is an issue that should unite and not divide Australians, and this Bill gives us a way forward that will hopefully unite all Australians around this important reform.
It would be a real shame if, instead of building on the marriage equality momentum and political consensus, we stood by as the actual reform is kicked into the long-grass by an unholy alliance of those who don't understand this Bill and those who don't want marriage equality.
Starting from scratch could take six to 12 months and risks snatching defeat from the jaws of victory.