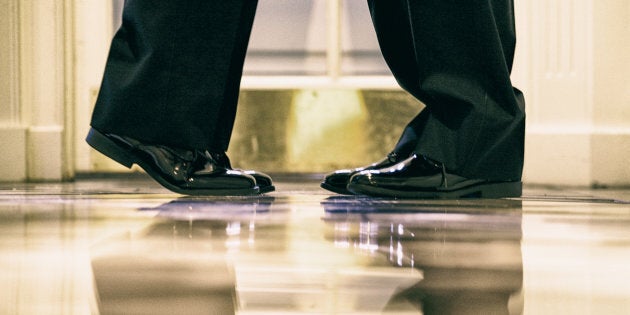 Australians have been on a marathon journey throughout this postal survey process, but they have been talking about, and supporting, marriage equality for even longer.
Since 2001, when the first same-sex marriages took place in the Netherlands, until now as we approach the survey's end, there have been many twists and turns on our journey to a fairer and more equal Australia.
From 2003 onwards, a number of Australian same-sex couples married overseas in countries such as Canada. In 2004, the Howard Government responded to this by amending the 'Marriage Act of 1961' to not only prevent same-sex couples from marrying in Australia but to ensure that overseas marriages between same-sex couples would not be recognised here.
Since 2004, there have been 22 different Bills introduced into Parliament in attempts to legislate for same-sex marriage. As more and more Australians showed their support for marriage equality, the Australian Parliament continually failed to reflect it.
In 2007, Fairfax published the first poll which showed that a majority of Australians supported marriage equality. This support has been reflected in every subsequent poll conducted on the issue. That is an outstanding 10 years of continuous support. Australians have shown that they care deeply about the happiness and inclusion of their LGBTQ family and friends and that they have long been ready for marriage equality.
In 2012, there was a Senate Inquiry into same-sex marriage. By the time it ended, it had set a historic record for the amount of submissions received from the public. There were more than 79,000 submissions, with a majority of 46,400 in favour of marriage equality. This is an overwhelming number that shows Australians have been contemplating what marriage equality would mean for quite some time and they have embraced it.
Since 2001, so many Australians have watched on with a sense of envy as countries such as New Zealand, the UK and the U.S. have introduced marriage equality. Few would not have been moved in 2013 when MPs in New Zealand Parliament broke into spontaneous song, singing Maori love songs after marriage equality was passed in that country.
Many Australians remember the touching scenes shown on Australian televisions in 2015 after the successful referendum in Ireland. Faces full of joy were shown celebrating in Dublin. Others will recall the White House lighting up with rainbow colours when the U.S. Supreme Court announced that marriage equality was now legal across the entire country.
Marriage equality has been an issue that has been driven in this country by everyday people who just want equality under the law. They have been supported by their friends and families from one side of the country to the other. We have seen this through the amazing efforts people have put into campaigning for a 'yes' vote in the postal survey.
More than 1 billion people now live in countries with marriage equality. We hope that by the end of this year, Australia will join them. The Australian people have done everything possible to see marriage equality become a reality in this country. More than 12 million people have now posted their survey back. That is about 77 percent of the population, an extraordinary turnout.
After November 15, when the results of the postal survey are announced, the attention of this entire country will turn to Parliament. Having put their hearts and souls into this cause, Australians will not tolerate any more attempts to delay a positive reform that will bring our country together.
Just as loving same-sex couples want to honour their commitment to each other, the Australian government must honour its commitment to act on the results of this survey by Christmas.
Australians have long engaged with this issue -- it's time for that engagement to lead to some weddings!