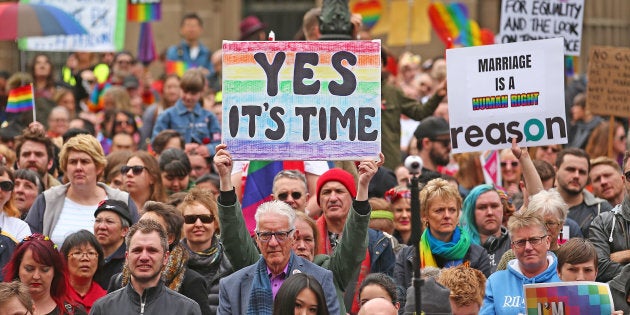 This week the Premier of New South Wales, Gladys Berejiklian, publicly reaffirmed her support for marriage equality and declared she would be voting 'yes', noting that we have a historic opportunity in front of us to usher in marriage equality.
"I'm hoping that all of us will look back and feel really proud that we were part of something special [and] putting aside our political differences in support of what is one of the most important decisions of our time in terms of human rights and social justice."
The day after Premier Berejiklian made her remarks, a Western Sydney mother stopped to chat with our volunteers and told them how meaningful and inspiring this show of support from the Premier was. She told us that in one ear some Church leaders are telling her to vote 'no', but when she thinks about her niece who is in a long term same-sex relationship she wants to vote 'yes'. She decided that if the Premier could reconcile her religious faith with her belief that same-sex couples should able to marry under Australian civil law, so could she -- and at that moment she also committed to voting 'yes'.
The Premier is one of number of figures from the Liberal and National parties who have spoken out in support of 'yes', noting this is an issue that transcends the political divide and brings us all together with a shared vision of a more inclusive society.
Recently, a number of senior Coalition figures, including Liberal Party President Nick Greiner and the Prime Minister, launched the 'Liberals and Nationals for Yes' campaign and this week signed a joint statement pointing out the alignment of marriage equality with conservative values.
The statement noted that those who had signed had done so "because we respect and believe in the equality of the loving relationships enjoyed by thousands of Australian same-sex couples. We do so because we believe in individual rights and freedoms".
Darren Chester, who was the first Nationals MP to support marriage equality, was one of the signatories to the statement and expressed his continued support.
Over the years some of the strongest supporters of marriage equality have come from the Coalition. There is no greater expert on the topic than former Liberal Senator for NSW Chris Puplick, Queensland LNP Senator Sue Boyce crossed the floor to support marriage equality in 2013, and WA Liberal Senator Dean Smith has drafted the most robust marriage equality bill the Parliament has ever seen.
We are also seeing action from younger people active in conservative politics who are seizing the opportunity to campaign for equality. A group of young supporters, active in the Young Liberals and Young Nationals, have set out on a 1200 km road trip across New South Wales, travelling from Taree through to Coffs Harbour, stopping at a range of regional towns. The reception they are receiving has been positive, with locals being open to chatting to them and hearing and sharing stories about why marriage equality matters.
The support we have seen from Liberal and National voters is reflecting the mood of the Australian population. Marriage equality is not a partisan topic isolated from the day-to-day life of ordinary people -- it is about something much deeper and more profound than that. It is about human relationships and the values that we all share. Gay and lesbian people are part of our community and deserve the same rights and equality of opportunity as other Australians.
Fairness and equality are values shared by people on all sides of politics. We have in front of us an opportunity to make an important statement about who we are as a society and how we can express those values. Marriage equality will not take anything from those can currently access the institution, but it will mean the world to those loving same-sex couples who are currently excluded from it.
We know the path ahead to marriage equality is going to take effort from all of us. We have to maintain our focus on the people who are affected by this issue. We have to remember that this is an issue that is about everyday Australians who just want to marry the person they love in the country we all love.
We need to talk with voters of all political parties and urge them to fill in their ballots, vote 'yes' for equality, love and fairness, and get this done!