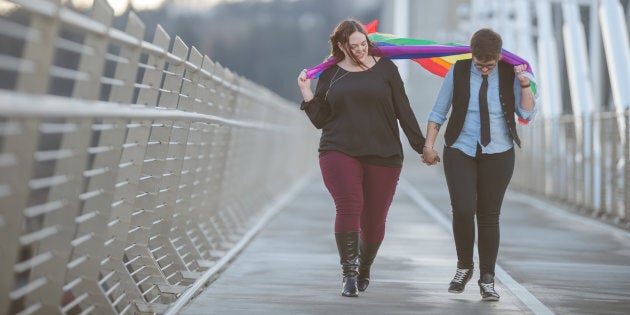 Marriage equality is an issue that has inspired grassroots Australians like no other in recent history. As advocates, we have seen the growth in support play out across the country and we have seen sustained pressure on elected representatives to resolve this issue. We have watched as growing numbers of parents, grandparents, friends and communities join together to show their support for this issue.
Whether it be in Nowra or Geelong, Perth or Wagga Wagga, grass-roots Australians are leading a charge for marriage equality and making it clear that they expect this issue to be resolved. There is a real and determined urgency and an energy behind this movement.
A survey released yesterday backed up what we have observed over many years among the Australian community. The annual Household, Income and Labour Dynamics in Australia (HILDA) survey, which interviews the same 17,000 people each year, provides a clear indication of remarkable social change within Australia. One of its major findings is that community sentiments on marriage equality have transformed over the past 12 years to an extent that is, quite simply, astounding.
There is a growing political awareness that marriage equality has galvanised the Australian public and a knowledge that the issue needs to be resolved to reflect this.
In 2005, one year after John Howard amended the Marriage Act to prevent same-sex couples from marrying, the HILDA survey found that 43 percent of women and 32 percent of men agreed with equal marriage rights for same-sex couples. Yesterday's HILDA survey shows that 67 percent of women and 59 percent of men support equal marriage rights.
The social change that gay men and women have lived through over the past 60 years have been nothing short of extraordinary. In 1967, according to a Sydney Morning Herald survey, only 22 percent of Australian supported the decriminalization of homosexuality between men. It was not until 1997 that Tasmania became the last Australian state to decriminalize homosexuality. Men and women have also been subjected to medical intervention and have experienced social and religious prejudice. Lesbian women have had to contend with a society that attempted to render love between women invisible.
Today, growing numbers of Australians from diverse backgrounds -- gay and straight -- stand shoulder to shoulder, expecting marriage equality to be resolved in this country. What are the reasons for this dramatic increase in support, which marks one of the most rapid shifts of social attitudes in Australian history?
One is the increased openness about the lives, hopes and aspirations of gay and lesbian, bisexual, transgender and intersex Australians in our society. Since the 1970s, growing numbers of LGBTIQ people have been open about their sexuality or gender identity among their family, friends and communities. The internet and popular culture have similarly introduced Australians to gay and lesbian men and women. Research shows that knowing a LGBTIQ person makes someone more likely to accept the idea of LGBTIQ equality.
The marriage equality movement is fundamentally linked to the belief that LGBTIQ Australians should enjoy equal life opportunities to their heterosexual counterparts. Another reason for this shift is the success of advocacy on marriage equality. Domestic advocates have moved Australians on this issue because the social and cultural benefits of marriage are self-evident. Marriage equality melds with Australian cultural values, including a belief in equality and fairness.
A gay liberation slogan of the 1970s made the point that gay men and women were everywhere. Certainly, today, communities across Australia have emphasised that LGBTIQ people do not just reside in the major population centres. Communities well beyond the capitals, in places as disparate as Geelong and Nowra, have worked hard to develop marriage equality campaigns that utilise local voices and reflect their communities.
International trends are also significant. Since 2001, when the Netherlands became the first country to allow marriage between same-sex couples, a range of other countries, culturally comparable to Australia have introduced marriage equality. New Zealand, so close geographically, did so in 2013 and Australians watched the joyful celebrations play out in Parliament.
In May of 2017, it was reported that over half of same-sex marriages taking part in New Zealand were between Australian couples. Now, it is estimated that more than one billion people live in countries with marriage equality.
This week, there were reports in Australian media that a Bill has been drafted to progress marriage equality reform. This should be seen as a reflection of the growing and widespread community support that is indicated in the HILDA survey.
There is a growing political awareness that marriage equality has galvanised the Australian public and a knowledge that the issue needs to be resolved to reflect this.