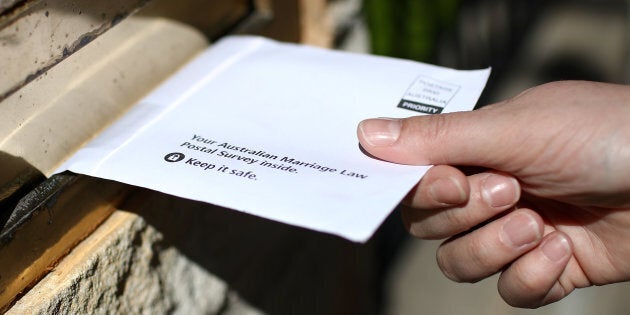 Last weekend we saw joyous scenes as streets in Sydney and Brisbane were packed with supporters of marriage equality. More than 30,000 people came together in the city of Sydney alone -- the largest rally in support of marriage equality in Australia's history.
Supporters carried colourful banners and danced in the streets afterwards as they came together to show how important a fair and inclusive Australia is to them. This wave of support comes in the aftermath of massive turnouts in places such as Melbourne and with public rallies in cities such as Perth and Adelaide to come.
While rallies are great at bringing people together to show that marriage equality matters, we need people to keep that energy level up and make sure that they get their survey forms sent back as soon as possible -- and that they also make sure their friends and families get theirs sent back as soon as possible too.
We have in front of us a unique opportunity to be united and work hard for a strong YES result.
The survey forms are starting to arrive in mailboxes across Australia right now. We are already seeing photos online of people posting theirs back. If you haven't received yours yet, keep an eye out -- they're on the way! We need people to remember that to win this, we need each and every supporter to get active and engaged to find their nearest mailbox, as soon as possible. Don't let your survey sit on the kitchen bench -- get it back in the mail as soon as you can so that you can have your say on this historic reform and do your part for equality in this country.
So much rests on the small piece of paper that's being sent out to each mailbox across Australia. Making sure that all supporters of marriage equality post their survey form back as soon as they can is absolutely critical. We also need to get our neighbours, co-workers, friends, families and extended networks to all do the same.
The marriage survey form represents the hopes and dreams of so many loving couples who have waited far too long for this step towards equality. We have watched as country after country has introduced legislation that allows same-sex couples to marry. Now is our chance to send an unmistakable message to politicians who have yet to act on the will of the Australian people. Australians are ready for marriage equality and we are prepared to work hard to get there.
The number one priority in making marriage equality a reality is to tick your form with a YES and get it in the post box as soon as possible. If you're keen to do more, our phone banking is continuing and you can check out times and places at yes.org.au. This is an activity you can even do at home if you like.
We have also seen supporters across the country getting out and letterboxing. This is a great time to take that up as well. You can find leaflets that you can print out at yes.org.au letting people know that marriage equality is simply about letting loving same-sex couples marry and that this is a positive reform that brings Australians together.
We know the majority of the citizens of Australia support this change to recognise same-sex marriage in Australia's civil law. Time and time again, we have heard from people from all walks of life who have spoken up at work or in their neighbourhoods, who have organised community meetings or have spoken with politicians.
We have in front of us a unique opportunity to be united and work hard for a strong YES result. The greatest danger we face is complacency. We have to remember that in order to win this, we have to continue to work hard, talk to our contacts and not take a single YES vote for granted. So we have to stay strong, stay persistent and continue to support each other as we work to get this done!