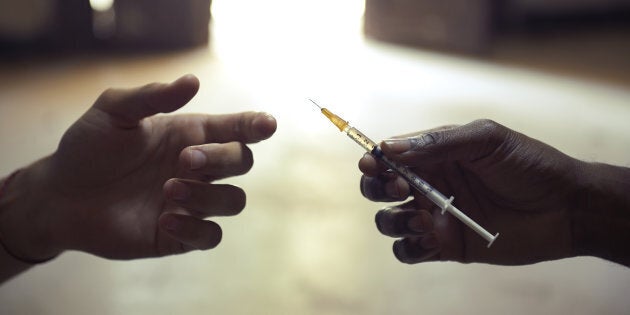 It was made within an environment in which Victoria's opposition parties look to find any excuse to challenge the government on its law and order record.
The Andrews Government itself had repeatedly stated that it was not in favour of supporting a MSIC. Given the opportunistic and venal nature of politics, some will inevitably brand this decision a backward step in the 'war against drugs'.
What changed the government's mind? It listened.
The Andrews Government's decision to trial a MSIC was informed by hundreds of submissions made to a Parliamentary Committee to review drug policy: the 'Inquiry into Drug Law Reform'. The vast majority of submissions supported the establishment of a MSIC as part of the government's overall response to drug use and addiction. Why?
Because the evidence is overwhelming, as Premier Andrews acknowledged, success has been demonstrated in similar centres around the world and those closer to home -- the MSIC in Sydney. This centre, which has been operating for 16 years, has shown that MSICs save lives and have no serious adverse effects.
Victorian doctors, nurses and other healthcare professionals working with people with severe drug problems told the Committee a MSIC would save lives. So too did Victoria's emergency responders; front-line ambulance workers and firefighters who deal directly with the horrific nature of drug overdose and death on a near daily basis.
Victoria Police publicly stated that they would work to support a trial of a MSIC. Victoria's Chief Coroner Jacqui Hawkins also recommended the establishment of a MSIC in her report on deaths from drug overdose in February.
The local Richmond community, who see their streets and laneways marked by death and strewn with used syringes were vocal in their support for a MSIC. Their call to politicians was brutally direct: "You talk. We die".
In the end, the decision by the Andrews Government to trial a MSIC was driven by evidence. It recognises that drug problems are primarily a health and social issue, not just a law and order issue. The decision reflects extremely well on the Premier and the government because good policy has trumped political opportunism.
The decision would not have been possible without the hard work of Fiona Patten, MLC. Not only did Ms Patten draft legislation for a Victorian MSIC, she has also been tireless in her advocacy. She worked closely with the major, and many of the minor, political parties. Minister Foley and several other senior Labor Ministers have also made critical contributions. So too have the Greens.
MSICs are an important and pragmatic part of the response needed to combat street drugs. They provide an 'on-ramp' to much needed physical and mental health services and social support. But they are no panacea for drug problems. Rather, they are part of a much needed pragmatic and effective package.
It will be crucial that as part of the trial, the benefits and any negative effects of this MSIC are carefully documented. The trial should pay special attention to documenting any improvements in the mental health of people attending the MSIC -- the announcement suggests that the government expects this to be a special focus.
Evidence was given to the Committee that MSICs save more money than they cost. The evaluation should also assess the net financial savings and costs of the Richmond MSIC.
Research confirms that many people who use MSICs have very severe physical and mental health problems and are socially isolated. Many are homeless. Most have had no recent contact with any health or social agency. The MSIC can provide a vital link to these services.
The experience of MSICs in Sydney and overseas has shown that they improve the tone of their neighbourhood. Residents and local businesses benefit from the reduction in emergency services call-outs, fewer fatal and non-fatal overdoses, and a reduction in discarded needles and syringes.
Though this issue is politically controversial now, the community and government can be very confident that history will show this was the right, and the only, decision that could have been made.
It's now up to the Victorian Government and the health and social sectors to work together to make sure that this centre is a success.