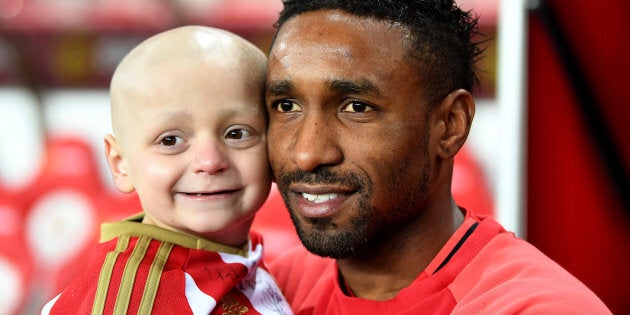 In the frenzy of the multi-million dollar English Premier League transfer season a six-year-old boy has reminded the world why sport is about more than just money.
From the outside, the story of Bradley Lowery is tragic. Diagnosed with a rare cancer, neuroblastoma, as an 18 month-old baby, he finally succumbed to the disease last week at the tender of age of six. His death came despite the unfaltering efforts of his family in pursuing potential treatments.
Yet through the tragedy, Bradley inspired and moved people around the world with his love of the failing Premier League club, Sunderland, and the story of his friendship with team's striker, Jermain Defoe.
It is the beautiful and unlikely friendship between the two which has lifted this story, we learned that sometimes in life age is irrelevant and a connection with another person can be life changing.
Bradley described the footballer as his "best mate" and Defoe said he took inspiration from the young child "every time he went on the pitch".
The world saw Defoe break down at a press conference days before Bradley's passing and, since the boy's death, he has chosen to share his tribute with a montage of his favourite pictures on Twitter:
Football around the world, and the Premier League in particular, has become a billion-dollar business that attracts all the usual muck where big cash is found. Match fixing, gambling players, World Cup bungs and sex assaults have all grabbed headlines.
But, in the midst of it all, Bradley's passion for the beautiful game shines a light on the positive power football and indeed sport can have.
Football is deeply personal. Your love for your team is unlike any other love in life. It can be complicated and tortuous leaving you feeling angry and bewildered one week and delirious the next.
Built into that relationship is endless hope. This week your team might have had a shocker but next week maybe it could be different -- there is always a chance.
Unlike many other professional leagues the English football's system of promotion and relegation brings a new level of devastation and elation to the competition and along with it an anticipation for the next season.
Has your team just been relegated? That's okay, it is a time to refocus, take stock with one season in the lower division and then we will be back. You'll see. Hope and anticipation drive us back week after week, season after season.
There is also the personal connection with others. There are few moments in life when humans publicly express a shared emotion as intense as 15,000 supporters gasping at a foul or groaning as the ball skims over the bar.
While watching a game our brains park everything else and we become truly present in the moment, whether we are at a match or sitting in our home. It is an unique experience in this age of always being on, always multi-tasking, always sharing a representation of our experience. Increasingly, we spend less time on experiencing the right here and right now.
But with football there is no point leaning back and reflecting on a poorly-executed pass, when someone has just gone down at the edge of the box and you are holding your breath to see if it is a penalty. Reflection and blame are for later, after the match. Right now there is a bloke with a whistle about to make the most important decision in the world.
Forget relationship dramas, that credit card debt that has blown out, the latest breaking news... Instead, just for a moment, watch these athletes go head-to-head physically and mentally, battling to see who can dominate. Who will be humiliated, outrun, outplayed or outmaneuvered? All it takes is one run against play and your team is back in the game.
Tied up in all our emotions is our longing for our sportsmen and women to be role models or heroes and we can feel hurt when they fail and reveal their frailties. They are seen ideals that should aspire others to emulate them not just on the pitch but in life. It's as though their talents on the field and the privilege and riches it brings should somehow be repaid to the society that adores them.
We would be far better served hoping that some sports stars would be generous with the light that their career brings. The brightness of their skills and talents have the power to banish darkness from our lives even if it is briefly.
And sometimes they can take the time to direct that light onto the true heroics of a small child who has battled a deadly disease and shown us all what it means to truly endure.
Defoe's friendship with Bradley led some to say the footballer deserves public recognition. But Defoe seems to have already gained more than he thought possible starting from the moment the pair met.
Defoe had prepared himself to see a seriously-ill child who was joining him on the pitch as the club mascot last September, but was stunned to be greeted by a boy brimming with enthusiasm, vitality, and joy. The pair spent regular time together building a lasting bond. As Sunderland dropped down on the Championship, Defoe signed with AFC Bournemouth, prolonging his stay in the Premier League.
He is in the later stages of his career and, like so many professional players before him, Defoe now has to make sense of life off the pitch. Though, he seems like a man who may have already recognised the transitory nature of fame and success.
He also knows that it is football that brought this once in a lifetime connection. It was Bradley's love of his local club that became a focal point and built up his extended family around the world -- who all hoped for a miracle and now mourn with his parents Gemma and Carl.
The game binds us, lifts us, surprises, devastates us and we come back for more.
Thank you, Bradley, for reminding us about the true value of the beautiful game.
___________________________
Visit The Bradley Lowery's Fight against Neuroblastoma charity here.
ALSO ON HUFFPOST AUSTRALIA