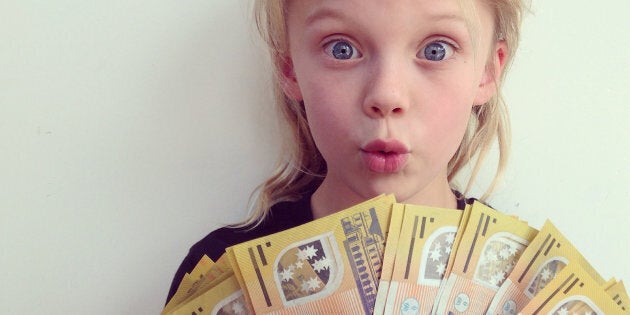 By popular definition, to be 'rich' is to have a great deal of money or assets. That's wealth, isn't it? We're fed this message constantly, by advertising and by each other; accumulate a great deal of money and material possessions and these things will bring you satisfaction, high self-esteem and, ultimately, a good and happy life.
The Australian Bureau of Statistics reports that the average full-time income is $81,900 per year. According to GlobalRichList.com, this puts the average Australian worker in the top 1 percent of income earners on the planet.
So why is it that we're not among the happiest 1 percent?
Of course, there is that old adage that money doesn't bring happiness, but how many of us really believe that? We still spend so much of our lives striving to match society's expectations of what success should look like.
Perhaps it's time to think a little deeper about what it means to be rich. What is the process by which we make meaning in our lives? And how do we shift our focus from success to significance?
With the democratisation of giving, philanthropy is no longer a province of the financial elite. Crowd funding and workplace giving are becoming common practice, and we have seen how a small amount of money can have a huge impact. Malaria kills 660,000 people a year. A mosquito net delivered to a high-risk malaria zone costs only $5. For every $4,500 donated, one death from malaria is prevented.
A new wave of Generation Y entrepreneurs are using their skills and passion to make our world a better place. Enterprises such as YGap and Orange Sky Laundry show us that consumers increasingly want to support products and services from companies that are aligned with their ethics and values. Dynamic and innovative social enterprises like these are leading the way. Next month, philanthropists from across the globe will come together at the 2016 Philanthropy Australia conference to talk about ways we can inspire the community to follow in the footsteps of this new generation of givers.
For many, the perception is that by giving, one will have less wealth in their life. I see it differently. I can attest to the fact that when you give to benefit another, the opposite happens -- your life becomes bigger, more significant, and richer.
For me, true happiness comes from relationships and our curiosity and drive to see the world differently. It comes from a sense of purpose that connects us to others and enriches us.
And when you exercise your "compassion muscle", you will see that there are many in our communities that need help and are so grateful for that support.
The reality is, money has no power unless we give it power. Money doesn't own you, unless you let it. With purpose, money can be a powerful resource to influence change for good.
So what about you? If you are in the top 1 percent of income earners on the planet, are you up for the challenge to give 10 percent of every additional dollar you earn to the socially disadvantaged in our community? Of course, there are many ways to give, and not all involve money. You can also give time, contacts, or give a voice or a platform to those that wouldn't otherwise be heard.
We can all do our bit to make a difference, and more importantly, we have the power to influence the challenging issues that matter to us. What's the pebble in your shoe that makes you feel unhappy or uncomfortable about what's happening in our society? Identify your area of concern and reach out to a relevant community organisation and learn more about giving.
Change can only occur when a committed decision is put into action. If you want to live and embrace a life that is rich, be prepared to move your focus from success to significance. Start by asking yourself -- how rich are you, really?
Allan English, a prominent Australian philanthropist, will discuss 'Investing for good' at the upcoming 2016 Philanthropy Australia Conference on 21 September. To find out more head to www.philanthropy.org.au